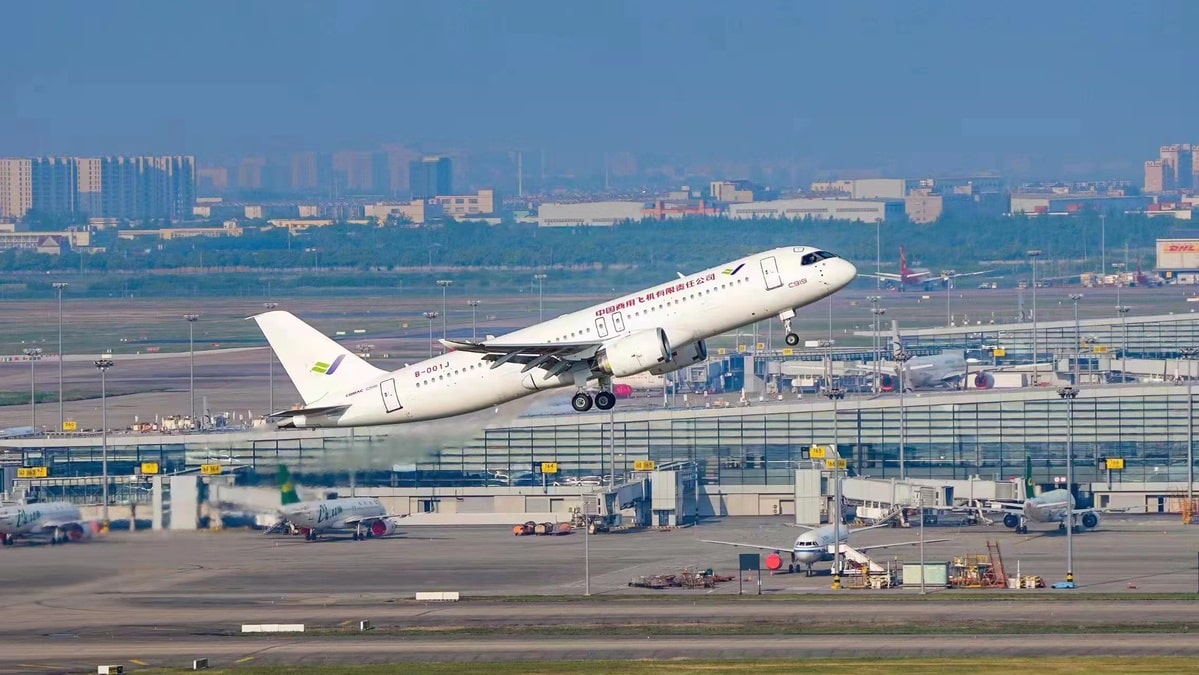 China's first Commercial Aircraft Corporation of China (Comac) C919 bound for delivery to a customer has successfully carried out a test flight, marking another step towards entering  commercial service.
The country's state-run news agency Xinhua says the C919, registration B-001J, is slated to be delivered to its launch operator. It says the aircraft took off from Shanghai's Pudong International Airport on 14 May 06:52hr local time for a test flight and landed smoothly at around 09:54hr local time.
Video from China Xinhua News Twitter shows C919's test flight.
In the three hours and two minutes of flight time, the test pilots and engineers worked hand in hand to complete various tasks, ensuring the aircraft as well as its capabilities are in good condition, the report adds.
The report, without citing its sources, says the Civil Aviation Administration of China's (CAAC) certification of the aircraft is progressing in an orderly manner.
Comac has been carrying out test and certification flights for the C919 in Shanghai, Yanliang, Dongying and Nanchang since 2019 using six C919s, says Xinhua. The C919 received type inspection authorization (TIA) in 2020, allowing it to begin test flights, the report says.
China Eastern Airlines will be the launch operator for the C919. It finalized its purchase agreement with Comac in March 2021 for five C919s.
The airline is based in Shanghai, the same city where Comac has its aircraft assembly line.
Smart Aviation Asia Pacific reported earlier this month that China Eastern is looking to raise 15 billion yuan (US$2.2 billion) for 38 new aircraft, of which four will be C919s.
Comac vice general manager, Wu Yongliang, announced earlier this year that China Eastern would receive its first C919 by year-end once the aircraft is certified by the CAAC.
The C919 passenger aircraft is a single-aisle narrowbody jet that can carry 156 to 168 passengers in a normal operating configuration. The aircraft, which is powered by CFM International Leap-1C engines, has a range of 2,200nm to 3,000nm.
The C919 was initially supposed to enter commercial service in 2016, but it was delayed multiple times because of technical difficulties and supply issues. The aircraft is often compared to the Airbus A320 and Boeing 737.
Featured photo from Xinhua shows Comac's C919 aircraft.
Related Stories:
China Eastern Airlines Raising Funds For Fleet Expansion (12 May 2022)
Ong Jeng Yang
Based in Singapore, Ong Jeng Yang has more than four years of experience working in the media industry.
Related posts
SUBSCRIBE TO OUR NEWSLETTER