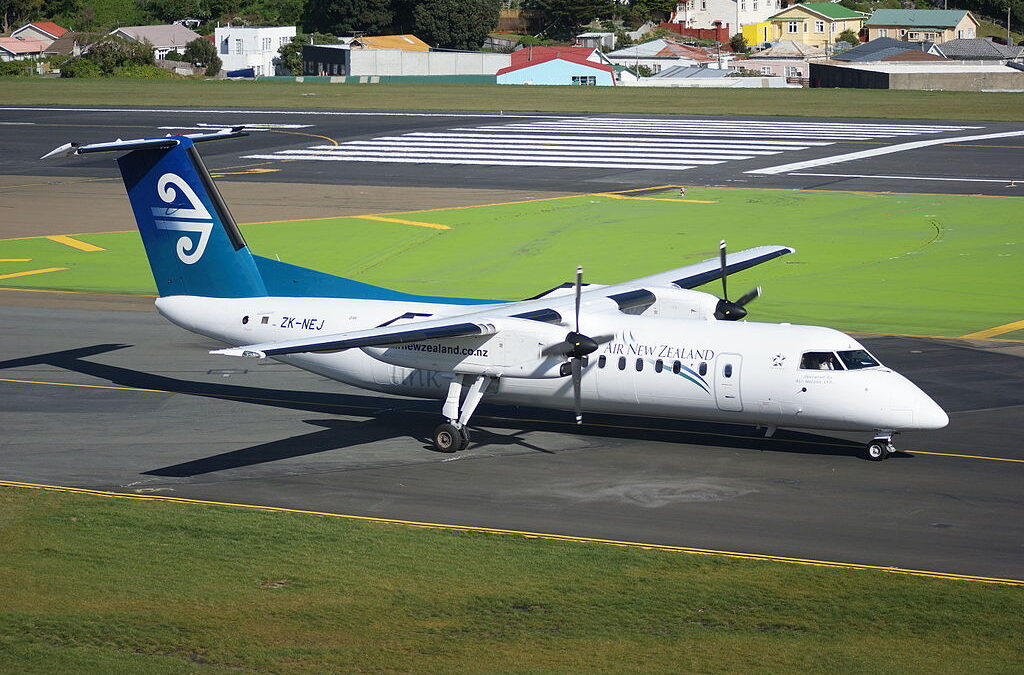 Air New Zealand (ANZ), which will be receiving four Airbus A321neos before year for domestic routes, has reiterated its intention to replace its De Havilland Aircraft of Canada Dash 8-300 aircraft with much lower emission aircraft.
ANZ chief financial officer, Richard Thomson, says in an earnings call with financial analysts that: "As we have discussed previously, our fleet networks and sustainability teams have been engaging heavily with manufacturers in start-ups on a future hybrid and electric aircraft, focused particularly on our domestic network."
"[This] will result in some future commitments to replace the Dash 8-300 fleet, but nothing at this stage," he adds.
ANZ's website shows that, as of 30 April, it operated 23 Dash 8-300s with an average age of 15.3 years. It also shows the carrier operated, at that time, 29 ATR 72-600s.
The Star Alliance carrier operates its turboprop fleet on domestic regional routes, a market it says is now operating roughly at 100% pre-COVID levels.
The airline also says it operates 13 A320/321neos with seven Airbus narrowbodies still on order, all A321neos.
Thomson says the airline "will be receiving the first four domestic A321neos aircraft this year out of a total of seven. After some delay due to COVID, we are very pleased to be getting these aircraft, which will replace older Airbus A320s and provide cost-efficient capacity growth."
"There are 46 additional seats on the A321 relative to the A320. And these provide cost-efficient growth core to the domestic network growth assumptions we've made."
He also says ANZ still has eight Boeing 787s on order with the first two now expected be delivered in the fiscal year starting April 2025 rather than fiscal year 2024 as earlier planned.
"[The change] follows discussions with Boeing as they work through production rates," says Thomson, referring to how Boeing had to delay deliveries of 787s to many airlines and that the US FAA has just granted approval for the US aircraft-maker to resume deliveries.
Feature picture shows one of ANZ's Dash 8-300s.
Related articles: Air New Zealand To Cut CO2 Emissions 16% By 2030 (8 August 2022)
Related posts
SUBSCRIBE TO OUR NEWSLETTER