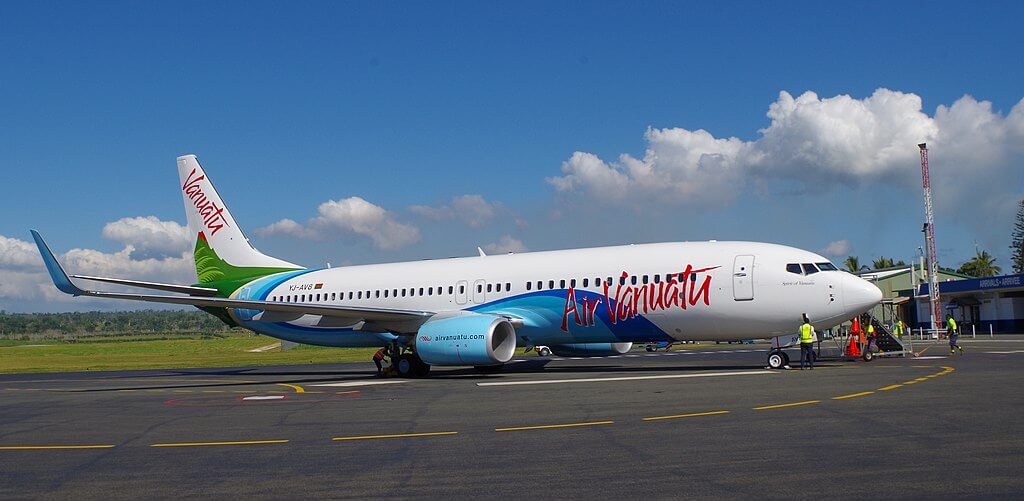 Vanuatu's government has agreed to intervene and provide further financial support to Air Vanuatu to help the national carrier resolve a financial dispute with the lessor of its only jet aircraft, a Boeing 737-800 leased from Aircraft Lease Corporation (ALC).
"There is still a threat [of repossession] to the lease of the Boeing 737 that operates the international routes, [but] the airline and the lessor have agreed to an interim plan that will include government reducing the significant arrears that have accumulated during COVID," Air Vanuatu says in a statement.
It says: "The Vanuatu Government has made financial arrangements that will provide debt relief to the national airline which is a state-owned entity."
"This commitment has been endorsed via a Council of Ministers resolution that was passed and signed just before the government was dissolved."
"Given the subsequent dissolution of the government, it is expected that implementing this financial arrangement may be complicated and even delayed. The airline confirms that all financial arrangements are with the government and have no relation whatsoever to the Vanuatu National Provident Fund," it adds.
ALC delivered the new 737-800 on lease to Air Vanuatu in early 2016. The lessor's founder and CEO, Steven Udvar-Házy, said at the time he looked forward to a long-term relationship with Air Vanuatu and helping the carrier to modernise its fleet.
But since then, Air Vanuatu announced in February 2019 an order for four Airbus A220s, but then decided against getting the aircraft, even though Airbus had already unveiled one sporting the Air Vanuatu livery.
The national carrier then announced in June, that with help from government funding, it will be buying two more De Havilland Aircraft of Canada Twin Otters that it will deploy in late 2022 and that it also plans to buy a second ATR by year-end.
At that time, the airline's domestic fleet comprised of: one ATR 72, one Britten Norman Islander and three De Havilland Aircraft of Canada Twin Otters.
But now it has been revealed the acquisition of two Twin Otters may be to replace existing aircraft rather than fleet expansion.
The airline has reportedly just returned one Twin Otter to lessor Hevilift.
In its latest statement, Air Vanuatu confirms it has returned one of its Twin Otters to a lessor. "The plan was always … the return of this Twin Otter at the end of its lease," and add other aircraft to support the domestic routes, something that "remains part of the plan and is anticipated before the end of 2022."
The return of one Twin Otter to the lessor means Air Vanuatu only has two Twin Otters left to support its domestic operations, including YJ-AV11. The carrier reportedly paid 55 million Vanuatu vatu (US$470,000) in 2018 to have the aircraft repainted, the interior refurbished and for the flight desk to be upgraded from analogue to a new Gamin digital cockpit.
But Vanuatu's Daily Post newspaper, without citing sources, says businessman John Buchan, "has filed a case in court claiming for outstanding payments and if he takes back his aircraft, Air Vanuatu will struggle serving the whole of the country."
Feature picture from Airfleets.com shows Air Vanuatu's 737-800. 
Related Stories:
Air Vanuatu Tackling Pilot Shortage (28 July 2022)
Vanuatu Domestic Airport Reopening After 14 Years (30 June 2022)
Air Vanuatu Cancelling A220 Order To Focus On Domestic Fleet Expansion (10 June 2022)
Vanuatu Government To Pay Lease Payments Owing On Air Vanuatu Twin Otter (7 June 2022)
Pacific Island Tourism Unlikely To Return To Pre-COVID Levels In Next Two Years (23 August 2021)
Related posts
SUBSCRIBE TO OUR NEWSLETTER