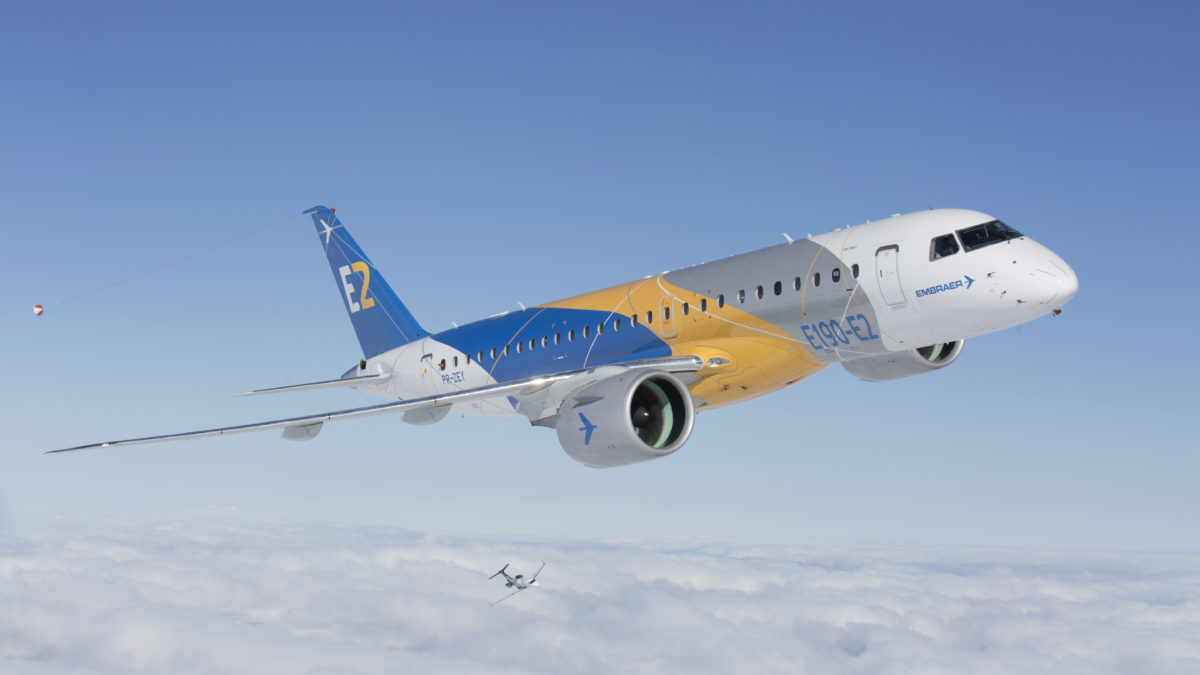 The aborted tie-up between Boeing and Embraer commercial aircraft is being portrayed by some in the news media as a major set-back for Embraer. But actually, it may not be all that bad for Embraer.
Boeing was going to acquire 80% of Embraer's commercial aircraft business for $4.2 billion.
There was the assumption that Boeing would then utilize Embraer's engineering and design personnel to develop new Boeing aircraft models.
And Boeing was going to use its marketing muscle to help sell Embraer aircraft globally and use its buying power to get better cut-price deals from suppliers to reduce the cost of producing Embraer aircraft.
But because of Boeing's financial woes, and need to conserve cash, it has abandoned plans to develop new aircraft models in the near future. New aircraft development reportedly ended in January when Dave Calhoun replaced Dennis Muilenburg as CEO.
Calhoun's strategy for the company going forward is to get the Boeing 737MAX certified again, with the US FAA and other regulators around the world, and start delivering the aircraft again to customers.
The other focus is getting the Boeing 777X, currently in development, certified. And to continue to deliver aircraft from its existing product lines: Boeing 747, Boeing 767 and Boeing 787.
If Boeing had acquired Embraer, it would have had management control and control over the future direction of the company. Boeing's track-record running and managing regional aircraft-makers is hardly stellar. Boeing acquired De Havilland Aircraft of Canada in 1986 and then sold it in 1992 to Bombardier.
Boeing executives are more concerned about what politicians in Washington DC have to say than worrying about a small offshoot in a foreign country. This is not a criticism. It is a statement of fact and Boeing's 'America first' stance is understandable in light of the fact it is fighting for its financial survival, and despite its bravado, may need a handout from lawmakers in DC in order to survive.
Nancy Pelosi, speaker of the US House of Representatives, said in an interview with CNN last night that: "[The American people] do not want any taxpayer dollars – in this difficult times to be used by the big entities that receive billions of dollars – to be used for anything but keeping [American] people at work. They don't want to see any buy-backs," or anything like that, "as it makes them very angry."
Boeing is calling on the US government for a $60 billion bail-out for itself and its suppliers. For Boeing to receive taxpayer monies and then turn around and send $4.2 billion to Brazil would be very difficult in the current economic and political climate.
Maybe the aborted deal is a blessing in disguise. Boeing could have acquired Embraer commercial aircraft and just let it wither on the vine. It is unlikely there would have been any significant work from Boeing for Embraer's engineering and design personnel.
Embraer has floated the idea of developing a new commercial turboprop aircraft, but that would have relied on approval and funding from Boeing, something that would have been highly unlikely in light of Boeing's current financial situation. Also, it is hard to believe that Boeing would consider development of a new commercial turboprop aircraft as a priority that
warrants its time and money. It would cost at least $1 billion to develop and certify a new commercial turboprop aircraft. Commercial turboprops are a relatively small segment of the commercial aircraft market. Boeing clearly has other priorities.
If Boeing had acquired Embraer commercial aircraft it would have helped to sell and market Embraer's regional aircraft around the world. That is for sure.
But Embraer already has its own international sales, marketing and customer support network. Boeing would have definitely made cut-backs here to avoid duplication. Embraer personnel would have been competing for jobs against Boeing personnel and reporting to bosses in Seattle who didn't know them and vice versa.
The main argument for the tie-up with Boeing is that because Airbus now owns the A220 program, and Airbus had been so adept at using its market muscle to crush Bombardier, Embraer will struggle to compete against the Airbus goliath.
But let's look at the facts. Embraer reported in February that its commercial aircraft order backlog, for the year ending 31 December 2019, was 338 and that last year it delivered 89 commercial aircraft. At that production rate, it has a production backlog of three years and nine months.
Backlog – Commercial Aviation (as of 31 December 2019)
| | | | | |
| --- | --- | --- | --- | --- |
| Aircraft Type | Firm Orders | Options | Deliveries | Firm Order Backlog |
| E170 | 191 | 0 | 191 | 0 |
| E175 | 815 | 308 | 634 | 181 |
| E190 | 568 | 0 | 564 | 4 |
| E195 | 172 | 0 | 172 | 0 |
| E175-E2 | 0 | 0 | 0 | 0 |
| E190-E2 | 27 | 61 | 11 | 16 |
| E195-E2 | 144 | 47 | 7 | 137 |
| Total | 1,917 | 416 | 1,579 | 338 |
Source: Embraer financial statements
Embraer has disclosed in recent days that it is getting requests from customers for deliveries to be delayed. And it says, so far, it has had no customers asking for order cancellations.
Delaying deliveries means Embraer will need to adjust its production volumes down to deliver a fewer number of aircraft each month. That means fewer production jobs required but it stretches out Embraer's order backlog even further.
There are more than 80 Embraer operators around the world. Once an airline has committed to an aircraft type, it is very difficult to switch the fleet over to another type. This is because of the enormous costs involved in retraining pilots, maintenance technicians and other personnel. Going forward there is a ready market selling to existing Embraer operators.
In terms of the Embraer E2 product line and the A220 product line, there is some overlap.
The E-195-E2 is a stretched version that can seat 120 passengers in a three-class configuration. The smallest A220, the -100 variant, seats 100-120 passengers in a two-class configuration, so there is some overlap there. But the other variant, the A220-300 seats 120-150 passengers in a two-class configuration.
Embraer's other aircraft, the E-175-E2 and E-190-E2, seat a maximum of 80 passengers and 97 passengers respectively in a three-class configuration.
The A220, which was originally the Bombardier CSeries, was developed to fill a different market segment. It was designed to replace aircraft, such as the Boeing MD-80 series, and fill the market between the 90-seat regional jet and the 180-seat Airbus A320 and Boeing 737.
It is true that the CSeries developers saw the aircraft as a replacement for some regional jets, as the trend – when the market was growing – was that regional jet operators were moving to bigger aircraft.
But the aviation market is no longer growing and not all regional jet operators will necessarily want to step up to bigger aircraft. If you are operating a 70-seat or 90-seat regional aircraft today, there is a good chance that when it comes to fleet replacement in future, you may want a 70 or 90-seat aircraft.
Airlines also want Embraer to survive. No one likes a monopoly. All airlines want market competition on the supplier side, so they have a choice and can get a better price.
The public statements from Embraer show a fairly high degree of animosity towards Boeing. The Brazilian aircraft-maker's homepage, on its corporate website, is now emblazoned with the headline: "Embraer says that Boeing wrongfully terminated the master transaction agreement."
The Embraer news release says "it will pursue all remedies against Boeing for the damages incurred by Embraer as a result of Boeing's wrongful termination and violation of the master transaction agreement."
Embraer is clearly very unhappy with Boeing. It seems hell hath no fury like an Embraer scorned.
One reason Boeing was interested to acquire Embraer was to gain the Brazilian aircraft-maker's engineering and design talent. And one reason Embraer wanted the tie-up with Boeing was so it could keep these highly skilled personnel actively employed.
Reuters reported in January that Commercial Aircraft Corporation of China (Comac) is struggling to get the C919 certified because of design issues. The Chinese state-backed aircraft maker has big ambitions to be the third-largest aircraft maker in the world behind Airbus and Boeing. Its CFM International powered C919 is a 158-168 seat aircraft, a direct competitor to the A320 and 737.
The Chinese aircraft maker has the China market and plenty of money, but it lacks the engineering and design expertise to make the C919 successful.
If Embraer were to form a partnership with Comac or with Chinese industry, via the auspices of Aviation Industry Corporation of China (AVIC), it would be a phenomenal combination.
Boeing has already experienced before how one rash, ill-conceived action – lobbying the US government to impose trade tariffs on CSeries – can result in far greater, unforeseen consequences.
Picture credit: Embraer
Leithen Francis
Leithen is based in Singapore and has over 17 years' experience working for news organisations. He is the former deputy Asia editor of Flightglobal and the former Asia editor of Aviation Week. Leithen has a BA in journalism from RMIT University in Melbourne, Australia.
Related posts
SUBSCRIBE TO OUR NEWSLETTER