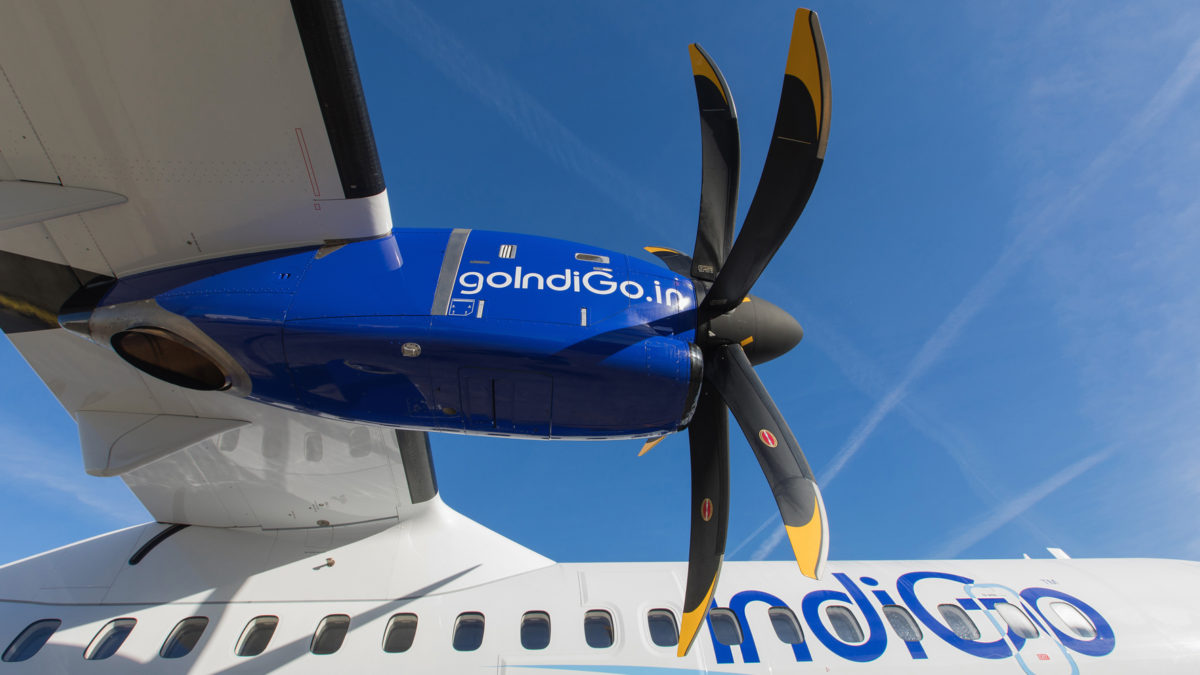 India's largest airline, IndiGo, is continuing to build its ATR fleet as it expands in the wake of the Jet Airways collapse.
Willy Boulter, the low-cost carrier's chief commercial officer, says the airline has so far received 21 of the 50 ATR 72-600s it has ordered.
Some news reports in India last year, citing unnamed sources, said the airline had been delaying delivery of ATRs due to a lack of pilots but Boulter told Smart Aviation APAC on the sidelines of the CAPA Asia Aviation & Corporate Travel Summit (14 November) that IndiGo continues to take delivery of ATR 72-600s on order. But he adds it has no immediate plans to order more. IndiGo would need some time to take stock of its regional requirements, before making any further decisions on its turboprop fleet, Boulter says.
The airline already has an extensive domestic network that includes a number of UDAN and Regional Connectivity Scheme (RCS) routes, he says, adding that competition and margins in the domestic business are extremely challenging.
He says operating regional aircraft is of strategic importance to IndiGo because it allows the airline to offer better frequency on domestic routes and expand its network to places that may be unable to support larger aircraft. It has also discovered that 80% of the passengers who fly on its ATRs, then connect to IndiGo's jet service, he adds.
The carrier has its ATRs based in cities such as Hyderabad, Bangalore and Kolkata, says Boulter, adding that the aircraft are also used extensively in the northeast of the country. This is a mountainous and relatively undeveloped part of India.
UDAN and RCS are programmes funded by the national and state governments and aim to improve connectivity in regional India through affordable air travel.
Boulter says that for now, the airline sees bigger opportunities internationally, particularly in connecting India to large east Asian cities like those in China. "It's a very under-tapped market. India only sees about 250,000 arrivals from China each year; Thailand gets something like 10 million a year from China," he adds.
IndiGo hopes to grow its international services so it accounts for half its flights as compared to about 25% now, Boulter says.
IndiGo has been expanding its international operations using Airbus aircraft.
IndiGo operates 226 Airbus aircraft, says Boulter. Airbus' orders and deliveries website shows that 128 are A320s, 91 are A320neos and seven are A321neos. It also shows that IndiGo has 241 A320neos and 391 A321neos on order.
Edward Eng
Edward is based in Singapore. He writes stories on regional aviation across the Asia-Pacific region and has a background on covering socio-political issues. Edward holds a BA (Hons) in Philosophy, Politics and Economics from the University of Warwick in the UK.
Related posts
SUBSCRIBE TO OUR NEWSLETTER