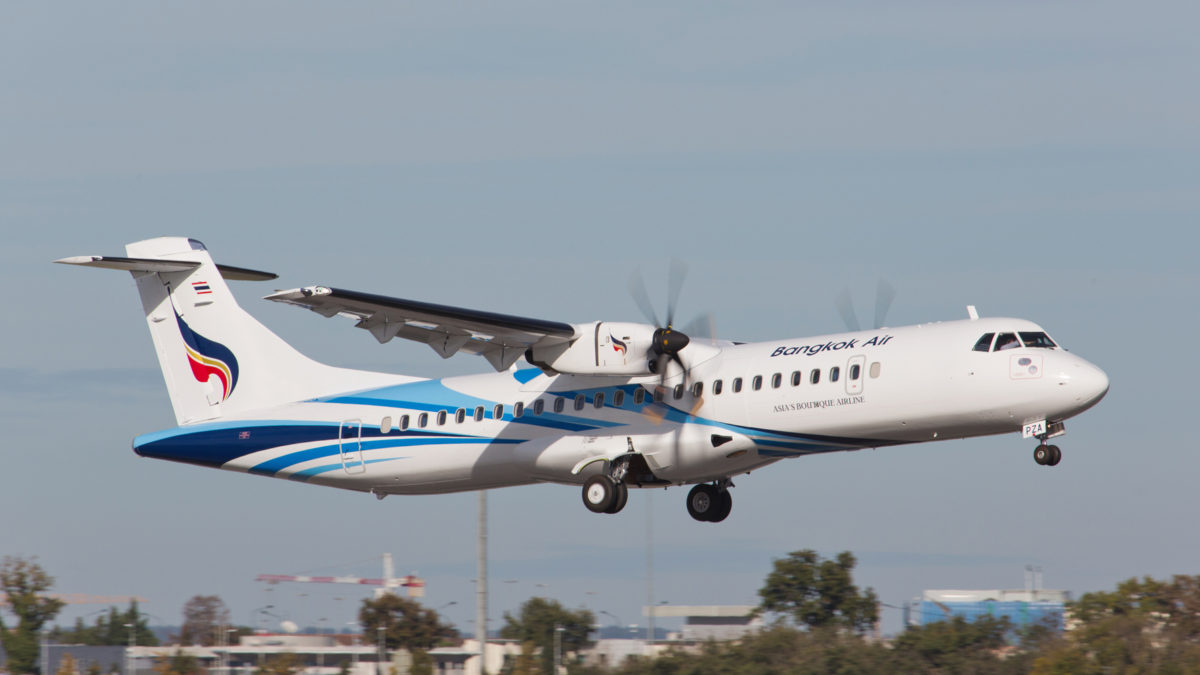 Bangkok Airways Reaffirms ATR Strategy for the Foreseeable Future
Edward Eng, 15 Nov 2019
2 min

read
Bangkok Airways expects to continue using ATR 72-600 turboprops for some domestic and international routes, but is phasing out the older ATR 72-500 model from its fleet.
In the near future the airline will have completed its turboprop upgrade, which involves phasing out its last remaining ATR 72-500s, Peter Wiesner, Bangkok Airways' network management advisor, tells Smart Aviation APAC on the sidelines of the CAPA Asia Aviation & Corporate Travel Summit in Singapore. The airline operates 25 Airbus A319/320 aircraft, according to details on its website, and Wiesner says the ATR fleet currently is two ATR 72-500s and 14 ATR 72-600s.
The ATR has allowed Bangkok Airways to offer a more convenient service in Thailand's regional aviation market, Wiesner says. For instance, it can offer tourists a five-times daily ATR service to Siem Reap at the same operating costs as a two-times daily A319 service, he adds.
Bangkok Airways is a domestic and short-haul international operator. It relies mostly on inbound international tourism traffic and gathers that traffic by codesharing with foreign international carriers that fly into Bangkok.
Wiesner says it will have 30 codeshare partners by year end. These airlines are flying into Bangkok at different times of the day.
Wiesner says the higher frequency that ATR operations provide means Bangkok Airways can cater to international travelers, flying into Bangkok at various times of the day, and provide them with convenient connections to Bangkok Airways' domestic and short-haul international network.
Bangkok Airways also uses ATR 72-600s because the 70-seat aircraft are deployed on domestic flights to less popular destinations such as Sukhothai, a central-northern city adjacent to the ruins of the ancient Sukhothai kingdom; and Trat, a southeastern province known for its beaches and wildlife sanctuaries.
Wiesner says these slow-growing routes are still sustainable with the ATR, and that the airline's strategy is to funnel a gradually-increasing number of international arrivals into them.
The challenges, Wiesner says, are "parking space and congestion" at major international gateways such as Bangkok's Suvarnabhumi Airport. This makes it difficult for Bangkok Airways to operate anything other than larger jet aircraft from Bangkok, he adds.
Bangkok Airways also owns and operates Trat Airport, Samui Airport, and Sukhothai Airport, where it is in the midst of developing a new maintenance, repair and overhaul (MRO) facility.
In recent years, the airline's ownership of Samui Airport has attracted accusations of monopoly abuse from other industry players, as well as passengers citing high ticket prices.
But Wiesner says, "We have to look after tourists but also the environment. Of course, we can bring in more tourists on the [larger] A319 instead of the ATR, but the truth is that if Koh Samui is damaged by over-tourism, no one will want to come anymore."
Edward Eng
Edward is based in Singapore. He writes stories on regional aviation across the Asia-Pacific region and has a background on covering socio-political issues. Edward holds a BA (Hons) in Philosophy, Politics and Economics from the University of Warwick in the UK.
Related posts
SUBSCRIBE TO OUR NEWSLETTER