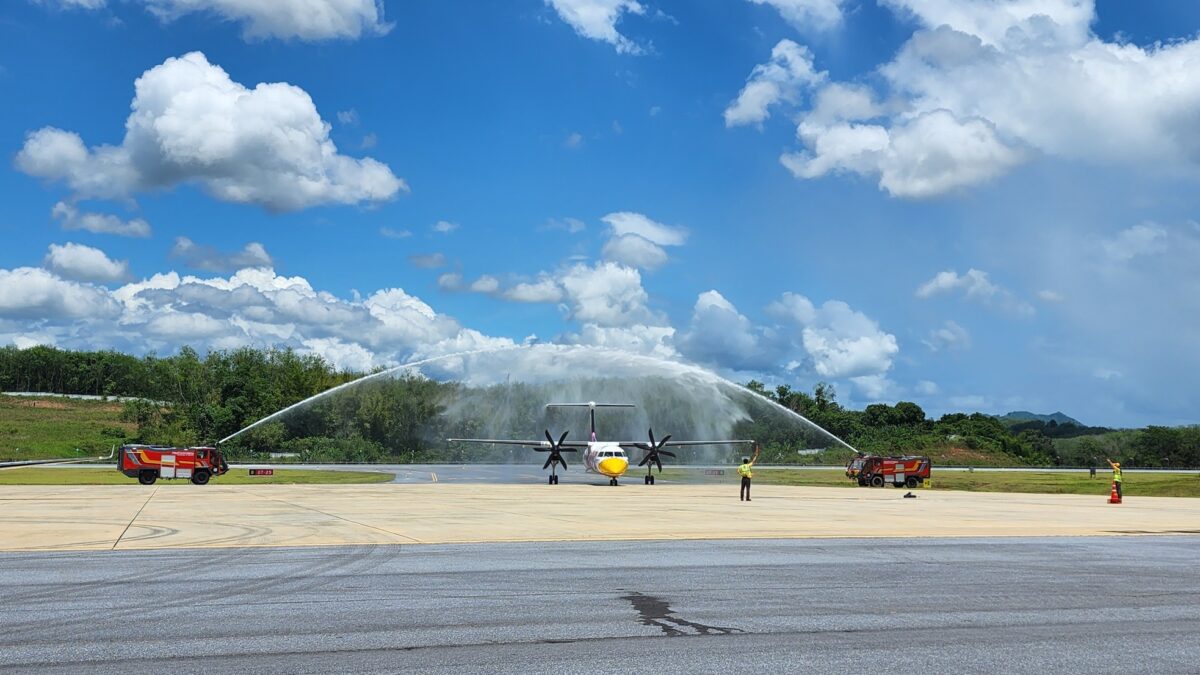 Thailand's low-cost carrier Nok Air has cancelled its flights to Betong International Airport merely one day since it began operations, citing a lack of passenger demand and high operational costs.
The airline says it flew its first commercial flight to the newly opened Betong International Airport, located at south Thailand's Yala province, on 14 March carrying Thailand's prime minister Prayut Chan-o-cha and cabinet members on its De Havilland Aircraft of Canada Dash 8-400.
The prime minister had told local media he hoped the airport could become a new tourism landmark and hub connecting the three provinces of Yala, Pattani and Narathiwat, as well as other countries like Malaysia and Singapore. He said the government had also pledged to develop infrastructure for Betong city in the future.
Nok Air's flights to the new airport proved to be short-lived. One local resident told local media she received a call from the airport on 15 March, informing that her flight on 18 March from Betong International Airport to Bangkok's Don Mueang International Airport was cancelled, and she has to depart from Hat Yai International Airport instead or request for a refund. Another passenger's flight on 16 March was also cancelled, prompting Thailand's Department of Airports to intervene and ask the airline for explanations, reports Thailand's The Nation newspaper.
Nok Air says in a statement that Betong is a new destination for the airline and needs a period of time for marketing, as well as support from the government and private sector.
"The number of passengers who bought tickets were fewer than expected, since there is only a short time for marketing. The operating costs are also high, such as the cost of jet fuel and various fees pertaining to flight operations. Therefore, Nok Air has cancelled both flights in order to reduce the risk of being unable to cover the expenses," the airline explains, adding that it will take responsibility for the affected passengers.
Thai PBS World quotes the airline as saying that tour agencies who handled the booking services have asked to postpone the flights as most of the shops at the airport's terminal are closed due to the pandemic, and there were less than 30 people combined who booked the two flights.
The report further adds that the airline has struck new deals with agencies to guarantee that  a minimum of 65 seats will be booked per flight at 3,000 Thai Baht (US$90), with effect from 1 April onwards.
The Department of Airports says the airline will hold a press flight to and from Betong Airport and Don Mueang International Airport today, inviting influencers and the media abroad to promote tourism in Betong.
It adds that passengers affected by the cancellations will be fully refunded within seven days, plus 1,200 Thai Baht compensation for each ticket.
The airport has been highly anticipated since announcement of its opening, due to its close proximity with Malaysia, making it a popular destination for budget conscious travellers and its improvement in regional connectivity between the very southern part of Thailand and the rest of the country.
Smart Aviation Asia Pacific previously reported that the airport is owned and operated by the Department of Airports and can accommodate up to 876,000 passengers a year. It has a 1,800m-long (5,905ft) runway which can only serve 80-seat aircraft like the ATR 72 or De Havilland Canada Dash 8-400.
Nok Air is the first airline to show an interest in running passenger flights, with plans to launch a thrice-weekly service from Bangkok Don Mueang International Airport to Betong International Airport before the suspension of service.
Picture Source: Nok Air Facebook
Related Stories:
Thailand's Nok Air To Launch Services To Newly Opened Betong Airport (28 February 2022)
EXCLUSIVE INTERVIEW: Rehabilitation Gives A New Lease Of Life To Nok Air (4 November 2021)
Thailand's Betong Airport Set To Open Next Month (20 August 2021)
Ong Jeng Yang
Based in Singapore, Ong Jeng Yang has more than four years of experience working in the media industry.
Related posts
SUBSCRIBE TO OUR NEWSLETTER