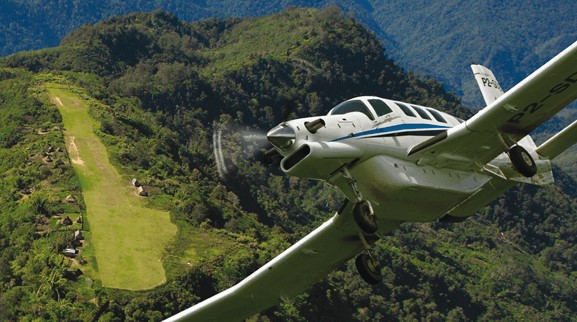 Hamilton-based aircraft manufacturer Pacific Aerospace, which has undergone an ownership change, is now resuming production and plans to produce six aircraft this year, including the long-anticipated Super-PAC XL.
Stephen Burrows, acting CEO of Pacific Aerospace, tells Smart Aviation Asia Pacific that NZSkydive bought the New Zealand aircraft-maker from administrators in April 2021 and decided that the business will continue to trade under the name of Pacific Aerospace as it is an established brand.
Founded in 1982, as Pacific Aerospace Corporation (PAC) was later acquired in 2006 by a consortium of aviation professionals who purchased the company's assets and rebranded it Pacific Aerospace Limited (PAL).
PAL then had financial difficulties in 2020, and went into administration in February 2021, setting the backdrop for an ownership change.
Burrows says new owners Neil Young and Dee Bond are aviation enthusiasts and when this opportunity came up, they decided to purchase the company so that New Zealand continues to have an aircraft manufacturer. Young and Bond's company NZSkydive, as the name suggests, is a New Zealand sky-diving company.
"Our Hamilton facility has a very long history and is a big part of New Zealand, so both of them wanted to ensure that the tradition goes on, to get it up and running," he says.
Information online shows Young and Bond also own the airfield in the New Zealand town of Mercer and other businesses there such as the Tuakau Hotel and other properties.
Pacific Aerospace is the type certificate holder for the Fletcher series of agricultural aircraft, CT/4 Airtrainer series, E-350 Expedition general aircraft series, Cresco general aircraft series and the PAC P-750 XSTOL.
"Prior to its liquidation, PAL was also re-engineering the P-750 XSTOL for an upgrade, dubbed as the Super-PAC XL. They were about 75% done when we took over, so we have chosen this aircraft type to be put back into production," says Burrows. 
He says the Super-PAC was also selected as it has garnered attention and many operators have been looking forward to the aircraft, with its enhanced 'hot and high' flying capability and faster ascent, the latter being an important capability for skydiving.
"We are planning to build five Super-PAC XL aircraft [this year]. We hope to get the Super-PAC XL type certificate amendment in April or May and deliver our first aircraft in July or August," he says.
"The New Zealand Civil Aviation Authority (CAA), US Federal Aviation Administration (FAA) and other authorities will also have to recognize the aircraft before it enters the markets," he adds.
Ray Long, production supervisor and pilot at Pacific Aerospace, says the Super-PAC XL is suitable for 'hot and high' flying regions such as the Mediterranean and mountain areas in Papua New Guinea.
He says Pacific Aerospace has been doing some flights with the aircraft at a high, mountainous airport in Nepal, to showcase its ability to fly in tough conditions.
Long says the Super-PAC XL uses a Pratt & Whitney Canada PT6-140, a more powerful turbine than the -34 engine in the current P-750 XSTOL.
"For skydiving purposes, it can climb to 20,000 feet in 18 to 19 minutes …. For cargo usage, this engine allows the aircraft to maintain its performance at a high altitude for a longer period of time since it has not hit the capped temperature range. In contrast, some engines will be too hot to keep up with flying at such high altitudes for long periods," he clarifies.
Long says a key target market for the Super-PAC XL will be the skydiving market.
Besides the Super-PAC XL, Burrows says they will produce one standard PAC P-750 XSTOL this year.
"The PAC P-750 XSTOL is a versatile aircraft. It can be used for medevac, cargo runs, surveillance work and agricultural roles. For example, the operator can use it for skydiving purposes in the summer and change it for surveillance work during winter, giving them more utilization," he adds. 
With regards to future plans, Burrows says the company is still at the early stages of starting up and is trying to keep the operations stable, but it will increase its production rate later on.
"We have around 30 employees now but that will be ramped up. For other aircraft types, there are possibilities that we might choose to put them back into production in the future as well," he says, citing the CT/4 Airtrainer series and E-350 Expedition as likely candidates. 
Related Stories:
New Zealand Aircraft-Maker Pacific Aerospace Declared Insolvent (19 February 2021)
Ong Jeng Yang
Based in Singapore, Ong Jeng Yang has more than four years of experience working in the media industry.
Related posts
SUBSCRIBE TO OUR NEWSLETTER