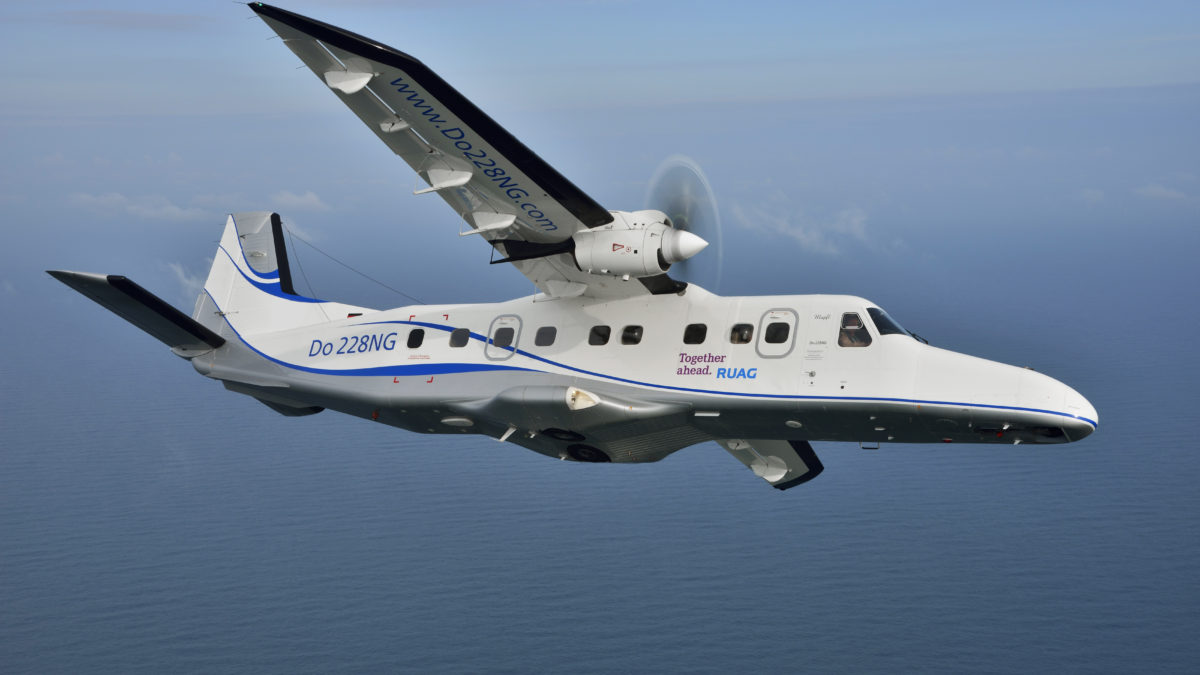 General Atomics Europe Completes Purchase of Dornier 228 Program
Staff Writer, 2 Mar 2021
2 min

read
General Atomics Europe has completed the purchase of German company RUAG Aerospace Services and plans to expand it far beyond its existing business area.
Swiss aerospace company RUAG International says in a statement that all shares in German company RUAG Aerospace Services have been transferred to General Atomics Europe. Details on the purchase price remain undisclosed.
The German company, which is based at Oberpfaffenhofen airport outside Munich, includes a military helicopter maintenance, repair and overhaul (MRO) business, a business aviation MRO as well as the Dornier 228 program. It means General Atomics is now the type-certificate holder of the Dornier 228, a Honeywell TPE331-powered turboprop aircraft. The Dornier 228 is a civil commuter aircraft, but it is also used by some militaries for maritime surveillance, environmental protection, parachuting, military transport, etc.
General Atomics is most well-known for its Honeywell TPE331-powered unmanned aerial vehicles, such as the MQ-1 Predator, that are primarily used by militaries.
RUAG International is retaining ownership of the RUAG aerostructures business at Oberpfaffenhofen that makes parts for other aircraft-makers such as Airbus.
RUAG International says the aerostructures business will continue to employ 800 people, but the other 420 employees involved in the other three divisions now come under General Atomics Europe.
Harald Robl, managing director of General Atomics Europe, says in the statement: "With this acquisition, General Atomics Europe is sustainably strengthening its market positioning in the aviation business. We have developed a strategic concept for the future that will open up new growth and value creation prospects for the Oberpfaffenhofen site, far beyond the existing business areas, despite the current economic crisis." He stops short of elaborating further on the expansion plan.
The two companies had earlier announced on 15 October that they were working towards the deal.
RUAG has owned the businesses since 2002 when it acquired them from the administrator of Fairchild Dornier.
Related posts
SUBSCRIBE TO OUR NEWSLETTER