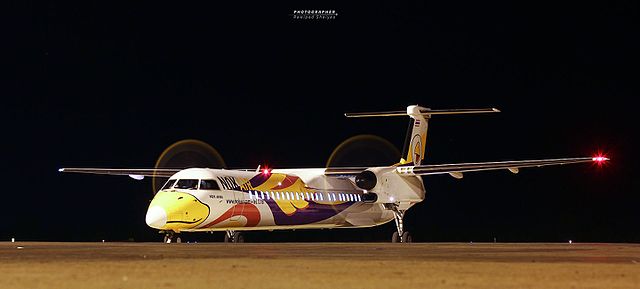 ANALYSIS: Thailand's Nok Air Was In Trouble Before COVID-19
Leithen Francis, 3 Aug 2020
4 min

read
Nok Air has gone into voluntary bankruptcy, but it should be coping much better with the current COVID-19 situation than it is, considering it is primarily a domestic airline. 
International air travel is more adversely affected, because international restrictions have largely brought international travel to a halt, but domestic air travel continues. Fewer people are flying domestically than before, but there is still a market for domestic air travel. 
Nok Air operates 90-seat De Havilland Dash 8-400s, an aircraft easier to fill and with much lower trip costs than Airbus A320s and Boeing 737s.
The airline has a fleet of 13 Boeing 737-800s and eight Dash 8-400s. It can use the Dash 8-400s to cater to current domestic demand.
Nok Air says in a statement to the Bangkok stock exchange that it has lodged an application to the Central Bankruptcy Court to undergo rehabilitation. It says it has no intention to terminate or liquidate the business, and it plans to restructure the business, including doing a debt restructuring. 
It says: "[The] debt restructuring will be done by considering fair treatment of all the company's stakeholders in line with the company's financial situation."
"This rehabilitation filing is an essential step to ensure that the company will return to sustainable operations which will be beneficial to all stakeholders including our passengers, partners, suppliers, creditors, debtors, employees, shareholders, the general public and the development of the Thai economy."
The airline's CEO, Wutthiphum Jurangkool, in an interview with Bangkok Post highlighted how COVID-19 has led to the airline's current woes by forcing it to cancel all 18 of its international routes. He also said the carrier was only operating 30% of its domestic schedule. 
The newspaper says the carrier's debts as of 31 March was 26.8 billion baht (US$858 million).
It would be incorrect to assume the airline's woes and debit burden are due to COVID-19. 
The Thai low-cost carrier has reported six years of consecutive annual losses, something that cannot be blamed on this year's pandemic.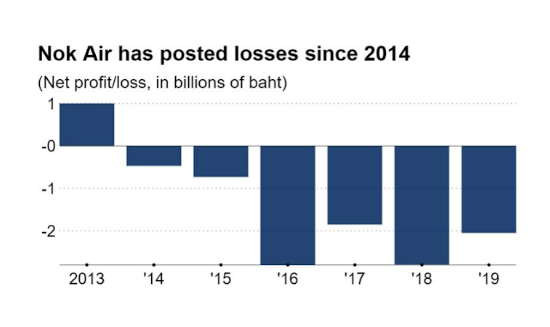 Graph: Nikkei Asian Review citing Nok Air company fillings.
The last time the carrier reported an annual profit was in 2013, the year Thai Lion Air entered the domestic market and sparked a price war for market share. 
But it would also be incorrect to attribute Nok Air's financial troubles to domestic market competition. 
To successfully turn the airline around, Nok Air management needs to address the route causes of its problems. 
In his autobiography Smiling Through Turbulence, Nok Air co-founder and former CEO (2004-2017), Patee Sarasin, highlights some of the issues that were dragging the airline down financially. 
He says Nok Air was profitable prior to 2014, because it and Thai AirAsia could charge higher air fares. But when Thai Lion Air entered the market, air fares dropped and Nok Air became unprofitable because it had a higher cost base.
Patee attributes the higher cost base to several factors, such as the cost of ground handling. Nok Air, unlike some of its competitors, outsourced ground handling. 
When Nok Air started in 2004 the mantra – especially among low cost carriers in Europe – was that to be successful, airlines should focus on their core business – flying aircraft and selling air tickets – and outsource everything else. This freed up much needed capital and the thinking was that outsourcing would be cheaper. 
But when Nok Air outsourced ground handling, it was not cheaper, says Patee, adding that when he realised this later, he tried to have ground handling brought in-house. 
He says the argument against bringing ground handling in-house was that it would be too expensive to buy the ground handling equipment, but he argues the investment would have paid off over time and it would have helped to reduce the airline's cost base.
The other issue Nok Air has is the cost of its engine maintenance. He says Nok Air signed a multi-year deal with Lufthansa Technik for engine maintenance on its CFM International CFM56 engines that power its fleet of 737s.
He says when Nok Air negotiated the deal they thought they had secured a good deal because Lufthansa Technik agreed to a lower price on engine overhauls on the basis that the 737s would be flying longer sectors. 
He says the airline planned replace the 737s on domestic routes with the Dash 8-400s and steadily redeploy the 737s to Nok Air's expanding international network. But this network plan never materialized. Patee says because the 737s continued to be used on short domestic sectors, the cost of the airline's engine overhauls became higher than they had expected. 
For Nok Air to complete a successful financial turn around, it needs to examine all aspects of the business. 
Reports have suggested that Nok Air will be seeking lease waivers from its lessors. But this will not address the underlying problems. The airline needs to scrutinize all aspects of its business. 
Patee Sarasin's autobiography Smiling Through Turbulence can be ordered in both print and ebook format from Amazon.com, Barnes & Noble and other leading book retailers.
Photo: Rawipad C. KKU
Leithen Francis
Leithen is based in Singapore and has over 17 years' experience working for news organisations. He is the former deputy Asia editor of Flightglobal and the former Asia editor of Aviation Week. Leithen has a BA in journalism from RMIT University in Melbourne, Australia.
Related posts
SUBSCRIBE TO OUR NEWSLETTER