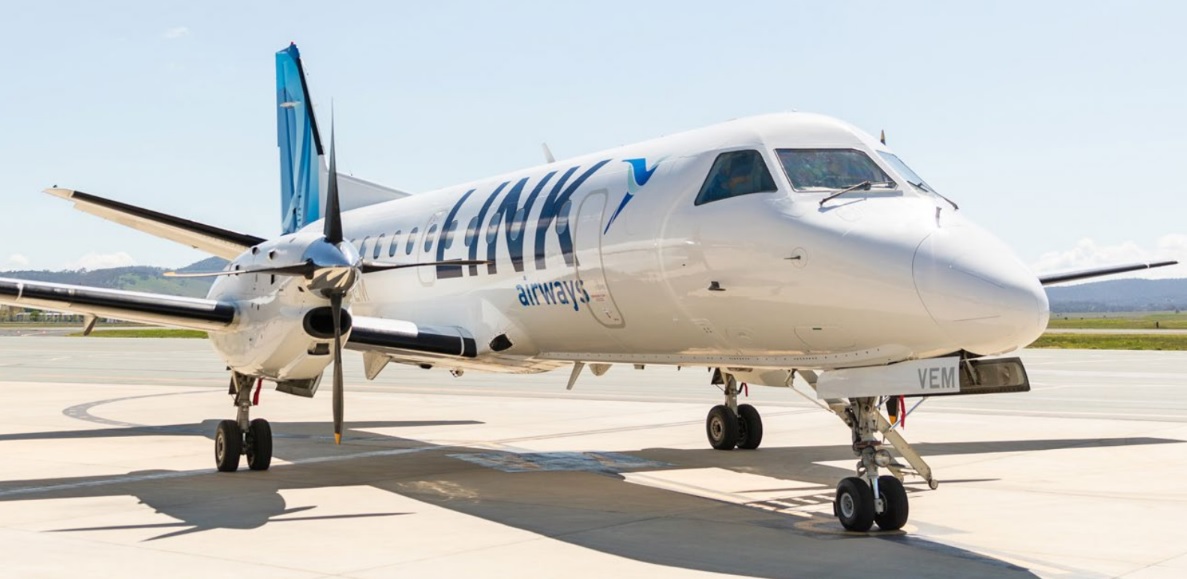 Link Airways, the regional airline of charter operator Corporate Air, will commence scheduled flights connecting Tamworth and Sydney using Saab aircraft from mid-2022 onwards, citing the increase in market demand and familiarity with the destination as reasons.
Jeff Boyd, manager of network strategies and development at Link Airways, tells Smart Aviation Asia Pacific the airline will be using 34-seat Saab 340B+ aircraft for the twice daily non-stop flights between the New South Wales regional city of Tamworth and Sydney starting 27 June.
Boyd says the move comes at an opportune time markets because have been opening up and there is a pent-up demand to travel.
"As the country moves towards a post-COVID setting, there are more people travelling now, so we see room for us to move into this route, which is currently only served by one airline. Link Airways has also managed to seize the (airport) slots, making all this a reality," he says. Qantas Airways' regional carrier QantasLink is the other operator on the route.
Boyd says an uptick in business and government travel has further increased travel demand, and given the airline added confidence to launch the service.
He says they also chose the Sydney-Tamworth route because the airline already has a presence in Tamworth, putting it in a good position.
"We have operated flights connecting Tamworth and Brisbane since 2016, so we have built up our reputation as a reliable and established service provider," Boyd adds.
He says Link Airways is providing a slightly different schedule than the incumbent carrier but air fares remain roughly the same, so passengers now have more options to choose from.
Andrew Major, CEO of Link Airways, says in a statement the new service will greatly enhance connectivity between Tamworth and Sydney.
He says that detailed research and discussions with existing clients over the years had identified a strong demand for flights between Tamworth and Sydney that offered additional business-friendly same-day return flights. 
Link Airways' double-daily service provides passengers from Tamworth and Sydney the opportunity to spend a full business day at their destination and return home that same afternoon whilst also facilitating potential for weekend stays, the airline says.
Tamworth mayor Russell Webb says that a second airline flying direct to Sydney has been in demand for a significant time, and this is another way to attract people to the region. 
Tamworth is a city in north western New South Wales and is best known for the annual Tamworth Country Music Festival, the world's second biggest country music festival. Each year, an estimated 100,000 people pass through Tamworth for the festival.
It is also recognised as the 'horse capital' of Australia because of the many horse events held in the city and the construction of the Australian Equine and Livestock Events Centre, the biggest of its kind in the Southern Hemisphere.
Four Saabs In Three Months
Link Airways' fleet consists of three Fairchild Metro 23 and 11 Saab 340B+, four of which arrived within the past three months.
Boyd says the newly acquired Saabs are for its Virgin Australia Airlines wet lease contract for the Canberra-Sydney route.
"As we have just added these aircraft to our fleet, we do not have any expansion plans now," he says.
Link Airways serves 15 destinations, namely: Armidale, Biloela (Thangool), Brisbane, Canberra, Coffs Harbour, Dubbo, Hobart, Inverell, Melbourne (Essendon), Narrabri, Newcastle, Orange, Sydney, Tamworth and Wollongong (Shellharbour).
Picture Source: Link Airways
Ong Jeng Yang
Based in Singapore, Ong Jeng Yang has more than four years of experience working in the media industry.
Related posts
SUBSCRIBE TO OUR NEWSLETTER