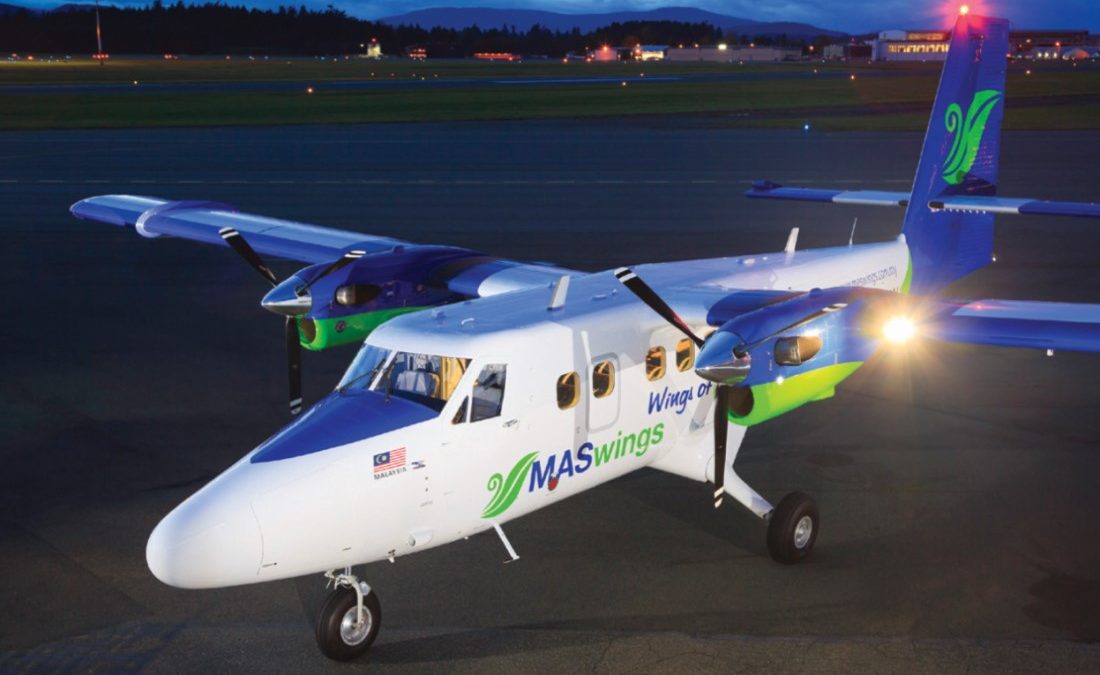 Malaysia Airlines' turboprop operator in East Malaysia, MASwings, has signed an agreement with the Malaysian government to continue providing rural air services (RAS).
The new agreement covers air services in Sabah, Sarawak and the federal territory of Labuan under a new public service obligation (PSO) agreement, MASwings CEO, Aminuddin Zakaria, tells Smart Aviation APAC.
He says the East Malaysia RAS routes were agreed upon after negotiations with the government under the ministry of transport and its appointed administrator, the Malaysian Aviation Commission (MAVCOM).
The new six-year PSO contract, which is till 31 December 2024, includes government subsidies that help MASwings bear the costs of operating uneconomical RAS routes, says Aminuddin. In return, MASwings must meet the set targets which are based on on-time performance, number of flight cancellations and customer satisfaction, he adds.
Aminuddin says RAS routes are essential for small businesses and those travelling to meet family and friends. Destinations such as Bario, a community of 13 villages lying on the Malaysia-Indonesia border, depend on MASwings' air service which cuts travel time down to 45 minutes from 14 hours by four-wheel drive from Miri – which is the hub of RAS operations, he adds.
Aminuddin a says RAS routes are critical for rural development. Ecotourism is also popular with tourists, he says, and is beneficial because it promotes two-way understanding between outsiders and local communities. Aminuddin also says tourist numbers have grown steadily by 3-5 percent each year, with destinations like Mulu, the gateway to the UNESCO World Heritage Site – Gunung Mulu national park, among the most popular.
Aminuddin adds that some routes will eventually become commercially viable as the market grows. While this means they are re-categorised as non-subsidy routes and will begin to attract other airline competitors, Aminuddin says MASwings is proud to be the first to develop these routes.
The airline once flew to Pontianak and Balikpapan in Indonesia but found it difficult to compete with larger commercial carriers, Aminuddin adds.
When asked if MASwings is looking to launch new short-haul international services, Aminuddin says MASwings is eyeing routes to the southern Philippines. But he adds, the priority is maintaining its public service obligations.
MASwings says it carries between 1.1 million to 1.2 million passengers a year on its fleet of ten ATR 72-500s and six Viking Air Twin Otter 400 series aircraft.
The 400 series is the latest variant with full glass cockpit. Aminuddin says this is essential for flying RAS routes, which require visual approaches because of very limited air traffic control services.
The Twin Otters are reliable, he says, adding that this is important because MASwings' rural destinations are in some of the most remote, mountainous regions in East Malaysia.
"These are areas where even security can be a challenge," Aminuddin adds.
Edward Eng
Edward is based in Singapore. He writes stories on regional aviation across the Asia-Pacific region and has a background on covering socio-political issues. Edward holds a BA (Hons) in Philosophy, Politics and Economics from the University of Warwick in the UK.
Related posts
SUBSCRIBE TO OUR NEWSLETTER