Japan Airlines (JAL) plans to decide within the next 24 months on the replacement aircraft for its ageing Boeing 767 and Embraer regional jets, apparently omitting the Mitsubishi SpaceJet M90 as an option.
Ross Leggett, JAL head of route marketing, international relations and alliances, tells Reuters on the sidelines of the IATA annual general meeting in Doha that a decision will be made in the next year or two.
He says for the Embraer regional jet replacement it is considering the Airbus A220 and Embraer E2.
JAL returned domestic capacity to 100% of pre-pandemic levels in May, though demand is about 85%-95% of pre-pandemic levels, he adds.
JAL's website shows that its subsidiary J-Air owns 18 Embraer 170 and 14 Embraer 190 aircraft.
According to Airfleets.net, JAL's first E-170 was delivered in 2008, and the first E-190 was delivered in 2016. The average age of J-Air's E-170s and E-190s is 10.1 years and 4.7 years respectively, it adds.
JAL announced in January 2015 that it had concluded a deal with Mitsubishi Aircraft for the purchase of 32 Mitsubishi SpaceJet M90, which were to be assigned to J-Air. It was understood that it ordered the M90s to replace the Embraer regional jets.  But since the order was placed there were numerous delays to the M90 program as the aircraft manufacturer worked to get the aircraft certified.
Smart Aviation Asia Pacific then reported last October that Mitsubishi Aircraft told the US FAA in writing that it had decided to freeze the program for three years, period October 2020 to October 2023.
All Nippon Airways (ANA) in its annual shareholder meeting on 20 June confirms that it still has 15 Mitsubishi SpaceJet M90 on order.
ANA announced in March 2008 it had ordered 15 Mitsubishi SpaceJet M90 aircraft with options for 10 more. ANA has said previously the aircraft are for its regional subsidiary ANA Wings.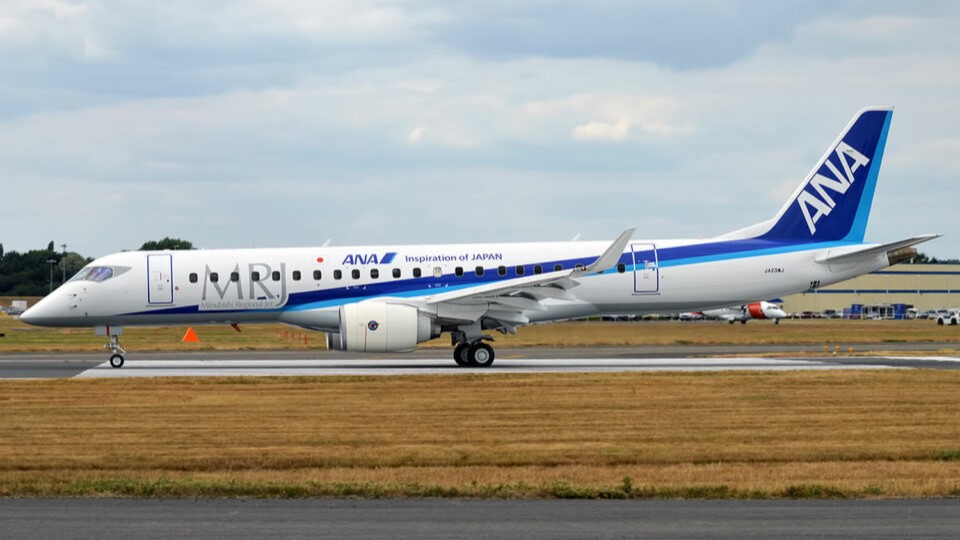 Mitsubishi SpaceJet M90 in ANA livery (Source: Anna Zvereva)
ANA Wings has since phased out its Boeing 737-500s and now only operates De Havilland Aircraft of Canada Dash 8 400 aircraft.
ANA's website shows ANA Wings owns 24 De Havilland Aircraft of Canada Dash 8-400s.
According to Airfleets.net, the first Dash 8-400 was delivered in 2010, and the fleet has an average age of 13.1 years.
Meanwhile, JAL's Leggett says the carrier will consider the Boeing 787 and Airbus A321neo as replacements for its Boeing 767 fleet. JAL's website shows it owns 29 Boeing 767 aircraft.
According to Airfleets.net, JAL's first Boeing 767 was delivered in 2002 and the fleet has an average age of 14.5 years.
Picture Source: Japan Airlines
Related Stories:
Japan's MHI Sells Factory That Was Producing Empennages For Mitsubishi SpaceJet (21 December 2021)
Mitsubishi Aircraft Tells FAA It Has Shelved SpaceJet For Three Years (20 October 2021)
MHI Pauses Most SpaceJet Programme Activities (30 October 2020)
Davy Lim
Davy is based in Singapore. He is passionate about aviation and has flight experience in various single engine piston aircraft, gliders and seaplanes from his time in the United States. Davy holds a BA in Economics from the State University of New York in Buffalo.
Related posts
SUBSCRIBE TO OUR NEWSLETTER