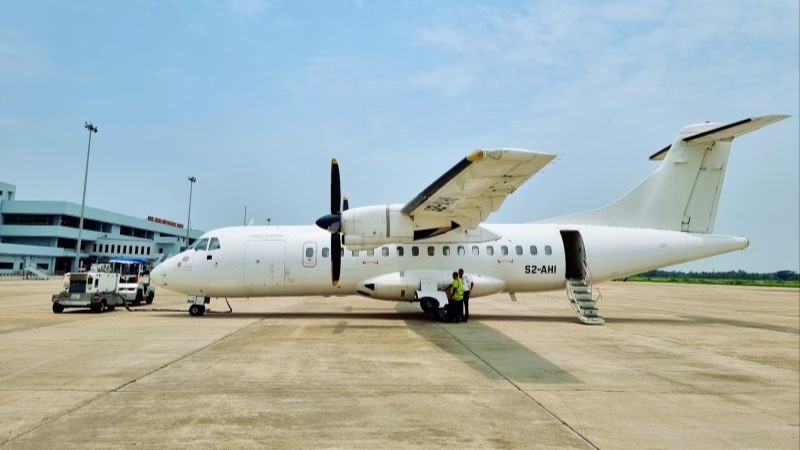 Bangladesh NXT Air Cargo, with its second aircraft beginning operations, is looking to add another ATR 72 next year.
Nizam Ahmad, CEO NXT Air Cargo, tells Smart Aviation Asia Pacific that it plans to add an additional ATR 72-500 freighter by next year's first quarter, after updating its air operator certificate to include international cargo operations.
NXT Air Cargo has recently started operating its second aircraft, an ATR 42-300 aircraft, transferred from affiliate Bangladeshi operator Hello Airlines, he confirms.
NXT Air is a domestic cargo operator and Ahmad says its fleet consists of two aircraft under lease purchase agreements: an ATR 42-300 leased from Nixmo, and the ATR 72-212 leased from ACIA Aero Leasing, says Ahmad. Nixmo is a Canadian company linked to the airline's owner.
The airline currently provides domestic cargo charter flights, carrying live shrimp domestically from Cox's Bazar Airport to Jessore Airport, he says.
It is also working with Kuwait Airways to transport personal effects from Dhaka's Shahjalal International Airport to Shah Amanat International Airport in the southeastern city of Chittagong, he adds.
Featured picture shows NXT Air Cargo's ATR 42-300 S2-AHI (Source: Md Sabbir Ahammed)
Related Stories:
Bangladesh's NXT Air Cargo Receives AOC (25 January 2022)
Bangladesh NXT Air Cargo Aims To Launch Operations Next Month (28 December 2021)
Bangladesh Moves Towards Goal Of Becoming An International Air Hub (1 September 2021)
Davy Lim
Davy is based in Singapore. He is passionate about aviation and has flight experience in various single engine piston aircraft, gliders and seaplanes from his time in the United States. Davy holds a BA in Economics from the State University of New York in Buffalo.
Related posts
SUBSCRIBE TO OUR NEWSLETTER