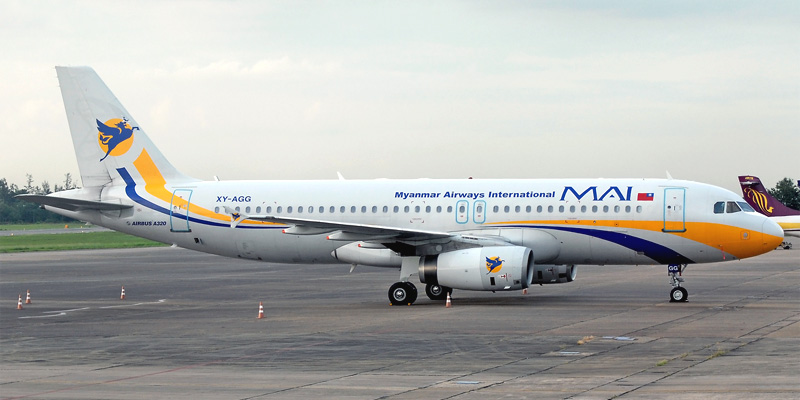 Myanmar Airways International (MAI) has added an Airbus A320 and Embraer E-190 to its fleet, which are set to start flying soon.
Aircraft lessor Truenoord says it has delivered an E-190 on lease to MAI, and the aircraft will serve domestic routes and regional destinations in Southeast Asia. The aircraft was previously leased to Kazakhstan carrier Air Astana, it adds. The aircraft is reportedly the last E-190 in Air Astana's fleet as the airline has switched to the Embraer E2.
Besides the Embraer, the airline has announced it has received its fourth Airbus A320.
A source at the airline tells Smart Aviation Asia Pacific the plan to expand the fleet was decided before COVID-19 but the delivery was delayed due to the pandemic.
"We are currently doing some registration paperwork, and the aircraft will start serving soon," the source clarified, though no exact timeline was mentioned.
The newly added Embraer will be code-shared with Air KBZ, whereas the newly added Airbus routes are still in discussion, the source says, adding that travel demand in the country is recovering. Myanmar had a military coup on 1 February resulting in civil unrest.
Besides the new additions, the airline has: four Airbus A319s, three Airbus A320s and three Embraer E190s, the airline's website states.
Picture Source: airlines-inform.com
Related Stories:
Myanmar Airways International Aims to Become Major Player (4 November 2020)
Myanmar Airways International and Other Carriers Resuming Services, Despite Political Uncertainty Caused By Military Coup (5 February 2021)
Ong Jeng Yang
Based in Singapore, Ong Jeng Yang has more than four years of experience working in the media industry.
Related posts
SUBSCRIBE TO OUR NEWSLETTER