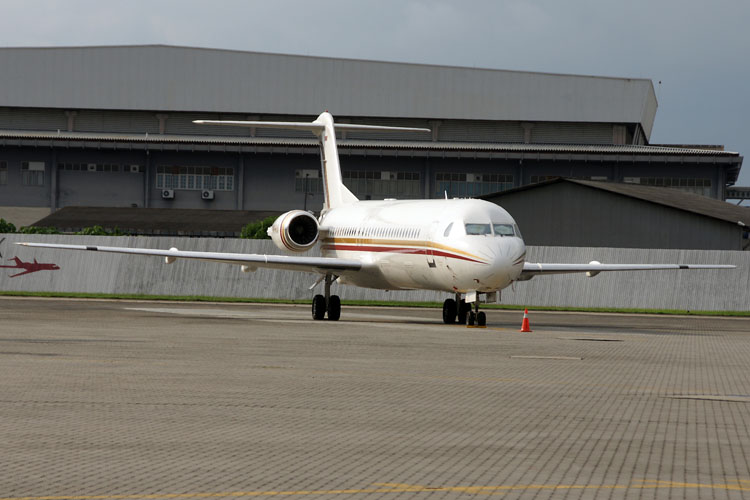 Premiair, which is the largest business jet operator in Indonesia, plans to grow its maintenance business and is also seeking US FAA certification.
Managing director of Premiair, Capt Tony Hadi, tells Smart Aviation they have completed all the documentation required by the FAA and are now waiting on the FAA to do the final audit, which should hopefully take place in this year's third or fourth quarter.
Premiair aims to receive FAA certification by year-end, says Hadi, adding that the initial FAA certification will cover very specific areas such as: wheel and brakes, batteries and maintenance of aircraft satellite systems.
If Premiair gains FAA certification, it will be a significant milestone because very few maintenance facilities in Indonesia have FAA certification. GMF AeroAsia has FAA certification and Lion Air Group's Batam Aero Technic in July received FAA certification covering Boeing 737 aircraft.
Premiair is also an approved service centre for Embraer business jets, says Hadi, adding that the company is approved to do airframe heavy checks up to and including L4. He says they hope that by next year they will be approved by Embraer to do L8 checks. L8 is terminology used by Embraer and is the equivalent a of C-check.
Premiair is based at Jakarta's Halim Perdanakusuma International Airport, but it is also planning to establish a maintenance base in the West Papuan capital of Jayapura to serve turboprop operators there.
Hadi says they attended an operators conference in Jayapura, organized by one of the general aviation aircraft manufacturers, and could see there was a real need for an airframe and component MRO facility in Jayapura to serve the turboprop operators in that province.
He says the operators there are trying to do the lighter checks themselves, and when it comes to heavier checks they are ferrying the aircraft to Singapore. This is impractical and costly because Singapore is so far away from West Papua, adds Hadi.
Hadi says they have already spoken to the airport authority responsible for Jayapura and selected the site for the new hangar. Premair plans to establish the MRO facility there next year, says Hadi, adding that they know the airport authority well, because Premiair used to have its Cessna Grand Caravan based in Jayapura doing freight runs.
Premiar's Cessna Caravan is now based in Jakarta and Hadi says they are speaking to travel agents to see if they can develop a flight schedule for next year that will make use of the aircraft for tourist charters.
Premiair owns the Cessna Caravan because under Indonesia Part 135 regulations, to qualify for an air operator certificate (AOC) one must own at least one aircraft. Premiair also uses its AOC to manage other people's aircraft, mostly business jets. It manages eight business jets and two helicopters.
Another growth opportunity that Premiair sees, is expansion of its ground handling business. Premiair operates a FBO (fixed-base operation) at Jakarta's Halim Perdanakusuma International Airport but is interested to establish FBOs in other parts of the country. Hadi says there is currently a tender open for establishment of a second FBO at Bali's Ngurah Rai International Airport. This is an opportunity Premiair is examining. Currently, the only FBO at Bali is one operated by Execujet.
Leithen Francis
Leithen is based in Singapore and has over 17 years' experience working for news organisations. He is the former deputy Asia editor of Flightglobal and the former Asia editor of Aviation Week. Leithen has a BA in journalism from RMIT University in Melbourne, Australia.
Related posts
SUBSCRIBE TO OUR NEWSLETTER