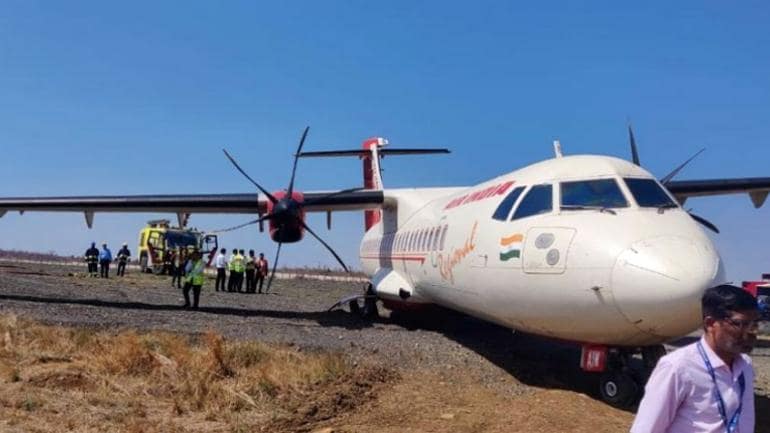 India's Directorate General of Civil Aviation (DGCA) is investigating an incident in which an Alliance Air ATR 72-600 came off a runway in northern India.
The runway excursion occurred at around 13:15hr local time on 12 March when the airline's ATR 72-600, local registration VT-AIW, landed at Jabalpur Airport, in the northern Indian state of Madhya Pradesh, after completing a flight from New Delhi's Indira Gandhi International Airport, say local media reports quoting local authorities. 
Sixty people were on the flight, including 55 passengers and five crew, the report says.
The DGCA says it is investigating the incident. 
State-owned regional carrier Alliance Air says in a statement the aircraft overshot the runway by 10 meters (33 ft) and that all on board were evacuated safely.
"We have taken strict note of the incident and the cockpit crew have been de-rostered. A thorough investigation has been initiated. The findings shall be shared with the regulatory authorities and we shall ensure that all required corrective actions are put in place," the airline says.
Videos and photos circulating online shows the aircraft on grass, with passengers standing near the aircraft.
Video from Breaking Aviation News & Videos Twitter shows the scene at Jabalpur Airport.
Featured photo from India Today shows the aircraft on grass.
Related Stories:
Growth In India's Domestic Market (14 March 2022)
India's Alliance Air To Refurbish ATR Fleet (11 January 2022)
India's Alliance Air Seeks To Lease Two ATR 42-600s (29 October 2021)
Ong Jeng Yang
Based in Singapore, Ong Jeng Yang has more than four years of experience working in the media industry.
Related posts
SUBSCRIBE TO OUR NEWSLETTER