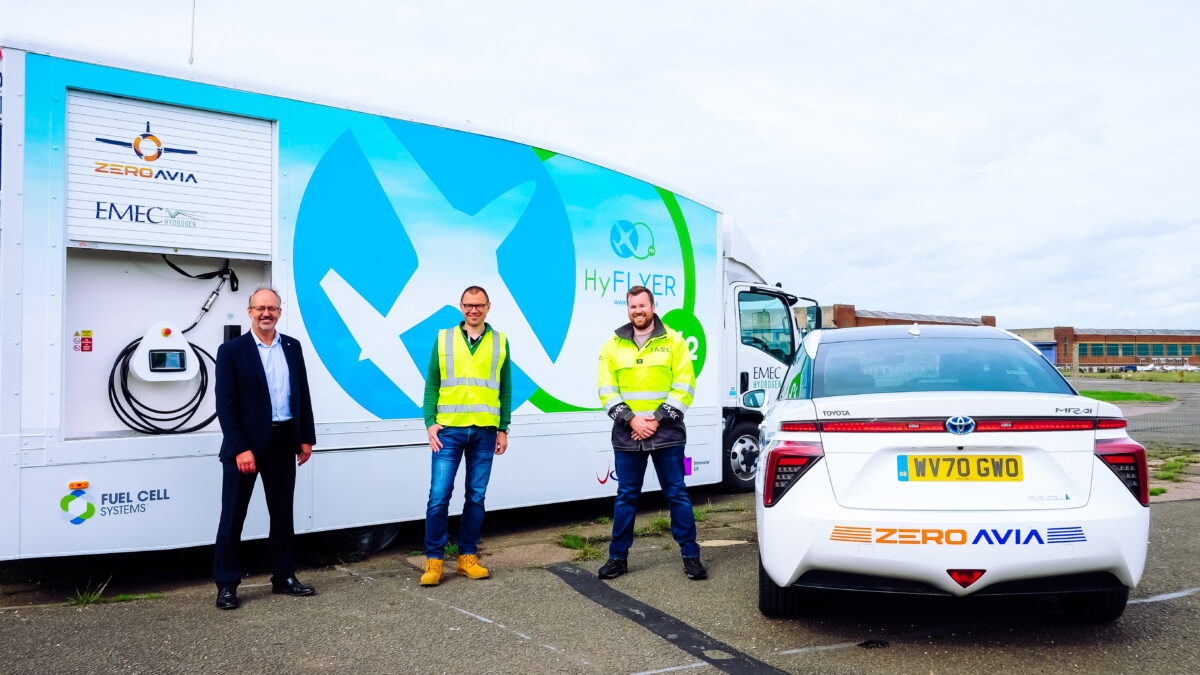 UK-based startup ZeroAvia is adding hydrogen fuel-cell vehicles in its next step to develop zero-emission hydrogen ground infrastructure for its hydrogen-electric aircraft. 
The addition of the Toyota Mirai fuel-cell ground operations vehicle is significant because it demonstrates that hydrogen infrastructure already present for refueling aircraft can be used in the wider airport ecosystem, ZeroAvia says. The startup is co-developing the world's first on-airport zero-emission hydrogen production, storage and refueling system with the European Marine Energy Centre (EMEC), it adds. 
EMEC is a supplier of green hydrogen from renewable energy sources, as well as the developer of a mobile, self-contained hydrogen production and refueling platform compatible with hydrogen-electric aircraft. 
"We will be using [the Toyoto Mirai] for transport around the Cranfield and other UK locations," says Sergey Kiselev, ZeroAvia's head of Europe. Cranfield Airport is also home to ZeroAvia's hydrogen-electric powertrain aircraft, project HyFlyer, which is being developed with technical support from fuel-cell engineering company Intelligent Energy and EMEC. Project Hyflyer recently flew Europe's first commercial-size electric aircraft using a modified hydrogen-electric six-seat Piper M350. 
In addition to its announcement on the airport hydrogen ecosystem, ZeroAvia says it plans to offer its hydrogen-electric solution for the package delivery and agriculture markets alongside the development of project HyFlyer. It says it has secured experimental certificates for two prototype aircraft, and is on track for commercial operations for a 10-20-seat aircraft with a 500-mile (805km) range by end-2023.
Photo: ZeroAvia
Edward Eng
Edward is based in Singapore. He writes stories on regional aviation across the Asia-Pacific region and has a background on covering socio-political issues. Edward holds a BA (Hons) in Philosophy, Politics and Economics from the University of Warwick in the UK.
Related posts
SUBSCRIBE TO OUR NEWSLETTER