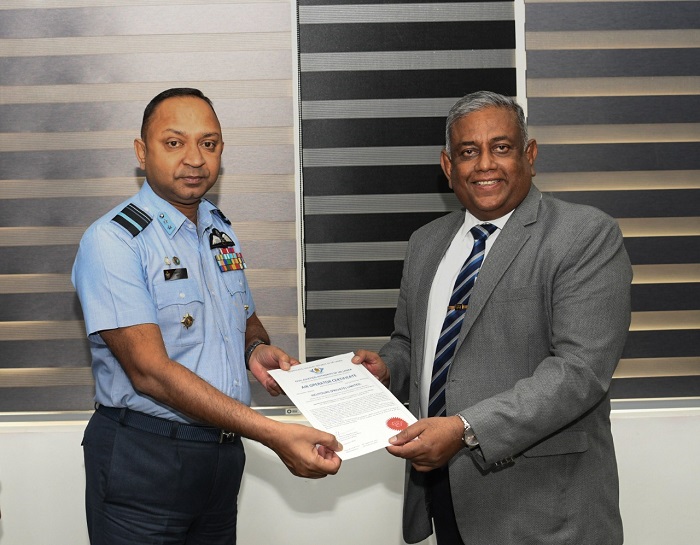 Helitours, a domestic airline operated by the Sri Lanka Air Force, has received its air operator's certificate (AOC) and plans to commence scheduled flights to four destinations using its fleet of Xian MA60s.
The Civil Aviation Authority of Sri Lanka (CAASL) has issued the commercial AOC to Helitours so its two Xian MA60 turboprops can be used for scheduled commercial flights, local media outlet The Sunday Times reports quoting from CAASL director general Themiya Abeywickrama. 
The report says, prior to getting the AOC, Helitours was providing scheduled and charter commercial passenger services with no commercial AOC and no liability insurance. It operated the flights under its military call sign and had passengers sign indemnity forms, the report adds.
CAASL says it will now oversee Helitours' commercial operations as Helitours' AOC falls under its regulations.
CAASL's Abeywickrama says Helitours is now waiting to get liability insurance before commencing the commercial operation.  Helitours will now follow civil aviation rules instead of being considered a military operation, he adds.
Abeywickrama also points out the AOC is only for the Xian MA60s and excludes the air force's Harbin Y-12 transport aircraft.
The news report highlights that the air force's MA60 pilots will need to hold air transport pilot licenses and commercial pilot licenses.
An official at Helitours confirms to Smart Aviation Asia Pacific they received the AOC on 2 March and tentatively plan to start operations at the end of this month or beginning of next month.
"It will fly from Colombo's Ratmalana International Airport to Anuradhapura, Batticaloa, Jaffna and Trincomalee," the official says.
Jaffna and Anuradhapura are two major cities in the country's north and north central province, whereas Batticaloa and Trincomalee are two major cities in the eastern province.
The Xian MA60 is a Pratt & Whitney Canada PW127J-powered turboprop aircraft produced by China's Xi'an Aircraft Industrial Corporation under the Aviation Industry Corporation of China (AVIC).  The 60-seat aircraft is designed to operate in rugged conditions with limited ground support and has short take-off and landing (STOL) capability. 
The aircraft is type certified by the Civil Aviation Administration of China (CAAC) as a commercial aircraft, but there are very commercial operators of the aircraft outside of China. Most of the overseas commercial operators are in Africa, but Laos' Lao Skyway operates MA60s. 
Picture from newswire.lk shows Helitours CEO Prasanna Payoe (right) receiving the AOC from CAASL's Themiya Abeywickrema (left).
Related Stories:
Sri Lanka's FitsAir To Expand Into International Passenger Ops with De Havilland Canada Dash 8-400s (10 January 2022)
Ong Jeng Yang
Based in Singapore, Ong Jeng Yang has more than four years of experience working in the media industry.
Related posts
SUBSCRIBE TO OUR NEWSLETTER