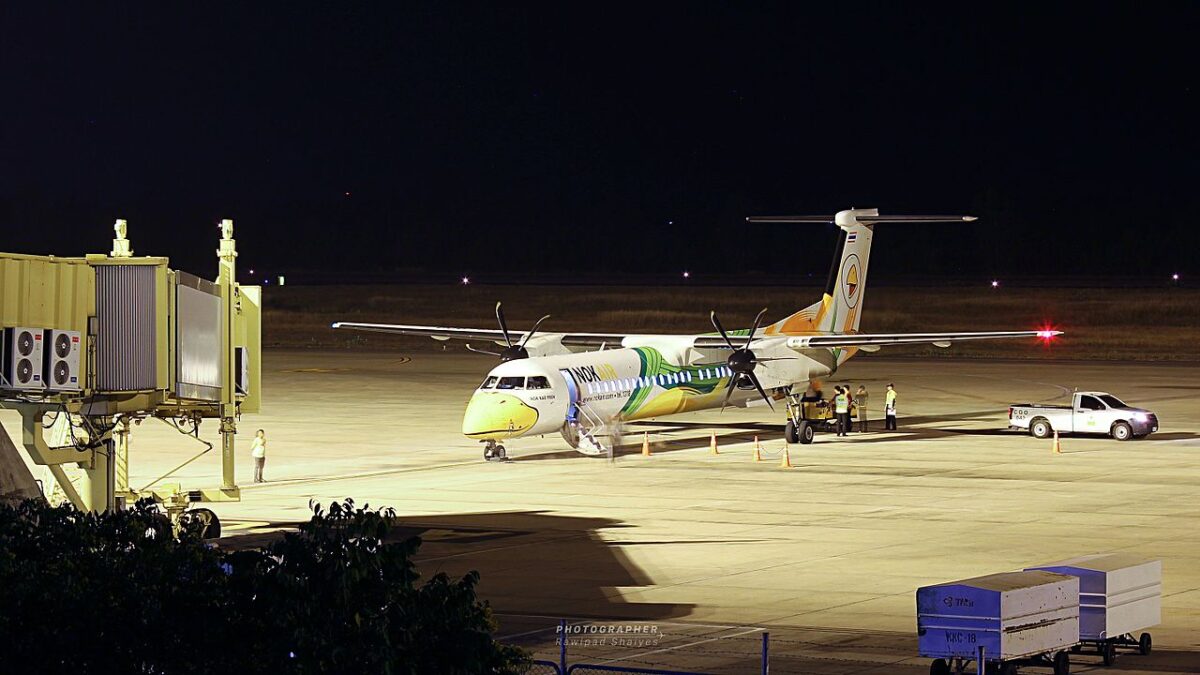 Thai low-cost carrier Nok Air has issued a request for proposals (RFP) for aircraft that suggests that it is considering switching to ATR from De Havilland Aircraft of Canada.
The airline's RFP calls for operating leases for 19 Boeing 737-800s, one 737-800 freighter, two Boeing widebodies and either four De Havilland Aircraft of Canada Dash 8s or four ATR -600 aircraft, reports aviation market intelligence service Cirium which has seen the RFP. The report fails to mention if Nok wants ATR 42-600 or ATR 72-600 aircraft or is considering both.
Cirium says Nok operates a fleet of 21 aircraft, eight Dash 8-400s and 13 737-800s, from various lessors. GECAS is one of the Dash 8-400 lessors.
The loss-making airline has been adversely affected by the COVID-19 induced downturn in air traffic.
It is due to submit a rehabilitation plan to Thailand's Central Bankruptcy Court on 15 March. In the meantime, it must aim to reach an agreement with its creditors, including its current aircraft lessors, on its financial turnaround plan.
Editor's comments:
Nok Air started ordering Dash 8-400s in November 2013 when it was profitable and the aircraft programme was controlled by Bombardier. The ATR has a lower fuel-burn and is cheaper to operate, but Nok Air said at the time that it chose the Dash 8-400 because it can seat 86 passengers as compared to 78 for the ATR 72-600. The fact the Dash 8 is a larger aircraft, meant the airline felt it was better for replacing some of its Boeing 737s on domestic routes. The airline, however, never executed on that network plan.
Also, the airline discovered it usually had to send its pilots to North America for Dash 8-400 simulator training. The airline's CEO at the time, Patee Sarasin, said in his autobiography Smiling Through Turbulence that the few Dash 8-400 simulators in Asia Pacific were usually unavailable. There are Dash 8 simulators in Japan and Australia, but these are managed by other Dash 8 operators.
Related articles:
Thai Court Accepts Nok Air Debt Petition (6 November 2020)
ANALYSIS: Nok Air Was In Trouble Before COVID-19 (3 August 2020)
Thailand's Nok Air Planned To Replace Some 737s with Dash 8s (13 March 2020)
Leithen Francis
Leithen is based in Singapore and has over 17 years' experience working for news organisations. He is the former deputy Asia editor of Flightglobal and the former Asia editor of Aviation Week. Leithen has a BA in journalism from RMIT University in Melbourne, Australia.
Related posts
SUBSCRIBE TO OUR NEWSLETTER