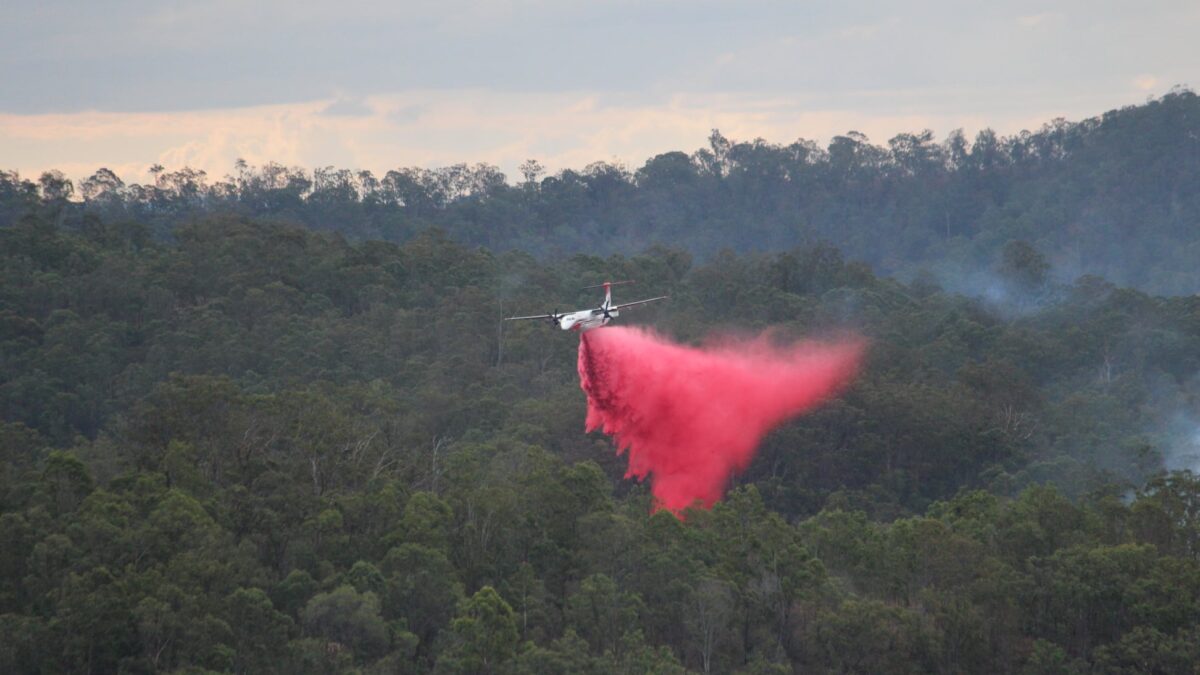 The De Havilland Canada Dash 8-400 air tanker on wet-lease from Canada's Conair is being used to fight wildfires on UNESCO World Heritage-listed Fraser Island in Queensland.
The Dash 8-400, with its retardant tank capacity of 10,000l and 2,000km range, is being deployed after an illegal campfire started in mid-October began spreading across Fraser Island, says the Queensland Fire and Emergency Service. The fires have now destroyed more than 80,000ha of the island, and the fire service has issued warnings for residents in parts of the Happy Valley township to leave immediately.
Fraser Island is 350km north of Brisbane and is the largest sand island in the world at 122km long. It is UNESCO World Heritage-listed for its exceptional geography. The island has rainforests and accounts for half of the world's coastal freshwater dune lakes.
Aircraft have dropped more than 1.86 million litres of combined suppressants on K'gari (Fraser Island) since Saturday, with 345,000 litres used on Wednesday alone. Seventeen aircraft, including the Large Aerial Tanker (LAT), are continuing to respond today.

🎥 Thurs 3 December pic.twitter.com/EZtRb8jf2S

— Qld Fire & Emergency (@QldFES) December 3, 2020
The Dash 8-400 has also supported the Queensland Fire and Emergency Service to contain a fire in early October around Lowmead, a rural town about 430km northwest of Brisbane.
The aircraft is Queensland's first dedicated aerial firefighting aircraft of this size, says Stephen Holding, managing director of Field Air, the Australian operator that is wet-leasing the aircraft from Canada's Conair. Field Air also works with Conair to operate an Avro RJ85 air tanker in New South Wales, and another RJ85 in Victoria, he adds during an interview with Smart Aviation APAC in September.
Photo: Queensland Fire and Emergency Service
Edward Eng
Edward is based in Singapore. He writes stories on regional aviation across the Asia-Pacific region and has a background on covering socio-political issues. Edward holds a BA (Hons) in Philosophy, Politics and Economics from the University of Warwick in the UK.
Related posts
SUBSCRIBE TO OUR NEWSLETTER