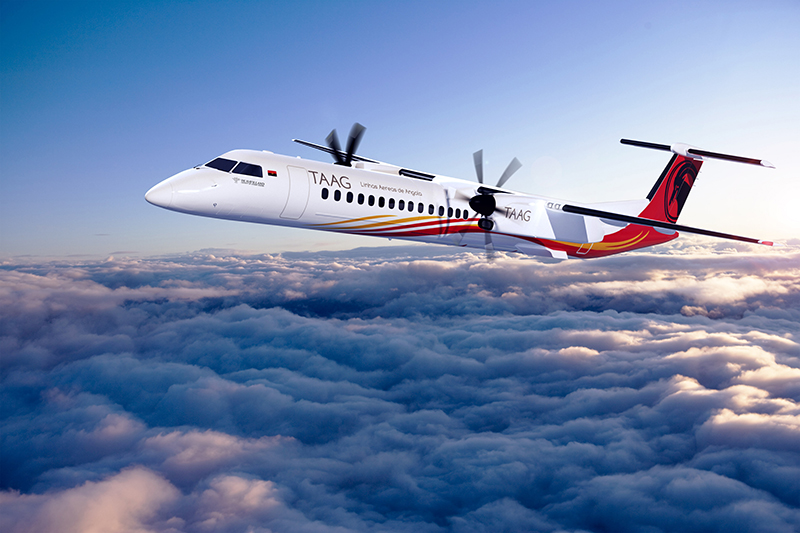 Activities focusing on fulfillment of aircraft deliveries have resumed at De Havilland Aircraft of Canada's Dash 8-400 production facilities as the manufacturer adjusts to the impact on industry of COVID-19.
The Canadian manufacturer's spokeswoman, Philippa King, tells Smart Aviation APAC it sees its regional turboprop will play an important role in re-establishing airlines' markets.
She says the aircraft-maker is prioritising aircraft deliveries in a phased return to work. De Havilland Aircraft of Canada temporarily suspended manufacturing on March 20, in response to COVID-19, while continuing to provide customer support.
Teams that have returned to work as of 4 May "are focused on activities such as fuel flow testing, engine running, flight testing and [pre-delivery] inspections," King says. In order to prevent the spread of COVID-19, additional teams involved in the supply chain will gradually be recalled next, before other manufacturing teams are phased in, she adds.
King says De Havilland recognizes the unprecedented uncertainty of the pandemic, but evidence from previous crises shows that aircraft like the Dash 8-400 are crucial as airlines seek to rebuild their markets. The company is working closely with customers to ensure fleet utilization and to solve issues in network recovery, she adds.
De Havilland has received Canadian civil aviation authority approvals and prepared a service bulletin for a new Simplified Package Freighter configuration allowing quick change of the Dash 8-400 passenger cabin to carry light freight. This was in response to operators wanting to reconfigure their Dash 8s in order to deliver additional essential cargo per flight during the pandemic, it says.
One Dash 8-400 has been delivered to an undisclosed customer since the suspension of manufacturing operations on 20 March, King says.
De Havilland Aircraft of Canada chief operating officer, Todd Young, says in a statement: "As we move forward, we are adjusting the business to reflect the current market demand, as well as for the foreseeable future." Young said last year they were manufacturing two to two-and-a-half aircraft on average per month.
When asked what the production volume will be now, King declines to comment. But she says the company anticipates the Dash 8-400 will continue to be popular with operators. This is because of its value proposition—quality, versatility and high performance, she adds.
Photo: De Havilland Aircraft of Canada
Edward Eng
Edward is based in Singapore. He writes stories on regional aviation across the Asia-Pacific region and has a background on covering socio-political issues. Edward holds a BA (Hons) in Philosophy, Politics and Economics from the University of Warwick in the UK.
Related posts
SUBSCRIBE TO OUR NEWSLETTER