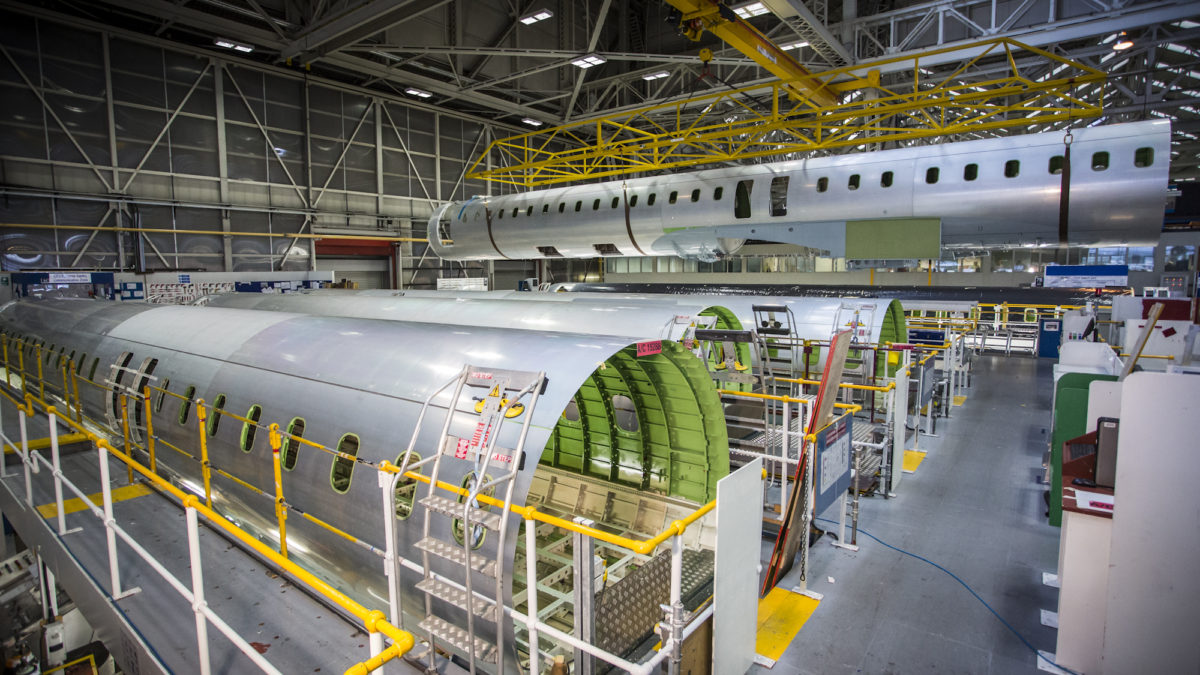 Mitsubishi Heavy Industries (MHI) is completing its acquisition of Bombardier's Canadair Regional Jet (CRJ) programme on 1 June, with both sides agreeing that all transaction conditions have been met.
The 1 June acquisition deal comprises "the maintenance, support, refurbishment, marketing, and sales activities for the CRJ series aircraft, along with the type certificates," MHI says in a statement. This includes the services and support bases in Mirabel and Toronto in Canada; and Bridgeport and Tucson in the US, as well as spare parts depots in Chicago and Frankfurt, it adds.
MHI's newly-established MHI RJ Aviation Group (MHIRJ) will manage the CRJ programme and customer support network. The customer support network will continue to support CRJ operators around the world and will eventually support operators of Mitsubishi Aircraft's SpaceJet. The SpaceJet is a new regional jet in development that is in flight testing. Mitsubishi Aircraft announced in February it aims to have the aircraft certified in time to start delivering to customers sometime between April 2021 and March 2022.
Bombardier earlier announced that the last CRJ aircraft on order, are due to be complete mid-year.
Editor's comments:

MHI bought the CRJ programme because it wants the maintenance facilities and customer support that can then be used to support the SpaceJet. The Japanese conglomerate knows that customer support is an important factor airlines consider, when choosing aircraft to buy.
When MHI was negotiating last year with Bombardier to buy the CRJ programme and customer support network, Boeing was negotiating to buy Embraer commercial aircraft. Mitsubishi Aircraft did have an earlier arrangement with Boeing, whereby the US aircraft-maker's global customer support was to support SpaceJet. But the assumption was that, if Boeing bought Mitsubishi Aircraft's major competitor – Embraer commercial aircraft – then Mitsubishi's customer support deal with Boeing would be redundant. This gave impetus to the Mitsubishi-Bombardier deal.
But now that the Boeing-Embraer deal has failed to eventuate, it will be interesting to see if the Mitsubishi-Boeing customer support deal will be resurrected. Even if it is resurrected, the fact that MHI has proceeded with the deal with Bombardier, indicates that Mitsubishi Aircraft wants to be in control of its own destiny, rather than be too reliant on Boeing, which has proven to be fickle.
Photo: Bombardier
Leithen Francis
Leithen is based in Singapore and has over 17 years' experience working for news organisations. He is the former deputy Asia editor of Flightglobal and the former Asia editor of Aviation Week. Leithen has a BA in journalism from RMIT University in Melbourne, Australia.
Related posts
SUBSCRIBE TO OUR NEWSLETTER