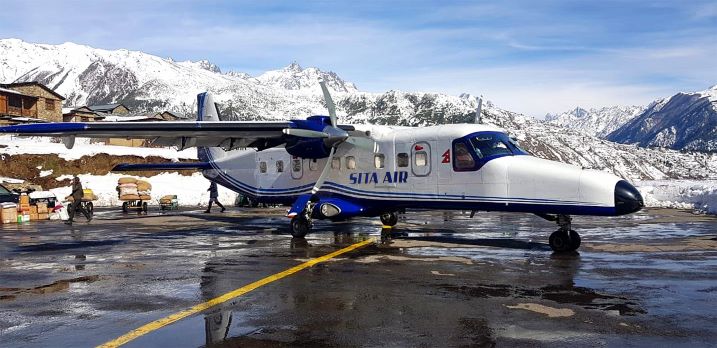 Nepal's Sita Air is wary of reading too much into the recent boom in tourist arrivals, even as the government's Visit Nepal 2020 campaign is expected to bring in record numbers of tourists next year.
Rajendra Singh, the airline's managing director, says one only needs to look into recent history to see that tourism projections can easily be derailed by natural disasters or politics, which are not uncommon in the country.
"The year 2017, 2018 and 2019 were consecutively big tourist seasons, and I am optimistic that 2020 will be a record year with a few hundred thousand more arrivals. But if you remember the earthquake [in 2015], you'll see that 2016 was an extremely slow year. Earthquakes and landslides have brought sudden lulls, and if you go back to the early 2000s, political instability limiting freedom of movement has also been a challenge even if factually, not a single tourist lost his life," Singh says.
On the airline's business, Singh adds that this cautiousness in decision-making has paid off. Sita Air has been turned around from a loss-making operation since Singh and his three partners bought the airline in 2016 with just one aircraft, he says. The airline now owns and operates four Dornier 228s and two Airbus H125 helicopters.
"When we took over the airline, we evaluated all the aircraft capable of flying to short takeoff and landing (STOL) airstrips in the mountains. For instance, we were among the first Nepalese to visit the Let [Aircraft Industries] factory and look at the Czech Let L410. We had reservations because the new L410 was not specifically built for STOL operations," Singh says.
"We also looked at the Twin Otter, which is very capable on paper because it has a lower landing speed. But when we checked the incident history of the aircraft in the mountains, we felt that the aircraft was not as technologically dependable. With the Dornier 228, we and our passengers are not only sticking to it, but also enjoying it," he adds.
Sita Air's main operations include flying to STOL airstrips in the mountains, although it also flies some trunk routes, such as Kathmandu-Pokhara. Pokhara is the second-most populous city in Nepal and is often considered its tourism capital.
While most of the routes are focused on tourists trying to get to the Everest, Annapura and hiking regions in western Nepal, the airline also flies some regulated-price routes. These are un-subsidised "hyper-discounted" services connecting locals in rural areas to the population centres, Singh says.
The airline's strategy will thus continue to be quite conservative, Singh says, adding that he is limiting his market appetite to one additional aircraft for now. Sita Air is also in the "homework" stages of considering ATR-sized services, though Singh adds that he expects that to still be quite far off since larger carriers already operate in that space.
Photo credit: Sita Air
Edward Eng
Edward is based in Singapore. He writes stories on regional aviation across the Asia-Pacific region and has a background on covering socio-political issues. Edward holds a BA (Hons) in Philosophy, Politics and Economics from the University of Warwick in the UK.
Related posts
SUBSCRIBE TO OUR NEWSLETTER