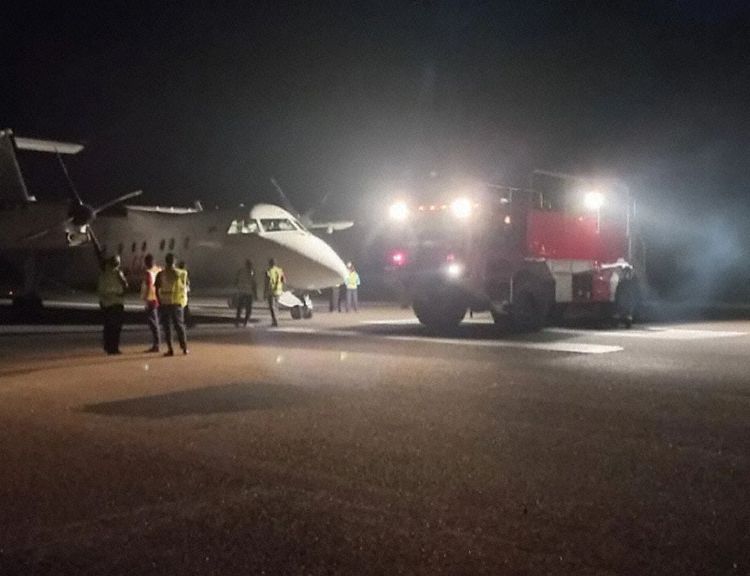 A Maldivian De Havilland Aircraft of Canada Dash 8-200 caught fire just before takeoff from Hanimaadhoo International Airport, prompting the airline to evacuate all passengers on board.
Local media reports that the Maldives national airline's Dash 8-200, local registration 8Q-IAQ, was on the runway preparing to take off from Hanimaadhoo International Airport on 18 January when the incident occurred.
Aviation Herald says the Dash 8 had backtracked away from runway 21 for departure and turned to ready for takeoff when the right-hand windshield burst into flames and shattered it.
Maldivian confirms on social media that a fire had occurred and the co-pilot side of the windshield was cracked.
"An immediate evacuation was done on the runway. The airport's fire and rescue services also attended to the aircraft immediately," the airline adds.
Information online shows that the flight is a daily 1945hr local time service connecting Hanimaadhoo International Airport to Maldives' capital Malé.
Maldivian highlights that all 35 passengers and crew on board were evacuated immediately.
The airline's website shows it has a fleet of: one Airbus A321, one Airbus A320, eight De Havilland Aircraft of Canada Dash 8-300s, two Dash 8-200s and 11 De Havilland Aircraft of Canada Twin Otters.
Maldivian has announced it has signed a contract to purchase two ATR 72-600s and one ATR 42-600, which are set to be delivered in 2022, to replace some of its aging turboprops.
Featured photo from avherald.com shows the aircraft after the windshield shattered.
Related Stories:
Maldivian Buying Three ATRs To Replace Dash 8s (18 January 2022)
Ong Jeng Yang
Based in Singapore, Ong Jeng Yang has more than four years of experience working in the media industry.
Related posts
SUBSCRIBE TO OUR NEWSLETTER