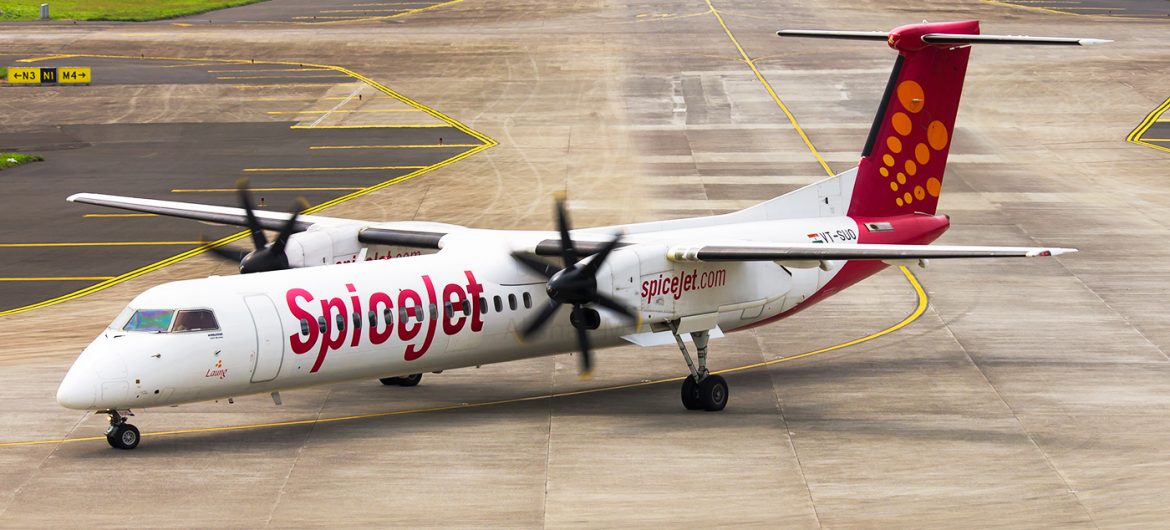 India's SpiceJet Reaches Settlement With De Havilland Canada
Ong Jeng Yang, 16 Dec 2021
3 min

read
India's second largest airline SpiceJet has settled its dispute with aircraft manufacturer De Havilland Aircraft of Canada (DHC) regarding monies owed for aircraft it had previously ordered.
Low-cost carrier SpiceJet says in a statement it has entered into a settlement agreement with DHC, the manufacturer of DHC Dash 8-400, adding that parties have agreed to settle all their disputes related to the aircraft purchase agreement and component solution agreement, subject to compliance with the terms of settlement. The airline's statement makes no mention of the details of the settlement or whether SpiceJet plans to take delivery of Dash 8-400s in future. 
"All related proceedings before the UK Court and execution proceedings before the Delhi High Court have been stayed and will be withdrawn upon compliance with the settlement terms," it says.
SpiceJet signed a purchase agreement in September 2017 for 25 Dash 8-400s with purchase rights for 25 more.
Bombardier owned the Dash 8-400 program at that time and subsequently sold the program to Longview Aviation Capital in June 2019.
Smart Aviation Asia Pacific in March – citing a UK court judgement reported that the original delivery schedule was for five aircraft to be delivered to SpiceJet in the September-December 2018 period followed by one aircraft each month, with the 25th aircraft to be delivered in August 2020.
Aircraft number one to five was delivered in April-May 2019, something that was mutually agreed between SpiceJet and the aircraft manufacturer, the UK court documents show. The five aircraft were financed by Canadian aircraft lessor Chorus Aviation, the judgement reveals.
SpiceJet, under the purchase agreement, was required to also make advance pre-delivery payments (PDPs) for the other aircraft on order, but failed to do so resulting in DHC in February 2020 commencing proceedings for liquidated damages and declaratory relief, the judgment says.
SpiceJet's defence in court was that because the purchase agreement had later been altered to allow for the delayed delivery of 16 aircraft, it meant PDP payments could also be delayed, and that DHC's claim on the grounds is unenforceable.
SpiceJet then reportedly counterclaimed that DHC had failed to adhere to its commitments to provide the airline with financial assistance, which is why the airline could not afford to take delivery of any more aircraft.
The UK court eventually issued a summary judgement in favour of DHC, allowing it to claim for the sum of approximately US$43 million, plus interest, while also throwing out SpiceJet's counterclaims.
DHC subsequently filed a case in the Delhi High Court to have the UK judgement recognized in India so as to recover damages.
Smart Aviation Asia Pacific previously reported that the dispute is significant for DHC as SpiceJet is its biggest customer. DHC had disclosed publicly that SpiceJet's failure to take delivery of aircraft on order left it with three 'white tails' – aircraft built to SpiceJet's specifications that it would have to find an alternative buyer for. 
DHC announced in February of this year that it will be closing its Dash 8 production line in Toronto due to a lack of aircraft orders. 
The shut-down will affect approximately 500 employees, DHC stated publicly, adding that they will seek to re-open an assembly line elsewhere in Canada when the market recovers. 
Picture Source: aeronauticsonline.com
Related Stories:
De Havilland Canada Sues India's SpiceJet (18 March 2020)
SpiceJet Makes Counter-Claim Against De Havilland Canada (17 June 2020)
De Havilland Closing Its Assembly Line and What It Means For Operators and the Programme (19 February 2021)
UK High Court Issues Summary Judgement Against SpiceJet And In Favour Of De Havilland Aircraft of Canada (7 March 2021)
Ong Jeng Yang
Based in Singapore, Ong Jeng Yang has more than four years of experience working in the media industry.
Related posts
SUBSCRIBE TO OUR NEWSLETTER