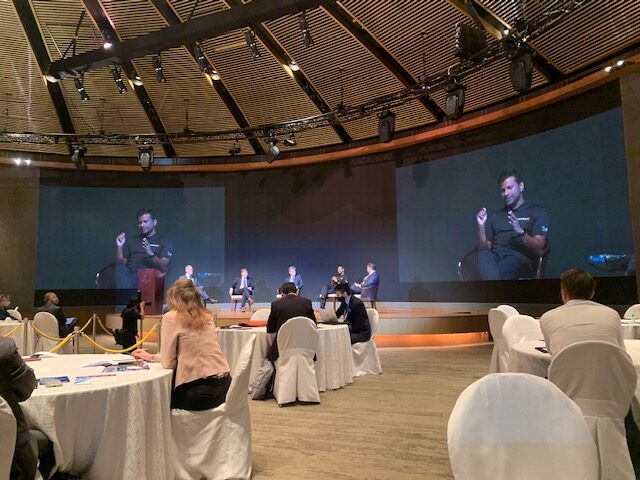 Singapore-based low-cost carrier Jetstar Asia is hopeful that the air travel market in Asia is on the cusp of very strong recovery.
The Asia region has been lagging behind the US and European travel markets, where vaccination rates are higher and travel restrictions lower, but Jetstar Asia CEO, Barathan Pasupathi, says "we believe we are at the cusp of a strong aviation cycle." He was speaking at the Asia Aerospace Leadership Forum in Singapore yesterday organised by Aviation Week.
Pasupathi says: "Today we are doing close to 100 sectors per week. Load factors are slowly inching up. It's not where it is in Europe, the US, China or India but we believe in keeping fares affordable, so that when the market recovers, leisure travel will boom."
He says there is very strong pent-up demand for visitor, friends and relative (VFR) traffic and leisure traffic.
Pasupathi says the Airbus A320 operator is getting ready for the recovery by stepping up recurrent training for its pilots.
He also says the airline already has some flights that are completely full because Jetstar Asia may be a low-cost carrier, serving point to point, but it is also a hub carrier through Singapore so it benefits from transit traffic. Singapore has allowed, for example, Indonesians to transit through Singapore.
Pasupathi says a challenge airlines face is convincing passengers to book and pay for air tickets in advance, as the pandemic has caused much uncertainty among the travelling public.
He says people used to book air tickets 30 or 60 days in advance but now the bookings are same day or just before. To convince people to book, airlines need to provide flexibility so people can change their bookings, says Pasupathi, adding that it is also important for airlines to provide information to passengers – when they are booking their tickets – about travel restrictions and requirements for the destination.
Picture: shows view from the audience when Barathan Pasupathi was speaking.
Follow us on facebook and twitter for more news updates.
Related posts
SUBSCRIBE TO OUR NEWSLETTER