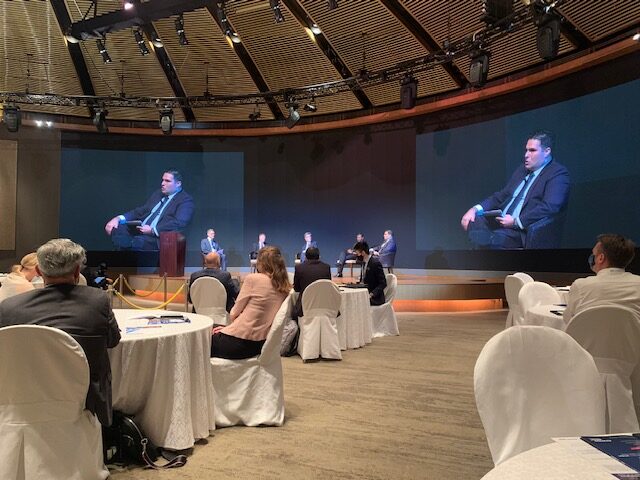 Embraer, which is seeking risk sharing partners for its new turboprop aircraft program that it hopes to launch next year, sees Asia Pacific as a great untapped sales market and the region where it could find industrial partners for the program.
The Brazilian aircraft-maker's VP Asia Pacific for commercial aviation, Raul Villaron, says: "With the new turboprop program, Embraer is looking for manufacturing [suppliers] here in Asia, as a potential [risk sharing] partners of the program."
"We are open to any governments to talk to us about this [potential for] partnership. We see this new platform will help us to adopt the new propulsion systems. It is an interesting program in terms of today and tomorrow."
Embraer has already disclosed that the new aircraft will be powered by turboprop engines, but it has chosen to mount the engines towards the rear of the aircraft, potentially paving the way for the platform to be further developed later on with open-rotor engine technology.
In terms of manufacturing partnerships, "we are open to all governments that want to have a discussion on that," Villaron made a point of reiterating.
Villaron was speaking on a discussion panel at the Asia Aerospace Leadership Forum in Singapore today organized by Aviation Week. The panel, which also included a senior representative from Airbus and Boeing, were asked how open were they to including more aerospace manufacturers from Asia in their supply chain.
Villaron's remarks, in response to that question to the panel, contrasted markedly to that of the Airbus and Boeing executives who were careful not to be dismissive but made clear that their company's supply chains are very established and, in the current period of economic uncertainty caused by the pandemic, are unlikely to make major changes to their supply chains.
Villaron says Embraer's regional jet aircraft have already achieved great success in the US, Europe, Africa and the Middle East but the company views Asia Pacific, "as the largest untapped market for Embraer."
He says Embraer' earlier generation of regional jet, the Embraer E-Jet, failed to take off in the region in a big way even though the 70 and 90 seat E-Jet has a lower trip cost and is perfect for 'right-sizing'.
He says the new Embraer E2 family of regional jets will be a success in Asia Pacific, because it has new engines, wings, landing gear and fly-by-wire system; "which contribute to the aircraft delivering a very competitive cost per seat [available seat kilometre] while remaining best in the market in terms of trip cost."
Overall, the E2 is better suited to the Asia Pacific market dynamics than the E-Jet, he adds.
Embraer is currently competing against the Airbus A220 to secure a large aircraft order from Qantas Airways, which is replacing its Boeing 717s and older Boeing 737-800s and says it will announce a winner before year-end.
Picture caption: View from the audience as Villaron spoke on the panel.
Related posts
SUBSCRIBE TO OUR NEWSLETTER