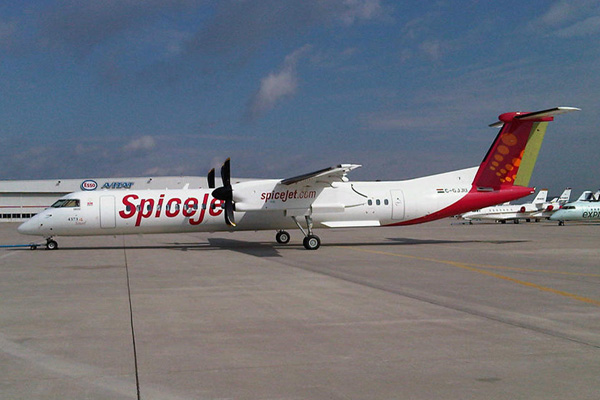 India's second largest airline Spicejet has cut close to a third of its weekly domestic flights for the upcoming winter schedule, despite government-imposed capacity restrictions being lifted.
India's Directorate General of Civil Aviation (DGCA) says it has approved 22,287 weekly flights for this year's winter schedule, around 4% fewer flights as compared to 2019. The DGCA has refrained from providing a statistical comparison with 2020's winter schedule, citing the pandemic situation last year. 
This year's winter schedule includes two new domestic airports – Sindhudurg and Kushinagar – increasing the total number of airports in the country served on a scheduled basis to 108. 
DGCA says it approved the 2021 winter schedule, 31 October to 26 March, based on the scheduled domestic airlines' submissions. 
Indigo, which increased its schedule marginally, has the lion's share of the market, accounting for 46% of total flights scheduled for winter. 
Spicejet saw the biggest decrease, reducing its domestic services to 2,995 weekly flights for the 2021 winter schedule, a 31% drop compared to 4,316 weekly flights for the same period in 2019.
From 25 May to 18 October 2021, domestic flights were restricted due to caps on capacity, as part of government efforts to contain the virus. 
Measures were eased from 18 October, allowing airlines to operate at full capacity. 
Despite this, Spicejet has scaled back its operations. Other airlines that have cut flights include Go First and flag carrier Air India.
DGCA data, meanwhile, shows Alliance Air, Indigo, Trujet, Star Air and Vistara have opted to increase weekly flight frequency. 
Vistara is growing the most, adding 299 weekly flights for its 2021 winter schedule as compared to 2019. Star Air has experienced the highest percentage increase, up 121%, though its operation is much smaller scale.
Airlines

2019 winter schedule (Departures per week)

2021 winter schedule 

(Departures per week)

Indigo

10,243

10,310

Spicejet

4,316

2,995

Go First

2,308

2,290

Air India

2,254

2,053

Vistara

1,376

1,675

Alliance Air

868

911

TruJet

444

450

Star Air

62

137

Fly Big

–

116
Picture Source: worldairlinenews.com
Related Stories:
India SpiceJet's Opens Seven New Domestic Routes (27 August 2021)
Ong Jeng Yang
Based in Singapore, Ong Jeng Yang has more than four years of experience working in the media industry.
Related posts
SUBSCRIBE TO OUR NEWSLETTER