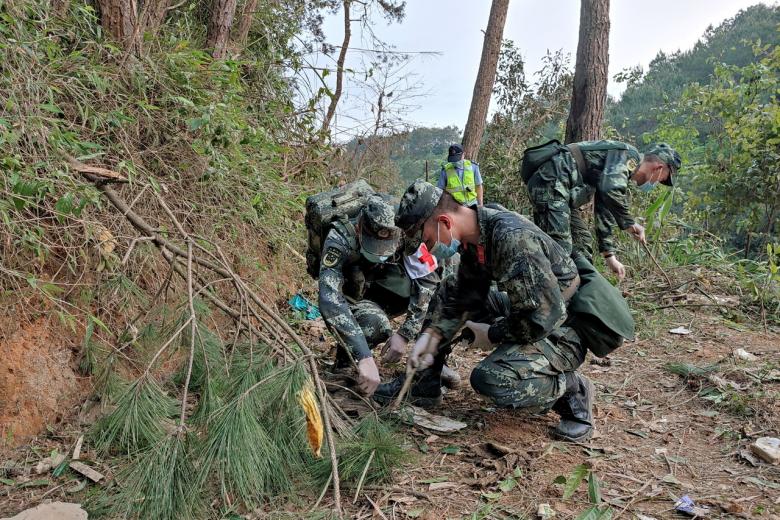 China Eastern Airlines is grounding its Boeing 737-800 fleet and has also confirmed there are fatalities from the crash of its Boeing 737-800 that had 132 people onboard. 
The airline says in a statement that there are fatalities and expresses its deep condolences for the passengers and crew members who died in the crash. 
The airline says there were no foreign passengers on board, and it is grounding all its Boeing 737-800s from today onwards. 
State news agency Xinhua reports that a forest blaze, resulting from the air crash, was extinguished but nightfall hampered search and rescue efforts, due to the lack of electricity in the mountainous area. 
The report says that the aircraft's flight data recorder and cockpit voice recorder – essential to crash investigations – have yet to be found in the debris. It adds the search of the site – using drones and personnel – is continuing. 
The China Eastern Airlines Boeing 737-800, local registration number B-1791, departed Kunming Wujiaba International Airport at around 13:11hr local time yesterday for Guangzhou Baiyun International Airport, carrying 123 passengers and nine crew members.
It reportedly lost radio contact near Guangxi province's Teng county in Wuzhou city, and plummeted from 29,100 feet into a steep descent around 14:22 hr local time yesterday, according to flight tracking site Flightradar 24.
Xinhua quotes China's president Xi Jinping saying he was shocked to learn about the accident and immediately launched the emergency search and rescue effort.
Xi also called for swift action to be taken to identify the cause of the crash and to strengthen civil aviation safety, the report says.
Premier Li Keqiang is quoted in the report calling on assistance for the families affected, release of accurate information in a timely manner, launch of an investigation into the accident and strong measures to strengthen civil aviation safety.
Boeing chief executive Dave Calhoun says it has offered its technical experts' full support in the investigation, and will be doing everything they can to support the airline.
Videos and photos online show the accident scene littered with debris and wreckage.
In a separate development, India's Directorate General of Civil Aviation (DGCA) has placed Boeing 737 fleets on enhanced surveillance, a day after the accident, Press Trust of India (PTI) reports.
DGCA's chief Arun Kumar tells PTI it is closely examining the situation.
Video from The Sun's youtube shows additional footage of the plane crash.
Featured photo from Reuters shows paramilitary police officers working at the site of the plane crash.
Related Stories:
VIDEO: China Eastern Airlines Boeing 737 Crashes Carrying 132 People (21 March 2022)
Ong Jeng Yang
Based in Singapore, Ong Jeng Yang has more than four years of experience working in the media industry.
Related posts
SUBSCRIBE TO OUR NEWSLETTER