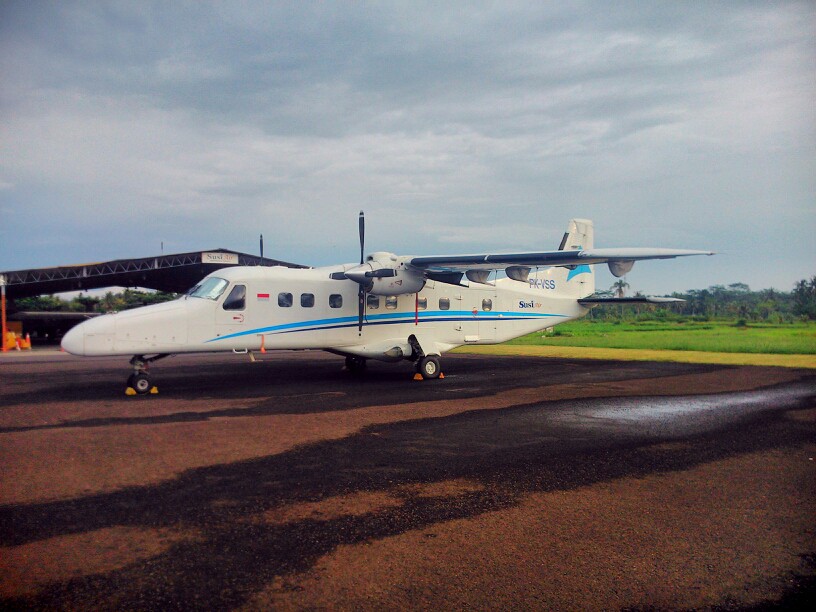 There will always be a role for smaller turboprop aircraft, because these aircraft can access airports larger aircraft are unable to land at, and smaller aircraft are the right size for developing new routes.
So says Christian von Strombeck, former director of operations for Indonesia's Susi Air and former director of operations for Philippine carrier Air Juan.
He says the advantage that smaller turboprop aircraft have, is that they can land and take off from runways that are less than 1000m-long (3,280ft) and land on unpaved air strips.
But there will always be cases where the airport runway is expanded or where passenger numbers become big enough to warrant using larger jet aircraft.
In the case of the Philippines, smaller turboprop aircraft were pushed out of the profitable Manila-Caticlan route when the runway was expanded to 2,100m from 950m, allowing jet aircraft such as the Airbus A320 to come in. Caticlan Airport is the gateway to Boracay, the most popular beach resort area in the Philippines.
Strombeck says turboprop operators need to stay one step ahead of jet operators by developing new, under-served destinations. He says in the case of Caticlan, there is a ready market for turboprops to link Caticlan to other island resort destinations.
"People who have been to Boracay already, will want to return again but they may only want to stay two nights, and then will want to explore some other island," says Strombeck.
Strombeck says smaller turboprop aircraft such as the Dornier 228 are ideal for such inter-island services.
Susi Air Dornier 228 operation in Indonesia
Strombeck, who has a BA and master's degree in aerospace engineering, is very familiar with the Dornier 228. He helped found Susi Air and was the one who lobbied the airline's owner, Susi Pudjiastuti, to acquire Dornier 228s.
Susi Air is primarily an operator of single-engine aircraft, namely the Cessna Caravan and Pilatus Porter PC-6, but it also operates twin-engine aircraft.
Strombeck tells Smart Aviation APAC that Pudjiastuti was originally in favour of the de Havilland Canada DHC-6 Twin Otter, because this aircraft is powered by the Pratt & Whitney PT6, the same engine type that powers the Caravan and the PC-6.
But Strombeck says he did a detailed analysis of 19-seat commercial aircraft and came to the conclusion the Dornier 228 was the best aircraft. "I didn't choose it because it is German," quips Strombeck, who comes from southern Germany.
"The PT6s are thirsty engines whereas the Garrett TPE311s have 10% less fuel consumption," says Strombeck.
He also says the Dornier 228 has a higher maximum take-off weight, which equates to more useful load for passengers or cargo. The weight is less partly because the aircraft carries less fuel due to the fact it burns less fuel.
The Dornier 228 is also a faster aircraft, so it can complete more legs in the day, he adds.
Despite these positive attributes, Strombeck says he had a tough time convincing Pudjiastuti to get the Dornier 228. He says what may have finally convinced Pudjiastuti was the positive testimonial they received from Canada's Summit Air, which operates Dornier 228s.
"In 2012 I came across Summit Air, when I was researching the aircraft. This airline added their first 228 in 2008 and I noticed they had quickly increased their fleet to four by 2012. So I called Summit Air. They told me 'the Dornier 228 can do everything the Twin Otter can do, but faster and with more payload'."
Strombeck says he arranged a business trip where he, Pudjiastuti and Susi Air's director of maintenance visited Summit Air at its headquarters in Yellow Knife, far northwest Canada. The Summit Air management team showed them the airline's operations and gave them a demonstration flight on the Dornier 228.
"I left Susi Air two weeks after that business trip, but Susi Air ended up leasing Dornier 228s from Summit Air," he says.
Strombeck says Susi Air needed twin-engine aircraft because in Indonesia single-engine aircraft are forbidden from flying over water unless the aircraft is within gliding range of land, in the event of an engine failure.
There were routes over water, in Sulawasi and Kalimantan provinces, where they needed to have a twin-engine aircraft because the distance over water was too long to glide, he says.
There were also some government contracts, for essential air services, that Susi was unable to win unless it had a twin-engine aircraft, he adds. 

Leithen Francis
Leithen is based in Singapore and has over 17 years' experience working for news organisations. He is the former deputy Asia editor of Flightglobal and the former Asia editor of Aviation Week. Leithen has a BA in journalism from RMIT University in Melbourne, Australia.
Related posts
SUBSCRIBE TO OUR NEWSLETTER