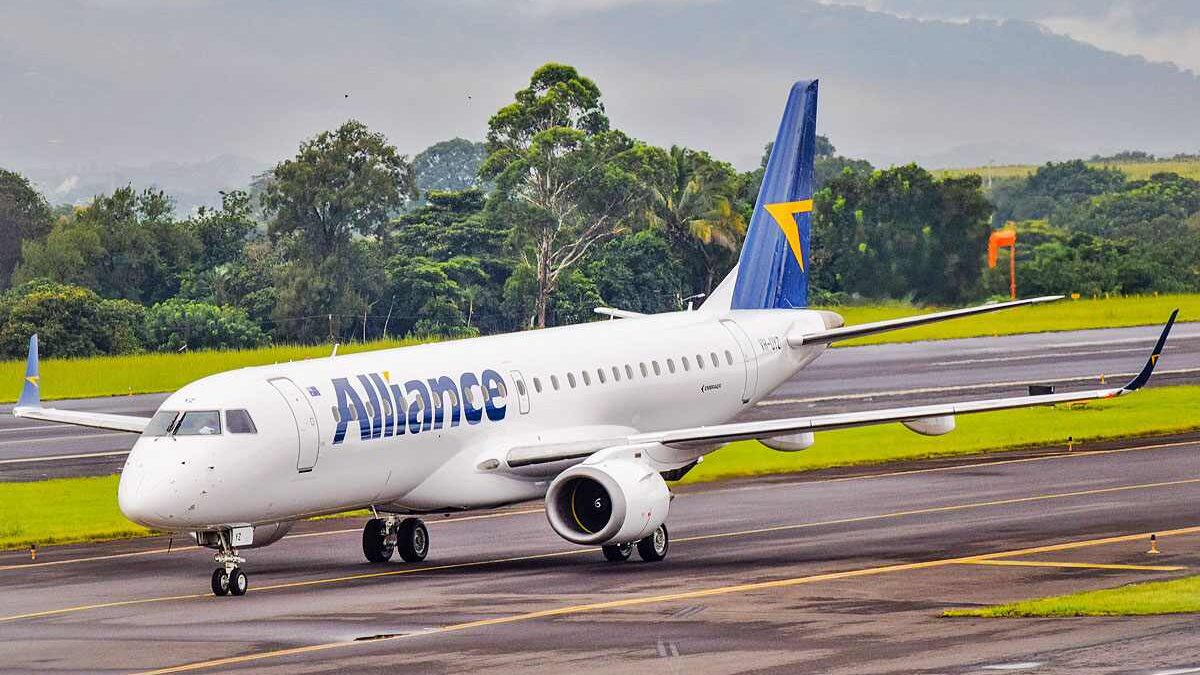 Alliance Airlines anticipates its new heavy maintenance centre in Queensland will be operational in February, after which it will bring maintenance work in-house.
The Australian charter operator, which is in the process of becoming a wholly-owned subsidiary of Qantas Airways, says it has been relying on Jet Aviation's maintenance facility in Cairns, a city in northern Queensland, as well as sending maintenance work overseas to Fokker Services Asia in Singapore, Austrian Airlines Technik in Slovakia and COOPESA in Costa Rica.
But it says having the new three-bay 10,000m2 heavy maintenance centre in the northern Queensland town of Rockhampton will allow it to bring the work in-house. The new facility under construction is due to be completed on 12 December and be operational in February, it says.
The maintenance hangar is designed to have a low carbon footprint because it has a 100kW solar system and 500kl water tanks for storing water collected from the rooftop, it adds.
Alliance Airlines has two maintenance facilities in Brisbane, one of which is Unity Aviation Maintenance (UAM), that it acquired in late 2020 from Australian logistics and transportation conglomerate Toll Holdings. The two facilities are adjacent to each other at the airport, so Alliance says it has decided to merge the two organisations.
Alliance says it has been employing more maintenance engineers and technicians, because it will be opening the new facility in Rockhampton, and it has been targeting those who already have qualifications to maintain Embraer E-190s.
Alliance says by January its Embraer E-190 fleet will reach 33 of which 18 will be assigned to Qantas, leaving nine for Alliance's charter business, three for dry-leasing and three for maintenance. It says it currently has 19 E-190s in operation, so is now working to add 14 more, all of which are pre-owned aircraft it has already paid for.
The airline's Fokker 100 and Fokker 70 fleet, as of 30 June 2023, will be 24 and 13 respectively; all of which are used for Alliance's charter business, it says.
The airline says it has encountered some difficulties with pilots, as some have recently been poached by overseas airlines. To rectify this problem, it says it is: stepping up pilot recruitment, finding non-monetary ways to incentivise pilots, increasing utilization of the E-190 simulator in Australia and making use of a E-190 simulator in the UK.
For the 12 months ending 30 June, the airline says its revenue increased to A$368 million (US$262 million) from A$307 million thanks to more flying for Qantas and Virgin Australia as well as some increased flying for its mining charter clients. But it says it made loss after tax of A$5.2 million for the 12 months ending 30 June as compared to a profit of A$32.8 million the previous year.
Alliance attributed the loss to costs incurred with the induction and training of personnel for the E190s it has been adding to its fleet. There was also a A$12.1 million write-down in the value of its five Fokker 50s which it has just found a buyer for, it says.
Feature picture shows one of the airline's Embraer E-190s
Related articles:
Australia's Alliance Sells Five Fokker 50s for US$3.2 million (8 August 2022)
Qantas Airways To Buy Alliance Airlines (5 May 2022)
Australia's Competition Watchdog Drops Case Against Qantas' Purchase Of Alliance Airlines' Shares (7 April 2022)
Qantas' Move on Alliance Air and What It Means (11 February 2019)
Qantas Airways Expands Domestic Network (31 March 2022)
Qantas Memo Raises Alarm Over Pilots Returning To Work Making Errors (6 January 2022)
Qantas To Replace Boeing Fleet With Airbus A321neos and A220s (16 December 2021)
Former Qantas Safety Chief Warns That Complacency Among Furloughed Pilots Returning To Work Is A Safety Risk  (27 September 2021)
Australia's Alliance Airlines' Maintenance Base To Open Next Year (28 March 2022)
Australia's Expanding Alliance Airlines Posts Strong Profit (16 August 2021)
Australia's Alliance Airlines To Use Embraer RJs For Contract Flying and Dry Leasing Business (22 December 2020)
Related posts
SUBSCRIBE TO OUR NEWSLETTER