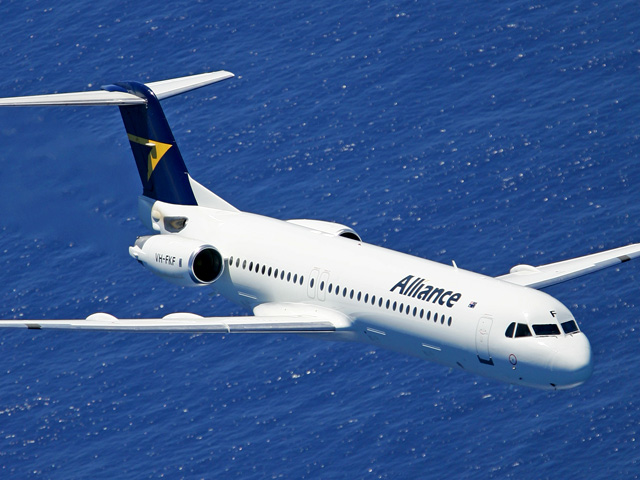 Alliance Airlines is expanding its regional hub in the Northern Territory capital Darwin to cater to increased demand from the mining and tourism industries.
Scott McMillan, the airline's managing director, says they are adding two Fokker 70s and one Fokker 100 to complement the sole Fokker 100 based there. The aircraft will support additional fly-in fly-out operations for existing customers, most of which are from the region's recovering mining industry, he adds.
"I must stress that whatever we are doing in Darwin and the Northern Territory has no relation to Bristow Group's [crisis]. We planned Darwin long before what's happening. In fact, the Bristow people are our friends," McMillan says in reference to the ongoing bankruptcy of aviation services provider Bristow Group, which owns Darwin-based airline Airnorth.
"Darwin has always been part of plans to build our reach across all of Australia. This is why we have made sure we have a large stockpile of parts and aircraft, allowing us to expand quickly when the opportunity arises," McMillan says.
Manganese, petroleum, gas, uranium and ore miners make up a sizeable proportion of the Northern Territory's economy.
Alliance Airlines is also taking on more tourism contracts, such as a new charter service from Perth to the Northern Territory for Japan's JTB Corporation, McMillan says. Alliance Airlines will ferry tourists on day trips to Alice Springs which is near the famous Ayers Rock, he adds.
American tour operator Tauck also recently contracted Alliance Air to fly tourists from the east coast to Alice Springs, as well as to New Zealand, McMillan says.
Alliance Airlines flies the largest fleet of Fokker aircraft in the world, giving it a sizeable secondary business in providing maintenance, repair and overhaul (MRO) and leasing services to other operators of the out-of-production aircraft. Its fleet comprises of five Fokker 50s, 15 Fokker 70s and 24 Fokker 100s.
Qantas Airways recently bought a 19.9% stake in Alliance Airlines and announced it wants to take over the airline. When asked about this, McMillan says, "all I can tell you is that Qantas has not spoken to us yet."

The Australian Competition and Consumer Commission (ACCC) is now looking into whether a Qantas take-over would be anti-competitive. McMillan says they have submitted information to the commission.
Qantas has a subsidiary in Perth called Network Aviation, which is a mining charter operator that flies 17 Fokker 100s. Alan Joyce, CEO of Qantas, earlier this month said there would be synergies between the Alliance and Network Aviation operations.
Edward Eng
Edward is based in Singapore. He writes stories on regional aviation across the Asia-Pacific region and has a background on covering socio-political issues. Edward holds a BA (Hons) in Philosophy, Politics and Economics from the University of Warwick in the UK.
Related posts
SUBSCRIBE TO OUR NEWSLETTER