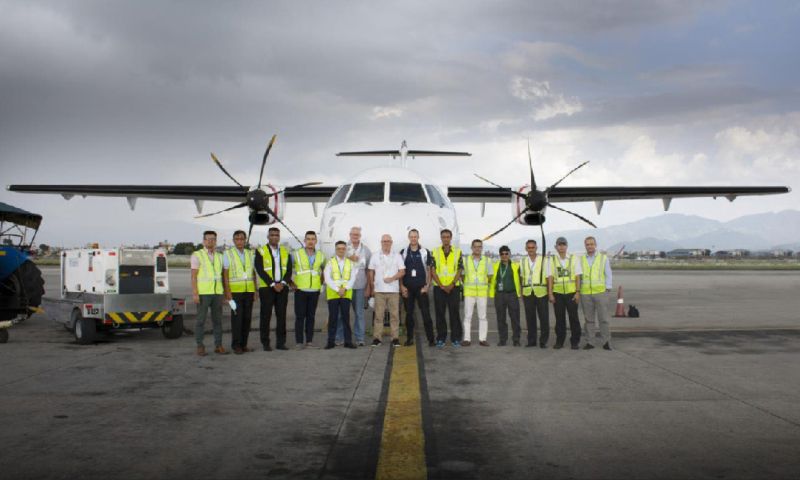 Singapore aircraft lessor Avation has successfully placed its last remaining ex-Virgin Australia ATR 72 and is about to receive about five cents in the dollar from the administrators of Virgin Australia.
Avation says it "has delivered one ATR 72-500 to Nepal's Yeti Airlines on operating lease."
"Yeti Airlines is a new customer for Avation and Nepal is a new jurisdiction for Avation. This unencumbered aircraft is the company's final ex-Virgin Australia ATR 72-500," it adds.
Avation had 11 ATR 72s and two Fokker 100s leased to Virgin Australia prior to the airline going into voluntary administration in early 2020.
Bain Capital then bought Virgin Australia from the administrators for US$3.5 billion and promptly decided to simplify Virgin Australia's fleet around the Boeing 737-800 and phase out the ATR fleet. It then more recently decided to phase out the airline's last few remaining Fokker 100s.
The US$3.5 billion was put into a creditors' trust. Avation earlier this year issued a statement calling for the trustees to pay it and other lessors' claims promptly.
Avation now says it "has been advised that it will receive an initial distribution from the Virgin Australia restructuring of 5.4 cents in the dollar on its adjudicated claim of A$101.4 million (US$71 million)."
"Further distributions, based on funds withheld by the trustees and additional funds being made available to creditors, [will be made] should Virgin Australia meet performance targets in future financial years," it adds.
In a separate development, Avation says it is seeing a recovery in the commercial aviation sector and that on 29 September it will publish its unaudited financial results – for the fiscal year ending 30 June 2022 – showing a net profit.
The lessor says its strategy going forward is to "gradually trade out of older aircraft types and focus on modern low CO2 emission aircraft types such as the Airbus neo, Airbus A220 series and the ATR 72 aircraft with new generation engines." The new generation engine on the ATR is the Pratt & Whitney Canada PW127XT.
Feature picture, from Avation, shows the delivery of the ATR 72-500 to Yeti Airlines. 
Related articles:
Singapore Lessor Avation Still Waiting For Virgin Australia Pay-Out (9 May 2022)
Yeti Airlines Set To Add More ATRs (12 January 2022)
Related posts
SUBSCRIBE TO OUR NEWSLETTER