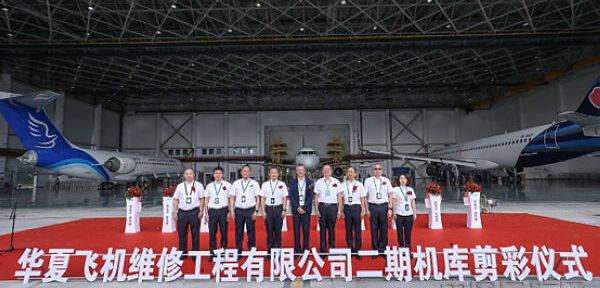 Chinese regional carrier China Express has opened a new aircraft hangar in the southwestern Chinese city of Chongqing.
The carrier, which is based at Chongqing Jiangbei International Airport, says it has opened a new aircraft hangar there as part of its phase-two expansion of its aircraft maintenance facility at that airport.
The new hangar, which can accommodate four Airbus A320s simultaneously, is on the airport's northern side, it says.
China Express says its maintenance organisation – Hua Xia Aircraft Maintenance Engineering – does line and heavy maintenance of A320s, Bombardier CRJ900s and Commercial Aircraft Corporation of China ARJ21s for China Express and third-party airlines. The carrier operates these three aircraft types and says it is the leading maintenance, repair and overhaul company in Asia Pacific for CRJ aircraft.
The airline has 35-40 CRJ900s and is the largest, and one of the very few, CRJ operators in Asia Pacific. Another Chinese MRO, Shandong TAECO, says on its website that it does heavy maintenance of CRJ200s and CRJ700s. This is because Shandong Airlines used to operate these aircraft types.
Feature picture, from CAAC News, shows the official opening ceremony of the hangar.
Related Stories:
China's Shanghai Aircraft Performs Its First ARJ21 4C Heavy Check (20 June 2022)
China Express Profits By Focusing On Underserved Domestic Routes (31 August 2021)
China Express Buying 50 ARJ21s, Major Boost To Chinese Aircraft Industry (16 October 2020)
China Express CRJ900 Slides Off Runway In Northwest China, Four Injured (30 August 2021)
Related posts
SUBSCRIBE TO OUR NEWSLETTER