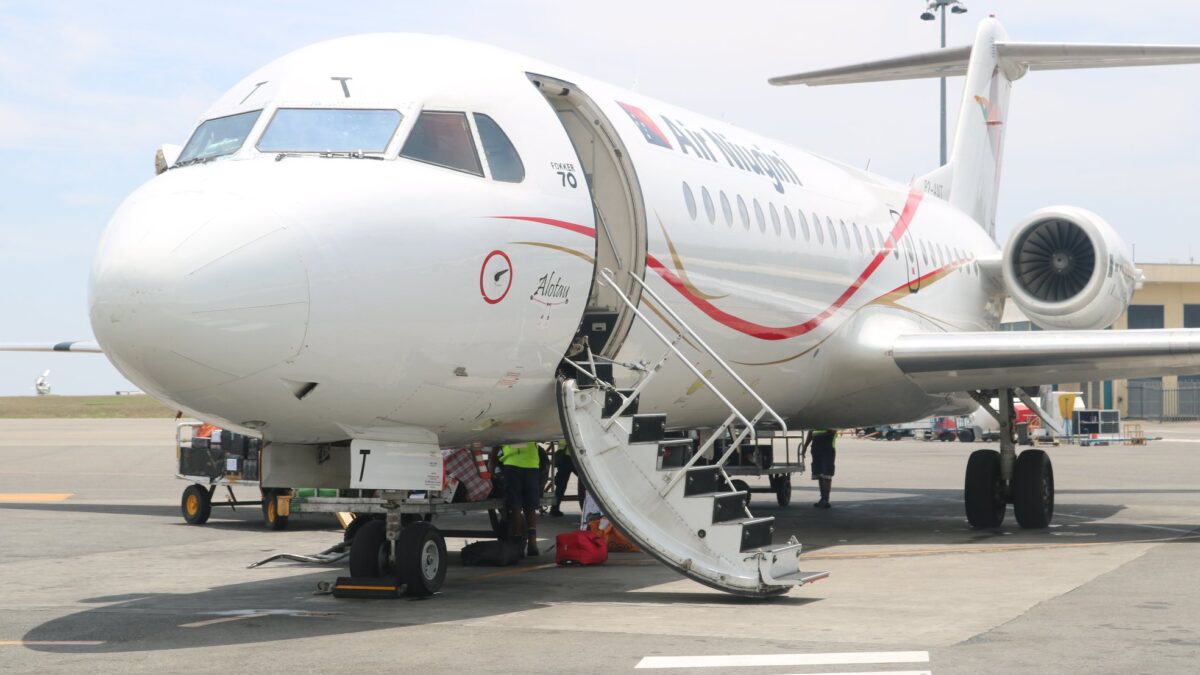 Papua New Guinea's national carrier Air Niugini has confirmed it is about to select either Airbus A220s or Embraer regional jets to replace its Fokker fleet and also says it will be replacing its two Boeing 767ERs with leased Airbus A330-200s and is getting more De Havilland Aircraft of Canada Dash 8-400s.
Air Niugini CEO, Bruce Alabaster, told Aviation Week at a conference in Australia that is in the final stages of aircraft selection between the A220 and Embraer E-190/195 to replace its Fokker 70/100 fleet. The A220 is new aircraft in production but the E-190/195 is an out-of-production aircraft, popular with mining charter operators in Australia, and the model that preceded Embraer's E2 regional jet. The A220 is powered by the Pratt Whitney GTF while the E-190/195 is powered by the GE CF34-10E.
He says the regional jets will replace the airline's 11 Fokker 70/100s and single Boeing 737-800s, and wants the first three aircraft delivered late next year.
Alabaster also says the airline will be replacing its two 767-300ERs and the plan is to lease two A330-200s. The 767's leases are due to end in February, he adds.
Air Niugini also operates three Dash 8-400s, says Alabaster, adding that it has issued a request for proposal for four more. These will either be for fleet growth or to phase out some of its smaller turboprop aircraft, he says.
According to Airfleet.net data the airline has five Dash 8-300s and one Dash 8-100. These are out-of-production aircraft as are the -400s.
Air Niugini also has four 737 MAX aircraft on order.
Editor's comments: It is unusual to pit the Embraer E-190/195 against the A220 because this Embraer model is out-of-production, so it is not a 'like-for-like' comparison. When Air Niugini first added its Fokker regional jets, these too were pre-owned aircraft.
If cost is important to Air Niugini then it would appear that the E-190/195 is a 'shoo-in' to win.
As for its decision to add more Dash 8-400s, Air Niugini likes this aircraft because there are some long sectors it needs to serve with the turboprop, such as Port Moresby-Cairns. But using the 80-seat Dash 8-400 to replace 30-seat Dash 8-100s and 50-seat Dash 8-300s appears to make no sense unless the passenger volumes have increased to warrant stepping up to a higher capacity aircraft. That said, the -400 is a newer build aircraft.
Feature picture shows a Air Niugini Fokker 70 regional jet. 
Related posts
SUBSCRIBE TO OUR NEWSLETTER