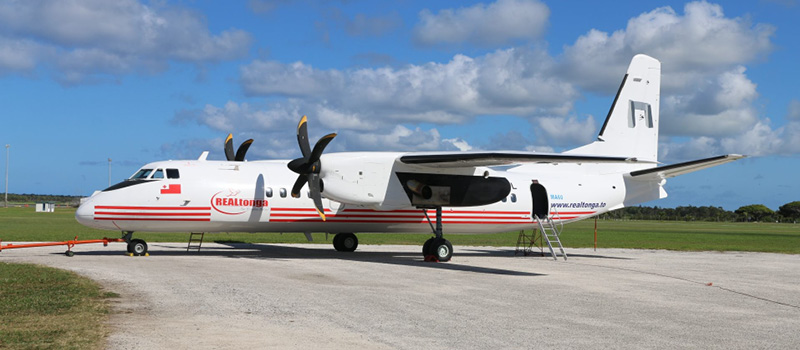 Real Tonga, the carrier of the Pacific island kingdom of Tonga, expects further growth in tourism numbers as more Chinese tourists arrive.
"Tourism is obviously starting from a low base, but it is clear that the Chinese coming through Fiji are driving much of the growth," says Real Tonga owner and CEO Tevita Palu.
Direct flights operate from Fiji's Nadi International Airport to Hong Kong, along with seasonal charters to Chinese cities such as Tianjin. Chinese citizens can enter Fiji and Tonga visa free.
Real Tonga is closely monitoring this growth opportunity, says Palu, adding that the airline is looking to get a second 34-seat Saab 340B+.
The Tongan airline already flies one Saab 340B+, one 60-seat Xian Aircraft MA60, one 19-seat Harbin Y-12E and a 9-seat Britten-Norman BN-2 Islander. It previously leased a pair of 19-seat BAe Jetstream 32s.
Palu says the mixed fleet has mostly been effective, given the variety of destinations Real Tonga serves. Flying several aircraft sizes allows the airline to tailor capacity to each route, he says, adding that it is also good to have additional aircraft in case the airstrips are in too poor a condition for the larger aircraft to land, he adds. The 'Eua airstrip was closed last year because it was overgrown with vegetation, Palu says.
Real Tonga has also recently discussed setting up a joint venture service between Tonga and Brisbane with Nauru Airlines. Palu declines to comment when asked about it.

Edward Eng
Edward is based in Singapore. He writes stories on regional aviation across the Asia-Pacific region and has a background on covering socio-political issues. Edward holds a BA (Hons) in Philosophy, Politics and Economics from the University of Warwick in the UK.
Related posts
SUBSCRIBE TO OUR NEWSLETTER