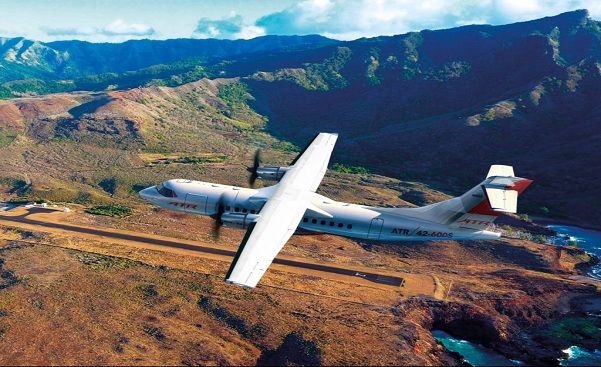 French-Italian aircraft manufacturer ATR is promoting its new aircraft in development, the ATR 42-600S variant as ideally suited for Japanese airlines that serve remote islands with short runways.
In an online media briefing, ATR CEO, Stefano Bortoli, says the ATR 42-600S has completed its final design phase and is ready to be manufactured.
"The first delivery of this aircraft model was originally planned for 2022, but has since been delayed due to the pandemic. It is now slated to begin its first flight in 2023 and delivery from early 2025 onwards," he told Japanese media. 
Bortoli says the 42-600S is an improved version of the 42-600, with superior short distance take-off and landing (STOL) capabilities that allow it to take off and land on short runways of 800-1000m (2,635-3,281 ft).
"When taking off and landing on an 800 meters runway, the existing ATR 42-600 aircraft type must cut its passengers number by half to 22, whereas the 600S can still carry a capacity of 48 passengers," he adds.
As such, ATR is targeting the 30-50 seat market and airlines that operate remote island routes in Japan with the introduction of its 600s model.
Bortoli highlights that there are 10 airports in Japan with runways less than 1000 meters, which brings opportunities for the -600S to enter the market. This includes airports at: Sado, Chofu, Niijima island, Ojika island, Kouzushima island, Rebun island, Kami-Goto, Awakuni, Kerama island and Hateruma island.
Japanese media last year reported there is demand for 150 ATR 42-600S aircraft globally citing ATR executives. French Polynesian airline Air Tahiti, Papua New Guinea's PNG Air, leasing company Elix Aviation Capital, and another unnamed buyer have signed firm orders or letters-of-intent the ATR 42-600S.
ATR told Japanese media there will be demand for about 100 ATRs in Japan in the future, including the ATR 42-600, ATR 42-600S and 72-600 models.
Picture Source: aviationbusinessjournal.aero
Tokyo Govt Also Evaluating ATR For Outer Island Service (25 September 2020)
Ong Jeng Yang
Based in Singapore, Ong Jeng Yang has more than four years of experience working in the media industry.
Related posts
SUBSCRIBE TO OUR NEWSLETTER