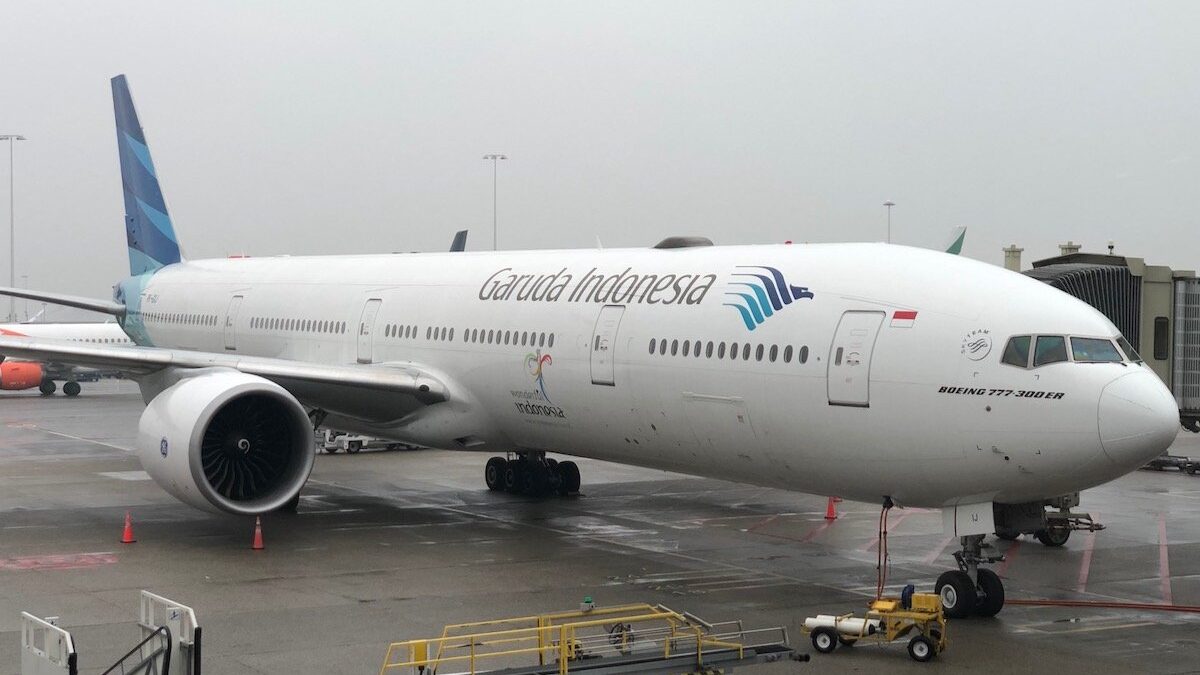 There is usually no single cause for an air crash, but rather it is a combination of different contributing factors, built up over time, that leads to disaster. 
Garuda Indonesia today is a corporate disaster but – like in the case of an air crash – the airline ended up in this position due to several factors that built up over time.
Here are some key milestones that proved to be millstones for Garuda. 
The Boeing 777-300ERS
Garuda Indonesia has primarily been a pan-Asian carrier that also had some profitable leisure routes into Australia as well as routes into the Middle East, some of which cater to pilgrim traffic. In addition, it has air services from Jakarta to Amsterdam where it links up with its SkyTeam Alliance partner Air France KLM to access the rest of Europe. 
But Garuda in the late 2000s decided it wanted to expand its long-haul network and took delivery of 10 Boeing 777-300ERs from 2013 to 2016. 
After it received its first batch of 777-300ERs, it was revealed that Jakarta Soekarno-Hatta International Airport's runway needed to be strengthened as it was unable to support fully loaded 777-300ERs. 
This meant Garuda had to delay launching its new long-haul route from Jakarta to London and elsewhere.
But after it launched the Jakarta-London route, it proved to be a financial disaster. 
There is relatively little traffic that originates from Jakarta and goes onto London. To fill its aircraft for Jakarta-London, it needed to draw in passengers from elsewhere, such as Australia. But that meant competing against carriers such as Qantas Airways and Singapore Airlines in a market that was already highly competitive. 
Garuda eventually exited the London market, after incurring huge losses on the route, and redeployed its 777-300ERs on routes within Asia Pacific, such as Bali-Tokyo Narita. But this was also a bad move, as a medium-haul route can be more profitably served by a medium-haul aircraft, such as Garuda's Airbus A330s, rather than using such a large and more expensive aircraft as the long-haul 777-300ER.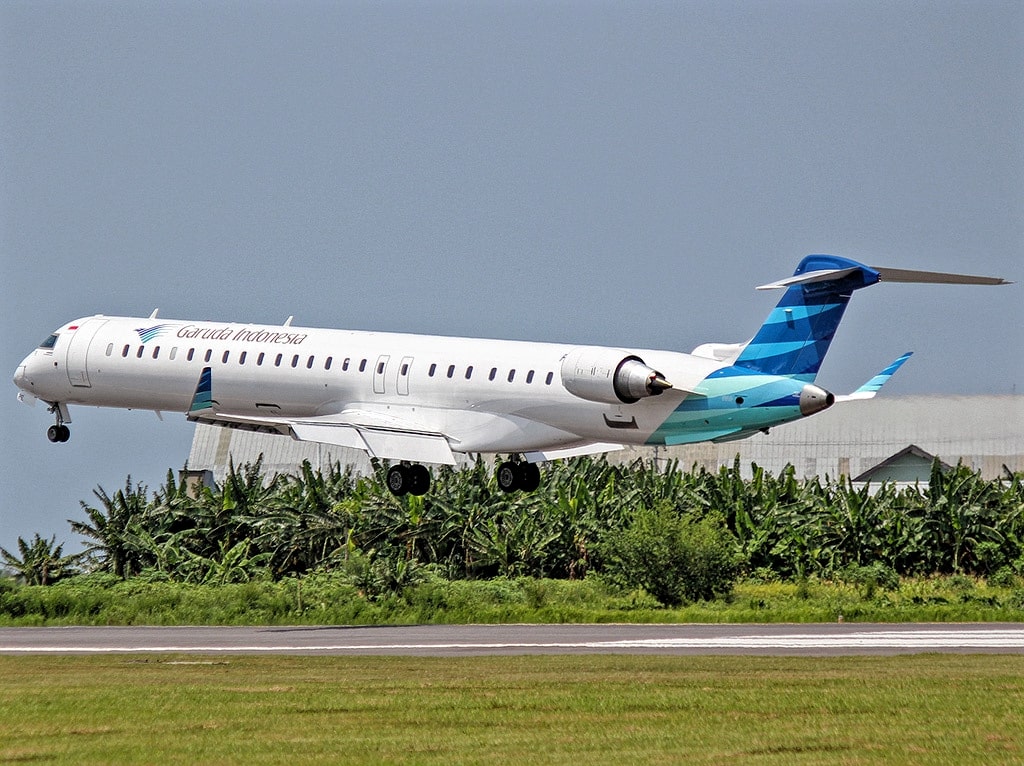 The CRJ1000s
Garuda Indonesia decided sometime around 2010 that it wanted to stop routing nearly all domestic traffic via Jakarta. Slot constraints at Jakarta airport meant it was becoming increasingly difficult to expand frequencies on its domestic network if it relied on such a 'hub and spoke' system. 
The airline decided if passengers needed to travel between eastern and western Indonesia, it was better to use smaller capacity aircraft and fly non-stop between the two points rather than have people transit via Jakarta on bigger aircraft. 
Another important consideration – besides aircraft size – was whether the aircraft had sufficient short take-off and landing capability, as some airports in the more far-flung parts of Indonesia have short runways. 
Garuda ordered 18 Bombardier CRJ1000s, six purchased and 12 leased. The decision to add CRJ1000s later proved to be a mistake. 
The are no other CRJ1000 operators in the region and also very few CRJ1000 operators in the world. It meant there were no pilots in Asia Pacific qualified to fly the CRJ1000 and no training simulators in the region. 
When Garuda started operating the CRJ1000s, it had to rely heavily on foreign pilots – mostly from Spain, as there are some airlines there that operate CRJ1000s. And when the airline needed to send Indonesian pilots for simulator training, to be type-rated on the aircraft, it had to send them to Europe or North America, an expensive exercise. 
Garuda's maintenance personnel also complained about the CRJ1000s, arguing there was a lack of spare parts and customer support for the type in region. Once again, this is because Garuda was the only airline in Asia Pacific operating this aircraft type. 
Questions also started to be raised when it became apparent that the CRJ1000s lacked short take-off and landing capability. Also, the aircraft's wings were very low to the ground, making the CRJ1000 more prone to wing damage from rocks and other debris coming up from the runway. 
High lease rates for aircraft 
Garuda Indonesia has generally paid higher lease rates than other airlines. Some of this stems from the fact that the airline has a poor credit history. In 1997 there was the Asian Financial Crisis which led Garuda to get into financial trouble with the Export Credit Agencies of France, Germany and the UK with regards to monies owed on a fleet of Airbus A330s. 
It took many years after the Asian Financial Crisis for Garuda to resolve that issue. But because it took many years to do so, aircraft leasing companies have always been able to argue that Garuda is a higher credit risk than many other airlines. And, therefore, argue it is appropriate for the leasing company to charge a higher lease rate for taking on that risk. 
But there is clearly more to it than that. Aircraft leasing is a highly competitive business, so it is a mystery as to why such a large carrier – with the backing of the government – was unable to push back and negotiate lease rates that were comparable to the market rates.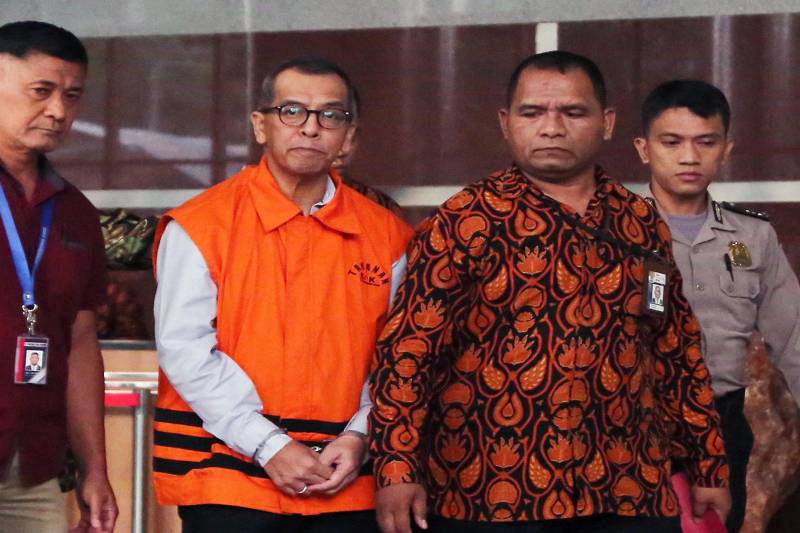 Emirsyah Satar's Corruption Case
Emirsyah Satar was president director from 2005 to the end of 2014. He could have gone down as the greatest CEO Garuda Indonesia has ever had, but instead he went down for corruption. 
After leaving Garuda, Indonesia's Corruption Eradication Commission (KPK) started investigating him. The investigation eventually led to him being prosecuted and sentenced early in the year 2020 to eight years jail for corruption and money laundering in relation to the purchase of Airbus aircraft and Rolls-Royce engines. 
It could be argued that Satar – getting caught for corruption – not only damaged his own reputation, but also the reputation of Garuda, especially in the eyes of the government.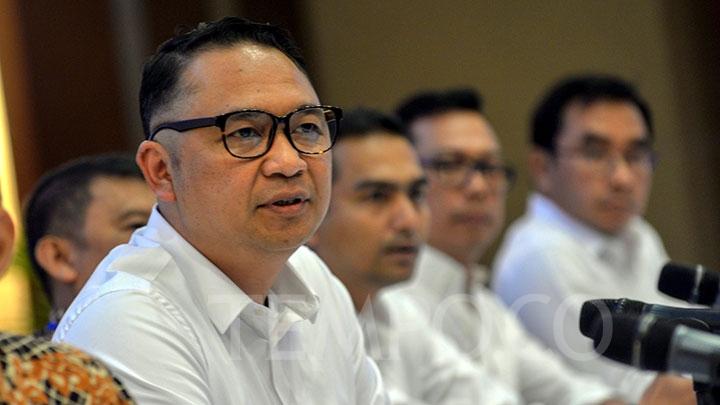 Ari Askhara's Conviction For Smuggling
After Satar left Garuda, the airline went through a quick succession of CEOs, all government appointments and nearly all were executives with little or no experience running an airline. One of them was Ari Askhara, Garuda CEO from September 2018 to December 2019 before he was sacked. 
Askahara, who was a banker by training, was removed from his post after it was revealed that he had used a Garuda Indonesia Airbus A330 delivery flight from Toulouse to Jakarta to transport a Harley Davidson motorcycle and two Brompton bicycles. He was later convicted to one-year jail – not because he used the A330 to transport his goods – but because he failed to declare the goods to customs upon arrival and pay luxury goods tax.  
Conclusion

All these milestones in Garuda Indonesia's corporate history ended up being millstones that brought the carrier down. 
Garuda is positioned in Indonesia as a premium full-service carrier. There is a significant group of Indonesians, mostly from the upper-class and middle-class echelons of society, who only fly on Garuda Indonesia and would never consider flying on any other Indonesian carrier. 
The airline has been running a 'cost plus business' where it basically passes on its higher costs of operation to the consumer. In a booming passenger market, when the economy is strong, airlines can pass on higher costs to the consumer if they have pricing power, which Garuda has. 
But when the economy is not strong and passenger demand is low – as is the case now – you are no longer able to pass on higher costs to the consumer. Garuda is straddled with large debts and – because of the airline's tarnished image due to corruption cases – the government appears less willing, than in the past, to bail out the carrier.
Cover picture source: onemileatatime.com
Related Stories:
Garuda Indonesia Responds To Queries On Why It Pays Higher Aircraft Lease Rates (8 November 2021)
Another Creditor Sues Garuda Indonesia (26 October 2021)
Indonesian Court Gives Garuda Indonesia Some Financial Respite (21 October 2021)
Govt Says Garuda Indonesia Being Liquidated Is A Possibility (19 October 2021)
Related posts
SUBSCRIBE TO OUR NEWSLETTER