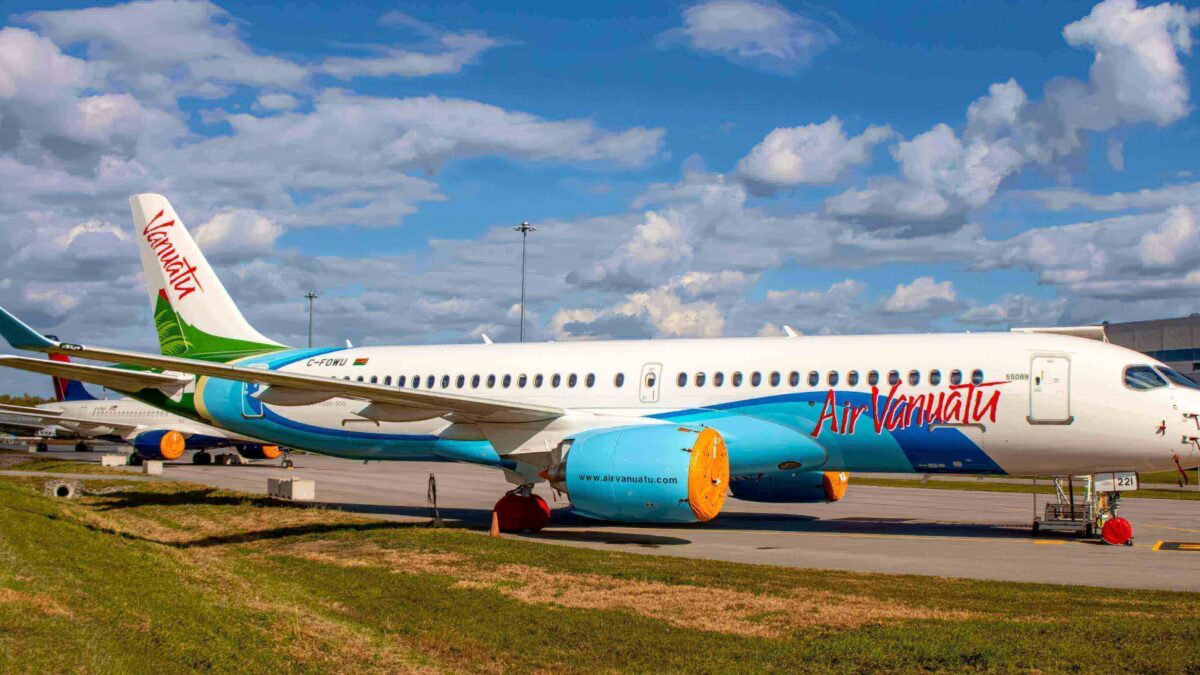 Corrected attribution in second and third sentence to say Air Vanuatu's spokeswoman rather than CEO.
National carrier Air Vanuatu has decided to cancel its order for Airbus A220s and instead is planning to add more regional turboprop aircraft.
"Air Vanuatu will not be proceeding with its order for three Airbus A220s, but we are looking at alternative options as part of [our] fleet review," Air Vanuatu's spokeswoman, says in an emailed response to a query from Smart Aviation Asia Pacific. 
She says the airline's fleet comprises of: one ATR 72, one Boeing 737, one Britten Norman Islander and two De Havilland Aircraft of Canada Twin Otters.
In a separate statement, posted on the airline's website, Air Vanuatu CEO, Atu Finau, says that with help from the government, the carrier has purchased two additional Twin Otters and will deploy the aircraft on domestic routes in late 2022.
He also says the carrier, which has one ATR 72, plans to purchase a second ATR by year-end.
Finau also says the airline has presented a business case for the purchase of a second Boeing 737.
Expanding the domestic fleet will improve the airline's ability to maintain flight schedules, add new services and deliver better quality services, he adds.
Smart Aviation Asia Pacific reported earlier that the government has helped Air Vanuatu pay lease payments owing on one of the Twin Otters already in its fleet.
The statement says the carrier responded to the pandemic with significant growth of the air cargo business due to shipping delays.
Air Vanuatu cargo manager, Lynda Fred Sewen, says in the statement the airline had a 25% increase in cargo services in the last 18 months. This includes special charter flights to deliver items to the islands, she adds.
The statement says the airline has added revenue in chartered flights, with its advantage of having both an international and domestic fleet of aircraft to suit either operation.
Air Vanuatu announced in February 2019 that it had ordered two A220-100s and two A220-300s with first deliveries set for June 2020.
But the pandemic led the airline to delay delivery.
Then in 2020, there was a change in power. The new Vanuatu Government reduced the A220 order to three and announced in October of that year, it would hold an inquiry to look at why the carrier had ordered – what the new government considered to be – too many aircraft.
The new government has made clear publicly that it felt upgrading the domestic fleet is a higher priority than buying new aircraft to boost international tourism.
Editor's comment: 
The smaller capacity A220, on international routes, may make sense in terms of 'right sizing' – better matching aircraft passenger capacity with passenger demand – but sometimes Pacific Island carriers choose to operate 737s because this aircraft carries more cargo in the belly-hold.
In the South Pacific, it could be argued, carrying cargo is just as important as carrying passengers.  South Pacific nations are remote so urgent supplies need to be airlifted in.
The fact Air Vanuatu is increasing its Twin Otter fleet to four from two is not surprising. It actually had three Twin Otters in 2019.
The carrier also used to have two ATRs, but one was heavily damaged and returned to the lessor.
Featured photo depicts Air Vanuatu's Airbus A220 in storage (Twitter user @Mark__Brandon)
Related Stories:
Vanuatu Government To Pay Lease Payments Owing On Air Vanuatu Twin Otter (7 June 2022)
Pacific Island Tourism Unlikely To Return To Pre-COVID Levels In Next Two Years (23 August 2021)
Air Vanuatu ATR 72-600 Returns After Nine Months (11 December 2020)
Air Vanuatu Expanding Operations with New A220s, Domestic Fleet Plans (6 May 2019)
Davy Lim
Davy is based in Singapore. He is passionate about aviation and has flight experience in various single engine piston aircraft, gliders and seaplanes from his time in the United States. Davy holds a BA in Economics from the State University of New York in Buffalo.
Related posts
SUBSCRIBE TO OUR NEWSLETTER