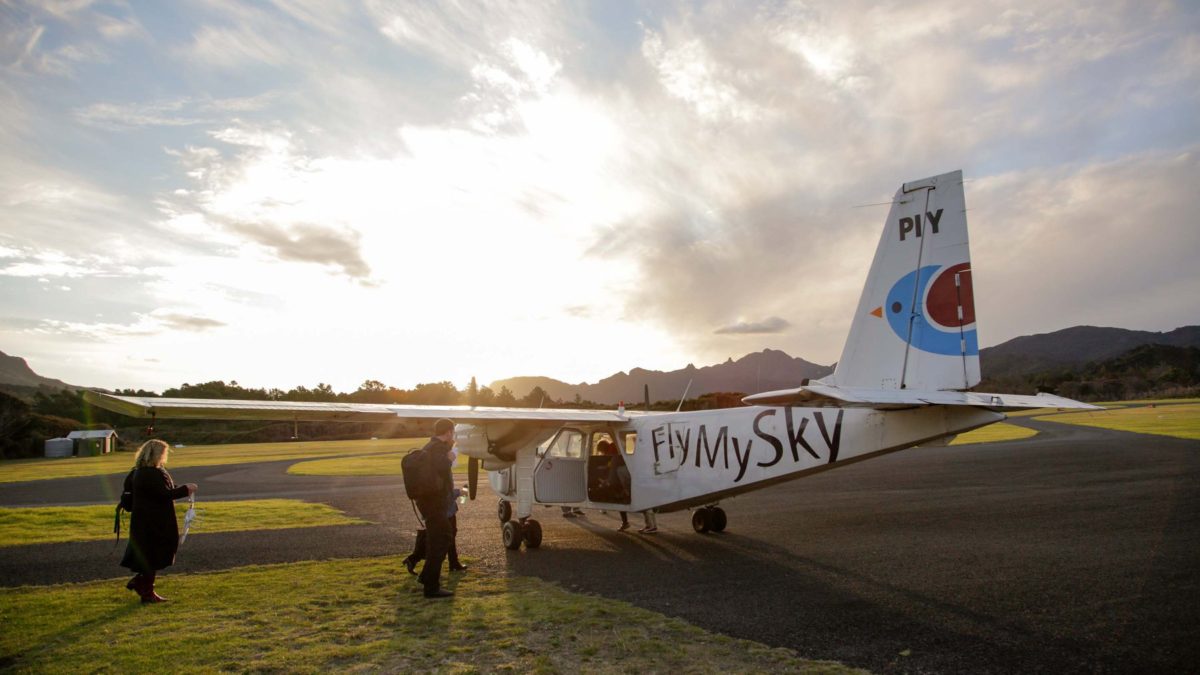 A key issue facing regional airlines in New Zealand is a shortage of pilots, because many leave to join Air New Zealand.
The chief executive of local regional carrier Fly My Sky, Keith McKenzie, says his pilots stay with his airline on average for 16 months before moving on. Eighty-five percent of those join Air New Zealand, but some also go overseas to work for other full-service carriers, he says.
Most regional airlines in New Zealand operate single-engine aircraft, such as Cessna Caravans, but Fly My Sky operates a fleet of four twin-engine Britton Norman Islander aircraft, so Fly My Sky is targeted more by Air New Zealand pilot recruiters, says McKenzie.
He says he has had several disputes over the years with Air Nelson, Air New Zealand's Bombardier Q300 operation, for poaching too many pilots within too quick a succession.
McKenzie says he likes the Britton-Norman Islander, because it is easy to fly and is uncomplicated – "it has no cowl flaps and no retractable landing gear".
He says the Lycoming O-540 piston engines are "a bit noisy", but the engine is very reliable. He also says the aircraft has a good payload for an aircraft of its size.
Fly My Sky operates a 3-4 times daily scheduled service from its base in Auckland to Great Barrier Island, about 55km from the mainland with some smaller islands in between. Its main competitor on the route is Barrier Air, which operates single-engine Cessna Caravans.
McKenzie says single-engine aircraft are permitted to fly the route, if the aircraft can glide to land in the event of an engine failure. But McKenzie says Fly My Sky will only fly twin-engine aircraft over water, because in the event of a single-engine failure, the aircraft still has one engine to fly on.
Besides Greater Barrier Island, Fly My Sky has a twice-daily service from Auckland to Whangarei, which it launched in late October. Whangarei is New Zealand's northern most city and a popular tourist destination.
The airline competes on the route against Air Nelson which has a four-times-daily service using 50-seat Q300s.
McKenzie says Fly My Sky's service is steadily increasing its passenger loads and can compete because the airline chose times of the day when there is no Air Nelson service.
He says Auckland-Whangarei is a good route for Britton Norman Islanders as it is a short flight and Whangarei is a growing passenger market, so opportunity to have more flights on the route. McKenzie says Whangarei will never step up to larger aircraft than the Q300 because the runway there is short and built on a plateau, so it is unable to be extended. The airport's website says the runway is 1097m-long (3,600ft) but landing distance is only 1067m.
Leithen Francis
Leithen is based in Singapore and has over 17 years' experience working for news organisations. He is the former deputy Asia editor of Flightglobal and the former Asia editor of Aviation Week. Leithen has a BA in journalism from RMIT University in Melbourne, Australia.
Related posts
SUBSCRIBE TO OUR NEWSLETTER