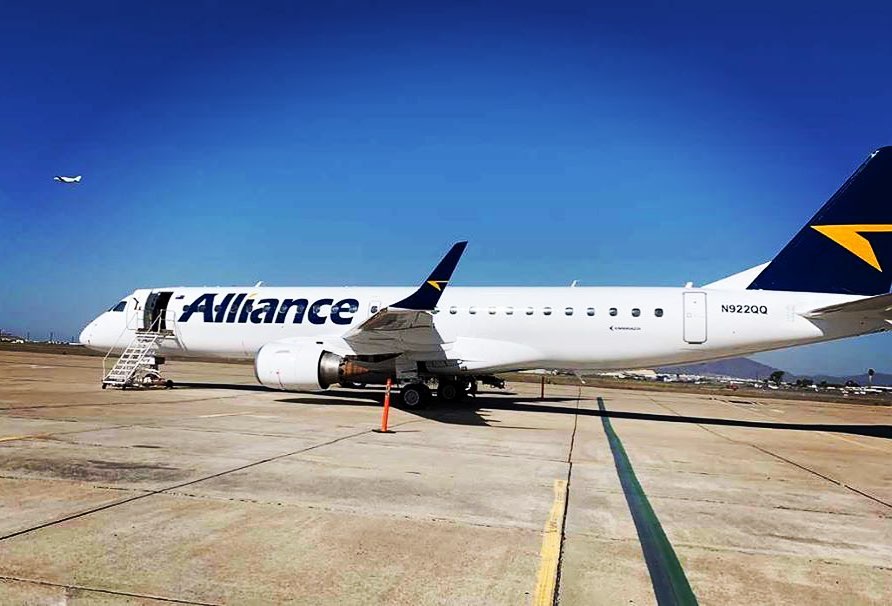 Alliance Airlines' parent company Alliance Aviation Services is buying Toll Group's maintenance, repair and overhaul (MRO) business at Brisbane Airport, which was helping to maintain Virgin Australia's ATR 72s.
The acquisition is strategic because Toll's facility is adjacent to Alliance Aviation's existing Brisbane Airport facility, says Alliance Aviation managing director Scott McMillan in a statement to the stock exchange. He says the larger Toll facility is already certified to work on Embraer E190 regional jets, which the airline recently bought 14 of along with associated spare parts and a full-flight simulator.
"This purchase will allow for a much smoother integration of the Embraer E190s into revenue generating services in the short term and for a more efficient and financially sustainable line maintenance programme in future years," says McMillan.
The facility, currently called Toll Aviation Engineering, will be renamed to Unity Aviation Maintenance, Alliance Aviation says. Despite being a sister company of Alliance Airlines, it will continue to offer third party MRO services as a distinct subsidiary, it adds.
Most of the Toll facility's engineering staff will remain with the renamed facility, Alliance Aviation says. It adds that the facility will retain its Australia Civil Aviation Safety Authority (CASA) Part 145 and Part 147 approvals, allowing it to maintain and conduct maintenance training for aircraft such as the Embraer E190.
McMillan says the Alliance Aviation will use the Part 147 approval to begin in-house conversion training for some existing Alliance Aviation staff so they can work on the Embraer E190s.
According to Toll's website, the facility's engineering license coverage includes aircraft from the Boeing 737 family; Embraer Brasilia, ERJ and E190 regional jet families; ATR family; Fairchild Swearingen Metroliner family; and the Beechcraft King Air B200 family. It was, for example, helping to maintain Virgin Australia's ATR 72s prior to the airline going into receivership and phasing those aircraft out.
Alliance Aviation's existing MRO capabilities cover Fokker 50, Fokker 70 and Fokker 100 aircraft.
Its regional airline subsidiary operates five Fokker 50 turboprops, 13 Fokker 70LR jets and 24 Fokker 100 jets. The airline announced in June that it had purchased 14 Embraer E190 regional jets, the first of which arrived in end-October and will begin services in March 2021.
Alliance Aviation has not disclosed the value of its purchase, although it says the acquisition will be earnings neutral for the 2021 financial year. It adds that the sale, asset transfer, and transition of employees will be finalized by 30 November.
Editor's comments:
Alliance Airlines' acquisition of Toll Group's aircraft MRO is timely, as Toll's parent Japan Post wants to sell off parts of Toll, which has been losing money. You read more on that from this Financial Times article. 
Toll's MRO helped maintain Virgin Australia's ATRs but that business has dried up, as Virgin Australia no longer operates ATRs. The MRO has a brighter future with Alliance.
Photo: Alliance Airlines
Edward Eng
Edward is based in Singapore. He writes stories on regional aviation across the Asia-Pacific region and has a background on covering socio-political issues. Edward holds a BA (Hons) in Philosophy, Politics and Economics from the University of Warwick in the UK.
Related posts
SUBSCRIBE TO OUR NEWSLETTER