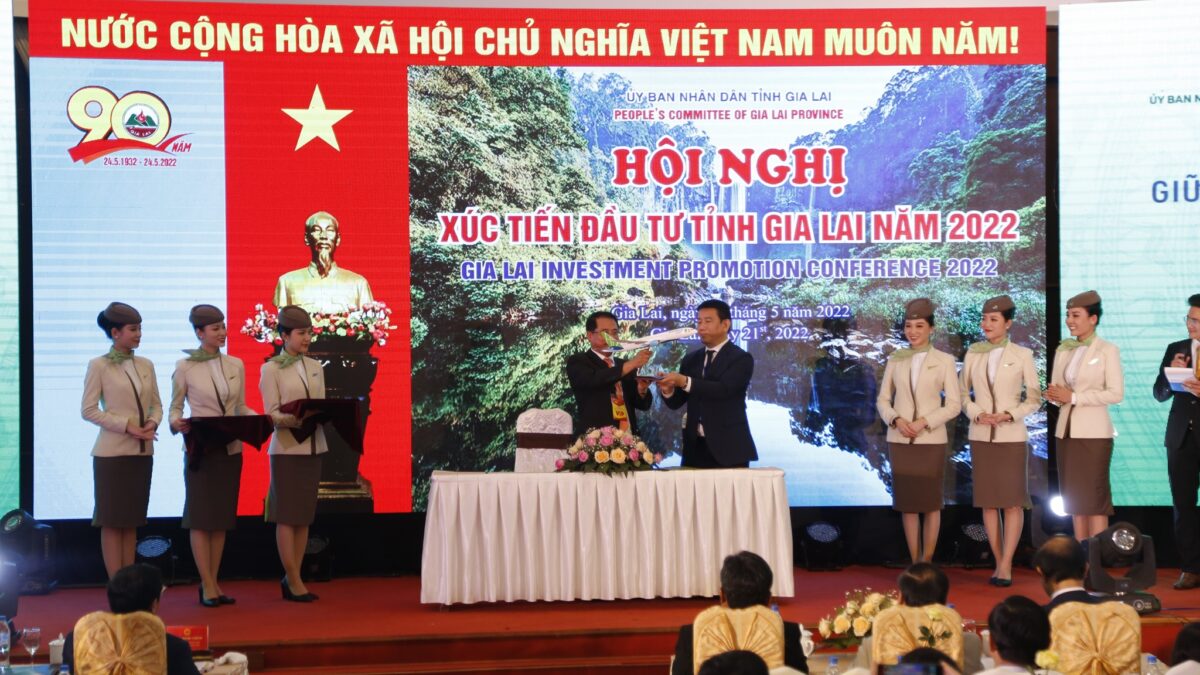 Vietnamese carrier Bamboo Airways and Gia Lai province will cooperate to develop aviation networks and grow the province's tourism industry.
The airline says it has signed a comprehensive strategic cooperation agreement with the People's Committee of Gia Lai province for the next five years, spanning 2022 to 2026.
This agreement will see coordination between both parties to contribute and promote activities to boost tourism growth, such as trade investment; the organization and participation of cultural, sports and tourism events; as well as to develop routes to and from Gia Lai province, Bamboo Airways adds.
The airline says through the cooperation, the attractiveness of Gia Lai to local and international tourists can be realised.
Bamboo Airways says it has been making efforts to cooperate with parties to help restore the tourism industry and create favorable conditions for people to travel, as tourism gradually recovers from the pandemic.
Local media quotes the airline as saying Gia Lai has been identified as a key market for tourism.
Gia Lai is in Vietnam's central highlands and is the second largest province in the country. It has 17 districts, 15 towns, 184 communes, and 24 wards with a population of 1.6 million last year.
Despite its size, the province is relatively undeveloped, a majority of the natural landscapes have been relatively untouched and are only frequented by locals, travel website Uncover Vietnam reports.
Most cities and towns in the province are quite isolated from the rest of the country, except for its capital city Pleiku, which is an old air force base turned tourist destination, the report says.
Although damaged and rebuilt, war history is prominent in the city. Pleiku is also famous for its Sea Lake, Minh Thanh Pagoda, Ham Rong Peak, and transportation to the Kon Ka Kinh National Park, the report says.
Venturing out of the capital, another tourist destination Chu Se district is famous for its spectacular waterfalls and deep caverns, the report says.
Featured picture from Bamboo Airways Facebook shows the signing of the agreement.
Related Stories:
Vietnam's Bamboo Airways Interested In New Aircraft (10 May 2022)
Vietnam Regulator Proposes Ca Mau Airport Upgrade To Accommodate Regional Jets (26 April 2022)
Vietnam's Bamboo Airways Appoints Vice Chairman (21 April 2022)
Embraer Completes E190-E2 Demonstration Tour In Vietnam In Hunt For Sales (16 April 2022)
Top Civil Aviation Administration of Vietnam Official Leaving To Join Bamboo Airways (4 January 2022)
Vietnam's Bamboo Airways Expanding Domestic Network Using Embraer RJs Starting With Dien Bien Phu (26 August 2021)
Vietnam's Con Dao Airport In Works For Upgrading (19 August 2021)
Vietnam's Bamboo Airways Planning To Add More Embraer RJs (30 September 2020)
Ong Jeng Yang
Based in Singapore, Ong Jeng Yang has more than four years of experience working in the media industry.
Related posts
SUBSCRIBE TO OUR NEWSLETTER