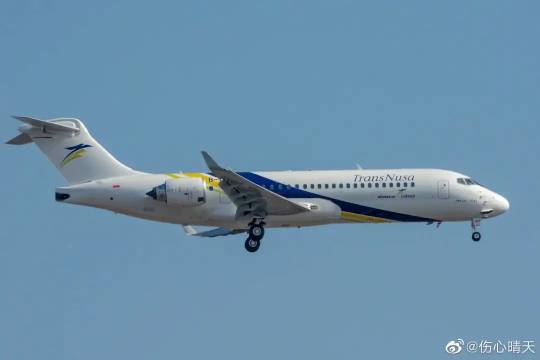 Updated story to show picture of ARJ21 in China in TransNusa's livery. 
Indonesian carrier TransNusa is about to receive its first Commercial Aircraft Corporation of China (Comac) ARJ-21 regional jet, making it the first overseas operator of the aircraft.
Chinese media outlet Yicai.com reports that an ARJ-21 in TransNusa's livery completed a pre-delivery test flight from Shanghai's Pudong International Airport. Pictures on social media also show the ARJ21, in TransNusa livery, doing test flights in China.
The Yicai.com report says TransNusa will be the first overseas operator of the ARJ21 regional jet. This 90-seat GE CF34-10A powered aircraft, with range of up to 3,700km (1998nm), is used widely in China but has yet to receive international certification. Indonesia though is one of the world's largest commercial passenger markets. It has validated Chinese certified aircraft before, such as the Xian Aircraft MA60.
China Everbright Group's China Aircraft Leasing (CALC) signed an agreement in January to purchase 30 ARJ21s from Comac with options for 30 more. It was disclosed at the time that the aircraft were earmarked for TransNusa.
CALC has a 35.68% stake in TransNusa through an indirect investment, the report says.
The report says CALC acquired the large minority stake in TransNusa so it could place Chinese-made aircraft into Indonesia.
Smart Aviation Asia Pacific reported on 15 December that TransNusa is changing its business model from being a regional airline to a low-cost carrier. The airline used to operate ATR turboprops but suspended operations in September 2020, because of the pandemic. It has since reapplied for an air operator certificate, that it hopes to receive at the end of January, in time to relaunch operations in February. It recently took delivery of its first aircraft – an Airbus A320neo leased from CALC – and has two A320ceos coming in January, also leased from CALC.
Bayu Sutanto, TransNusa managing director, told Smart Aviation Asia Pacific on 15 December that the move to become a budget carrier was prompted by the airline's market review that forecasts a change in market demand from business and leisure passengers.
Smart Aviation Asia Pacific has reached out to TransNusa for comment.
Editor's comments: TransNusa's move into the low-cost carrier market with A320s and ARJ21s comes at an opportune time, because other airlines such as Garuda Indonesia, Citilink and Lion Air have scaled back their operations, freeing up slots at normally busy airports such as Jakarta.
Picture from Weibo, by social media user 傷心晴天, shows the ARJ21 in China in TransNusa livery. 
Related Stories:
Indonesia's TransNusa Set To Be Next Budget Airline In Indonesia (15 December 2021)
Indonesia's TransNusa Aims To Resume Flights Early Next Year (13 October 2021)
Ong Jeng Yang
Based in Singapore, Ong Jeng Yang has more than four years of experience working in the media industry.
Related posts
SUBSCRIBE TO OUR NEWSLETTER