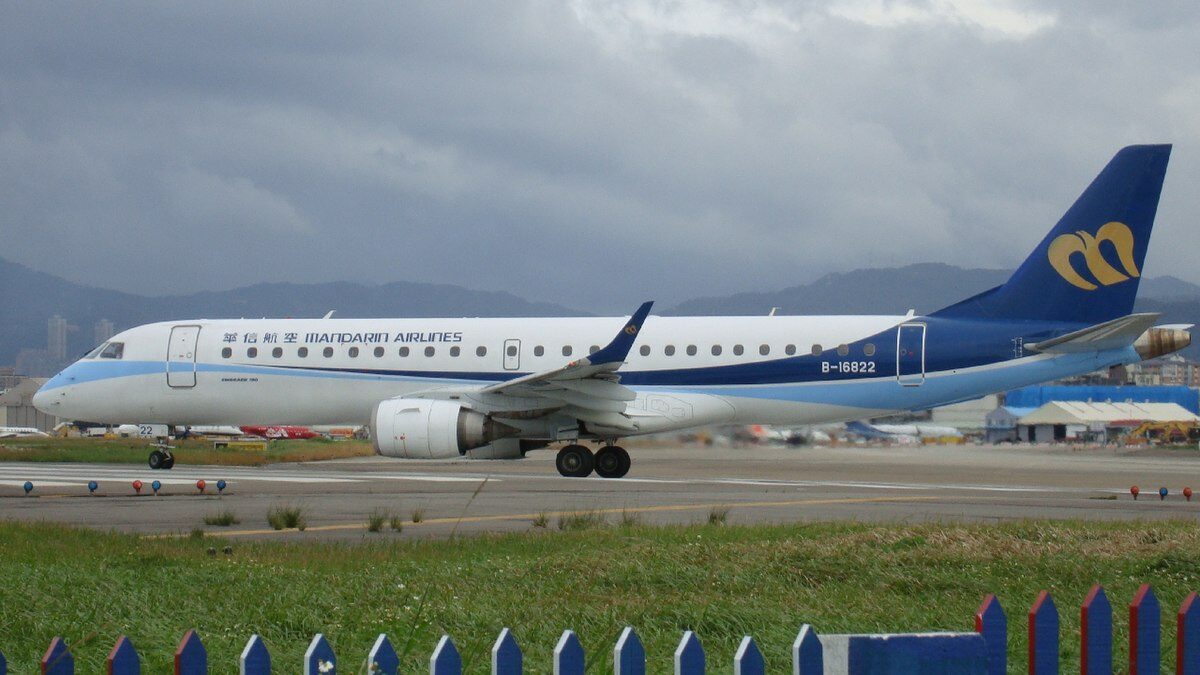 Taiwan's Mandarin Airlines Phasing Out Embraer Fleet Early
Ong Jeng Yang, 21 Dec 2021
2 min

read
China Airlines' regional subsidiary Mandarin Airlines is ending its Embraer passenger operations at the end of the year and instead relying on Airbus A320s and ATR 72s to serve smaller markets.
United Daily News says the airline has accelerated the retirement of its Embraer E-190 fleet and will end E-190 passenger operations on 31 December with a flight from Penghu Island to Taipei Songshan. 
The report, citing the airline's detailed flight schedules, says Mandarin Airlines is replacing the E-190 with its ATR 72-600s as well as wet-leasing Tigerair Taiwan's Airbus A320s and China Airlines' Boeing 737-800s.
The media outlet was able to confirm that Mandarin Airlines is ending its Embraer operations this year, which is earlier than originally planned.  
The report, quoting Mandarin Airlines personnel, says there are only a handful of airlines in Asia using Embraer regional jets, which increases the costs of maintenance. 
The personnel further elaborate that the aircraft's passenger capacity and fuel consumption are other factors which reduces its ability to earn profits.
"In terms of [international] regional routes, more seats equate to more benefits, but the E-190 only has 104 seats which is fewer than the 737-800's 150 seats and A320's 180 seats," an airline person is quoted as saying. The 737-800 can actually seat 189 passengers. 
As for domestic routes, although the E-190 has 30 more seats than the ATR 72, the maximum capacity permitted during peak periods is less than 70, the report says quoting airline personnel. The routes are also shorter, at around 30 to 40 minutes, however the jet engine of the E-190 burns more fuel than the turboprop of the ATR, which means that costs cannot be lowered, they say.
Mandarin Airlines ordered eight E-190s and took delivery of the first in mid-2007 but United Daily News says the airline only has three remaining of which two are in service and one is undergoing maintenance. The airline, meanwhile, has increased its ATR 72-600 fleet to nine.  
In a separate development, Mandarin Airlines is launching a twice-daily service on 27 January connecting Kaohsiung to Kinmen Island.
Mandarin Airlines says it will use a 180-seat Airbus A320 from China Airlines for this new route. The airline says it can adjust the number of flights and seat capacity depending on future market needs.
Kinmen County Tourism Department says Kinmen residents rely on air transport to travel to mainland Taiwan. 
Taiwan's Central News Agency says that since Far Eastern Air Transport folded, EVA Airways subsidiary Uni Airways has been the only airline serving the route.
Kinmen is a group of islands in the Taiwan Strait administered by Taiwan. It is close to the coast of Xiamen city in China. 
Picture Source: commons.wikimedia.org
Ong Jeng Yang
Based in Singapore, Ong Jeng Yang has more than four years of experience working in the media industry.
Related posts
SUBSCRIBE TO OUR NEWSLETTER