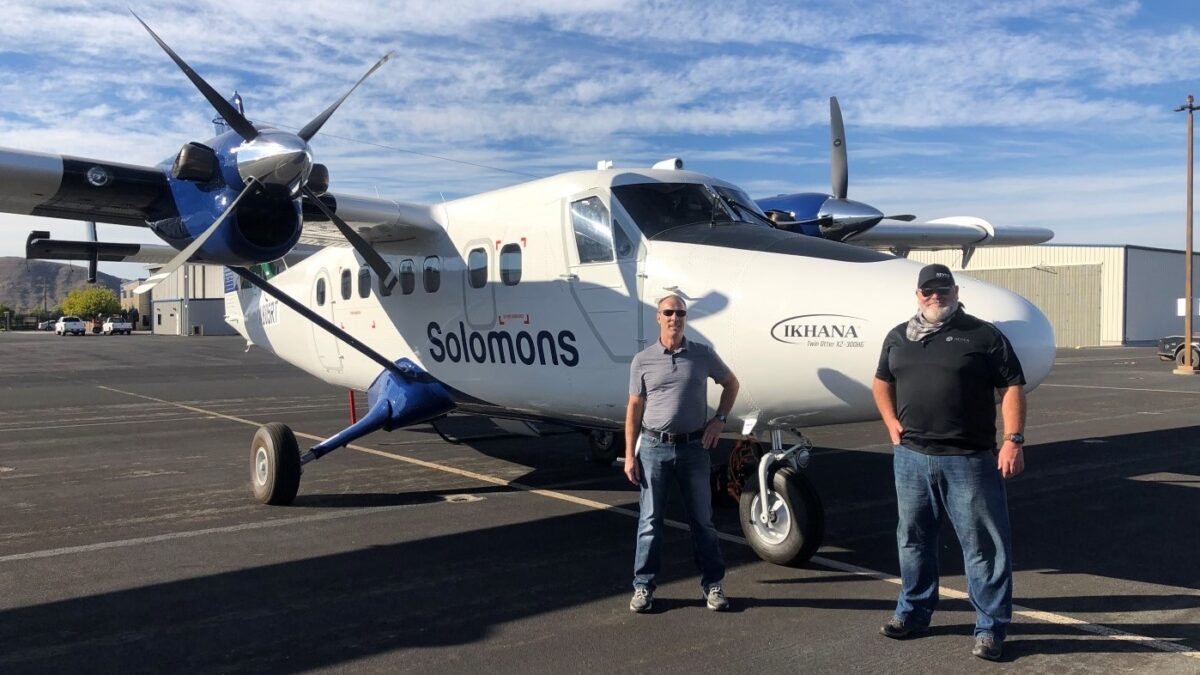 The Solomon Islands' flag carrier Solomon Airlines has added an Ikhana Twin Otter X2-300HG to further serve domestic destinations, as the nation's domestic passenger market continues to stabilize.
Brett Gebers, Solomon Airlines CEO, tells Smart Aviation Asia Pacific that the addition was made in February, so as to give the airline more flexibility and capabilities to fly more passengers.
"The X2 can carry a heavier payload which allows us to have additional people and cargo on board. It is also able to hold more fuel, so we can service our most distanced islands," he says.
The Twin Otter X2-300HG by US company Ikhana is a remanufactured "re-life" version of the De Havilland Canada DHC-6 Twin Otter that offers "zero-time" and "zero-cycles" for the structural fatigue life and all airframe components.
Gebers says since the aircraft is effectively new, only minimal maintenance is needed. The aircraft's local registration is H4-SIC.
Besides the X2, he says the airline's current fleet also includes one De Havilland Canada Dash 8-100, one De Havilland Canada Series 300 Twin Otter and one Airbus A320.
"The Airbus is in Singapore undergoing its normal C-check and is expected to arrive back to us next week," he notes.
In addition, Gebers says the airline has another two Twin Otter Series 300 aircraft which it has dry leased to Air Kiribati on a short-term lease with an option to extend.
"Due to COVID-19, passenger volume dropped, resulting in the airline having excess capacity. Since we did not have to use these aircraft, we leased the first -300 to Air Kiribati November last year, and the second one around end June this year," he clarifies.
Gebers declines to confirm the monthly lease rate Air Kiribati is paying, but adds the industry standard is around one percent of the total value of the aircraft, depending on aircraft model and type.
He says the situation in the Solomons is stable, although scheduled international travel has yet to resume.
"There are inbound [charter] flights but those are mainly for residents heading home, and perhaps construction people or diplomats," he notes.
Gebers says domestically the levels are around 60% as compared to pre-COVID levels.
"Personally, I think that air travel is going to be different than the way it was. There are various factors to consider such as vaccination rates and medical facilities in countries, so the improvement might not be as significant," he says.
Gebers adds there are no great expansion plans at the moment as this goes 'hand in glove' with passenger volume. He says the airline might add more X2 aircraft to replace the older models in a couple of years, but this is still uncertain.
Local media previously reported the airline suffered a 12 million Solomon Islands Dollars (US $1.5 million) loss for the January-August period this year, which was a turn-around from the 17 million Solomon Island dollars loss recorded last year.
Gebers says as international flights stopped, every employee took a pay-cut, including himself who elected for no pay, since April last year, so as to set an example for his team.
"Currently, employees are drawing 80% of their original pay. We work hard to minimize layoffs, so that everyone can keep their jobs. We have around 250 staff now, only around 20 people left the company," he says.
"We expect the loss numbers to decline, as we are doing better now with cost management, charter and cargo flights," he highlights.
Credit: Picture, from Aevex  Aerospace, shows the aircraft prior to its delivery.
Related Stories:
Solomon Airlines Helping to Fund Tourism Infrastructure Development (7 June 2019)
Exclusive Interview: Solomon Airlines to Retain Fleet, Maintain Support for Local Tourism (23 October 2020)
Follow us on facebook and twitter for more news updates.
Ong Jeng Yang
Based in Singapore, Ong Jeng Yang has more than four years of experience working in the media industry.
Related posts
SUBSCRIBE TO OUR NEWSLETTER