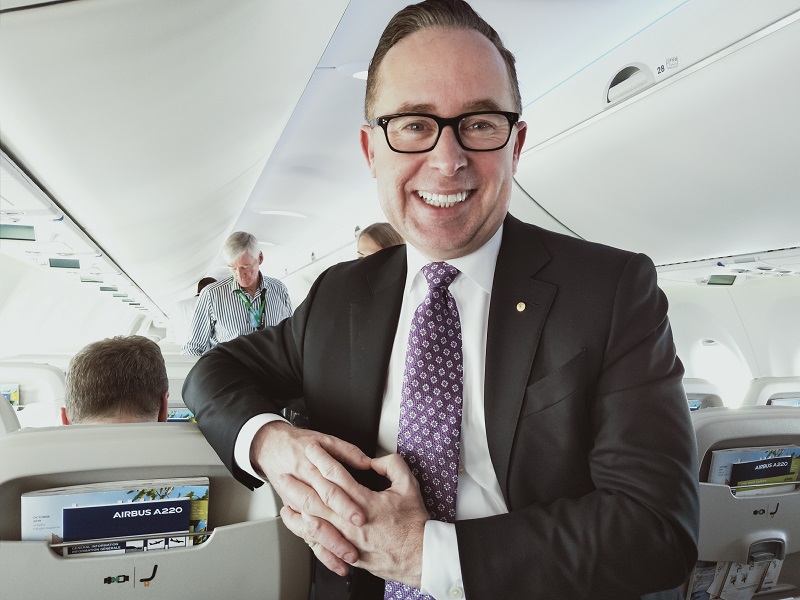 Australia's national carrier and largest airline Qantas Airways is expected to order more than 100 new aircraft to replace the Boeing 737-800s and Boeing 717s that it uses for its domestic operations.
Qantas says in a press release today that it has entered the final stages of a formal tender process with aircraft and engine manufacturers for the long-term renewal of its domestic narrowbody fleet.
The airline's current narrowbody jet fleet for scheduled operations includes 75 Boeing 737-800s and 20 Boeing 717s, which are between seven and 22 years old, says Qantas. Under the program, more than 100 new aircraft will be added by 2034, replacing the two models, it adds. The carrier also has a fleet of Fokker 100s which operate under its subsidiary Network Aviation but these are used for charter work. 
The new jet aircraft being considered are the Boeing 737 MAX family and Airbus A320neo family, as well as the smaller Embraer E-Jet E2 family and the Airbus A220, it says.
Final decisions on preferred suppliers of aircraft and engines are expected to be made by year-end, followed by firm orders by mid-2022, it says. Deliveries will start end of 2023, but it will retain significant flexibility to make adjustments depending on market conditions, Qantas notes.
Qantas Group CEO, Alan Joyce, who is meeting aircraft and engine manufacturers at the International Air Transport Association AGM in Boston this week, says it is a key milestone for the group to determine the jets that will serve Qantas domestic for the next two decades.
"This is a long-term renewal plan with deliveries and payments spread over 10 years, starting in fiscal year 2023 (12 months ending 30 June 2024), but the equally long lead time means we need to make these decisions soon," the CEO adds.
Joyce says COVID-19 has had a devastating impact on the aviation industry and there are not many airlines around the world in a position to place orders for new aircraft. "We still have our own repair work to do, but we know travel demand will rebound quickly and right now we are in a strong position to secure the best possible deal at very good prices."
He elaborates that the new aircraft will help in reducing fuel burn and carbon emissions by up to around 15% and the airline is also in talks with manufacturers to accelerate the development and use of sustainable aviation fuels for its domestic flying.
He says the airline's network consists of flying between large capital cities as well to smaller cities and regional centres, so it is likely that a combination of larger and smaller aircraft types would be ordered.
"Our approach is to have the right aircraft on the right route, which means balancing the size of the aircraft with the demand in each market. The mix of aircraft we're considering allows us to have more operational flexibility, which translates into more direct routes to smaller regional centres and more choice of flights for the customers throughout the day," he notes.
Joyce says the airline hopes to start operating direct flights to London and New York in 2024 or 2025.
The Qantas group also has an existing order for 109 Airbus A320 and A321 aircraft to renew its subsidiary Jetstar's existing fleet of A320 aircraft. The first neo is due to be delivered in the second half of 2022, with the remainder to be received by the end of the decade, the statement says.
Three additional Boeing 787-9s for Qantas International will be delivered from FY2023 onwards, it adds.
Picture taken by Steve Creedy shows Alan Joyce on board the Airbus A220 when the aircraft was on a demo tour in Australia in October 2019.  
Related Stories:
Qantas To Wet-Lease Alliance E-190s For Domestic Trunk Routes (4 February 2021)
QantasLink Adds New Routes To Tasmania (7 December 2020)
Ong Jeng Yang
Based in Singapore, Ong Jeng Yang has more than four years of experience working in the media industry.
Related posts
SUBSCRIBE TO OUR NEWSLETTER