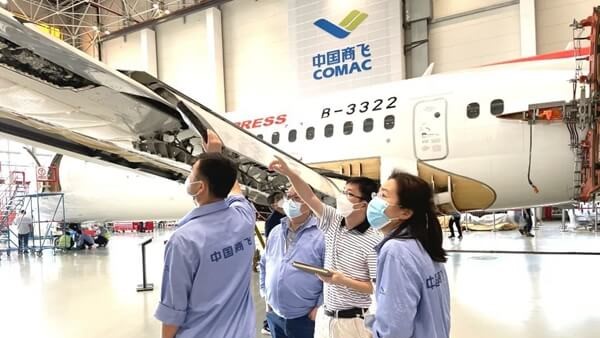 China's Shanghai Aircraft Manufacturing (SAMC) has reportedly performed its first 4C heavy maintenance check of a Commercial Aircraft Corporation of China (Comac) ARJ 21-700, now that it is six years since the ARJ21 program first achieved entry into service.
Chinese news website China Civil Aviation Network (CCAN), without citing sources, reports that SAMC has performed its first scheduled 4C heavy maintenance check on an ARJ 21-700.
SAMC, which primarily an aircraft-maker, is a Comac subsidiary responsible for the ARJ21's final assembly.
A 4C level inspection is a heavy maintenance C-check that CCAN says takes several weeks to complete, and includes preventive maintenance. A scheduled C-check occurs after a certain number of flight cycles or period of time.
According to Airfleets.net the ARJ21 SAMC worked on was an eight-year-old aircraft, local registration B-3322, that was delivered to Chengdu Airlines in September 2016.
But this particular aircraft was then returned to Comac in December 2020 to operate as a staff shuttle under Comac Express, it reports.
The ARJ21 program achieved entry in June 2016 when launch operator Chengdu Airlines had its first ARJ21 commercial flight.
Picture Source: China Civil Aviation News
Related Stories:
First COMAC ARJ21 Freighter To Be Delivered This Year (14 January 2022)
China's YTO Cargo Airlines To Be First Operator Of ARJ21 Freighters (7 January 2022)
China's Comac Opens New Aircraft Maintenance Facility (26 November 2021)
Davy Lim
Davy is based in Singapore. He is passionate about aviation and has flight experience in various single engine piston aircraft, gliders and seaplanes from his time in the United States. Davy holds a BA in Economics from the State University of New York in Buffalo.
Related posts
SUBSCRIBE TO OUR NEWSLETTER