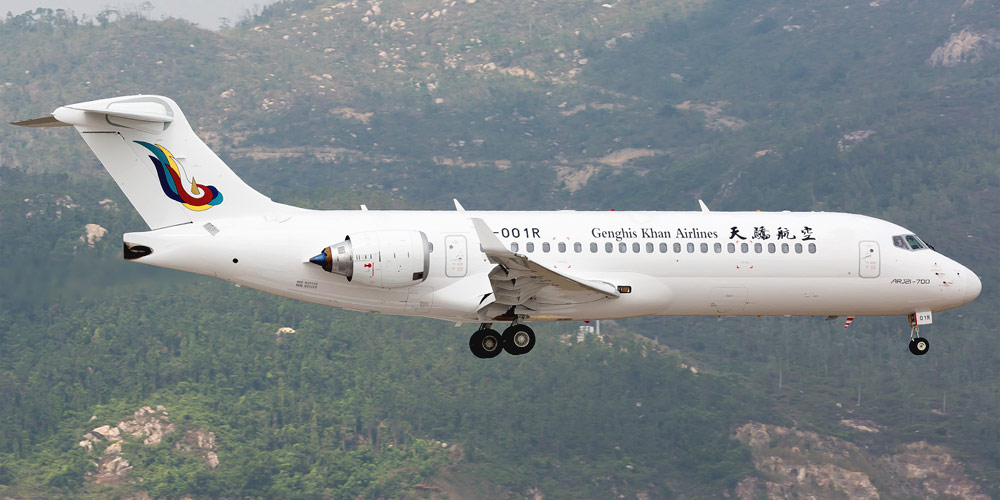 Genghis Khan Airlines, an operator of Commercial Aircraft Corporation of China (Comac) ARJ21 regional jets, is being liquidated after getting into financial problems.
Chinese media, quoting documents from the Beijing Number One Intermediate Court, says one of Genghis Khan Airlines' creditors – financial services firm Guosen Securities – successfully applied to the court to have the airline liquidated.
The court says that it appointed Beijing Enterprise Liquidation Office on 22 September as the airline's administrator and that the first creditors' meeting will be on 22 December.
Chinese financial news site, Caixin, says – without citing sources – that the airline's debts total more than five billion yuan (US$701 million) and that Guosen Securities is one of the smaller creditors.
Inner Mongolia Communications Investment Group, with support from the Inner Mongolian provincial government, launched the airline which had its first flight in July 2019 using ARJ21 aircraft.
The Chinese domestic airline, which is based in the Inner Mongolian capital of Hohhot, placed an order in 2018 for 25 ARJ21s and now reportedly has a fleet of five ARJ21s.
Genghis Khan Airlines aimed to link Inner Mongolia, a relatively remote and underdeveloped region, with the rest of China.
Feature picture, by Yang Daiwei, shows a Genghis Khan Airlines ARJ21.
Related posts
SUBSCRIBE TO OUR NEWSLETTER