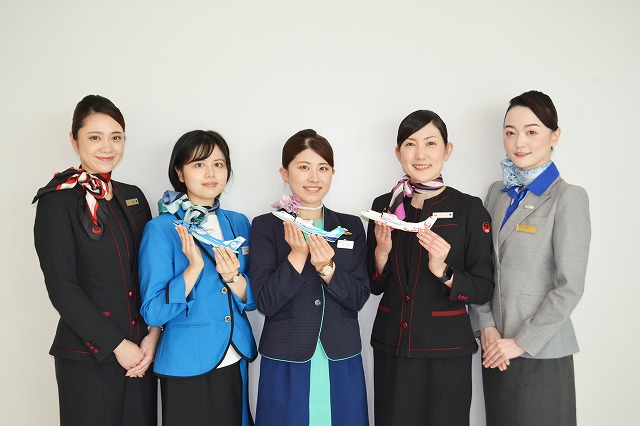 All Nippon Airways (ANA) and Japan Airlines will start codesharing on some regional airlines each has never codeshared with before, as part of a broad industry wide effort to maintain passenger volumes on routes serving Japan's smaller outlying islands.
ANA was already a codeshare partner of Nagasaki-based Oriental Air Bridge, but now it will be placing its code on Amakusa Airlines and Japan Airlines' regional carrier Kagoshima-based Japan Air Commuter, the five carriers say in a joint statement. Amakusa Airlines derives its name from the Amakusa Islands off the west coast of Japan's large southern island of Kyushu.
Japan Airlines was already placing its code on Japan Air Commuter flights, but will now also start placing its code on Oriental Air Bridge and Amakusa Airlines flights, the airlines add.
The Japan Airlines and ANA codeshares will apply to the regional carriers' flights to outlying islands and come into effect on 30 October, says the airlines.
They add that the reason for this coordinated initiative is to assist regional airlines to boost passenger numbers by tapping ANA and Japan Airlines' sales and marketing channels.
But Japan's NHK television station, without citing sources, says the reason behind the move is to bolster the regional carriers' passenger numbers to smaller outlying islands, because these are markets that are expected to experience a decline in passenger volumes unless action is taken.
Editor's comments: Japan suffers from an ageing and declining population, something remote outlying island communities are grappling with, arguably, to an even greater degree. ANA and Japan Airlines helping to boost air travel to these outlying islands, is a great initiative.
Feature picture, from Amakusa Airlines, shows cabin crew from the five respective Japanese carriers
Related articles:
Japan's Regional Aviation Council Begins Campaign Promoting Domestic Regional Air Connectivity (27 October 2021)
Japanese Regional Carriers Form Regional Aviation Council (3 December 2020)
Related posts
SUBSCRIBE TO OUR NEWSLETTER